Guest Post: Director Leanne Allison on the challenges of filming with a toddler
The following is a guest post by filmmaker Leanne Allison.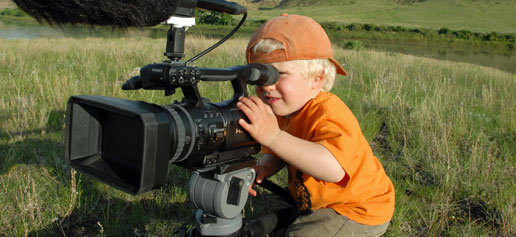 Director Leanne Allison talks about her experiences filming with her 2 year old son, Zev,  on her most recent film, Finding Farley, about her family's literal, and literary, journey to visit renowned author Farley Mowat at his home. The film opens the Planet in Focus Film Festival tonight in Toronto. And yes, the reclusive author will be in attendance.
***
When we pitched Finding Farley to the National Film Board, we thought it would be done in an intimate video-diary style like we used for our first film, Being Caribou.
We started out that way, talking into the camera and reflecting on our journey, but before long our two-year-old son Zev saw these moments as golden opportunities to interrupt, scream, or otherwise sabotage the scene.
This was frustrating at first, but we soon realized that much of the film would have to be crafted after the fact based on an exchange of letters between my husband Karsten and Farley Mowat, as well as readings from Mowat's books. That process reinforced for me how important it is to be able to say in one simple sentence what your story is about, because we got lost for a while.
Believe it or not, Farley Mowat wasn't even in one initial cut of the film.  Then we had too much of him, and finally, with a second trip out to shoot some more with him, I think we got it right.
As far as Zev is concerned, in the end I guess I have to thank him, because he (with our dog Willow as a close second) is the absolute star of the show!