Hey, Toronto! Spend March Break at the Mediatheque
The following is a guest post by Tanya Koivusalo.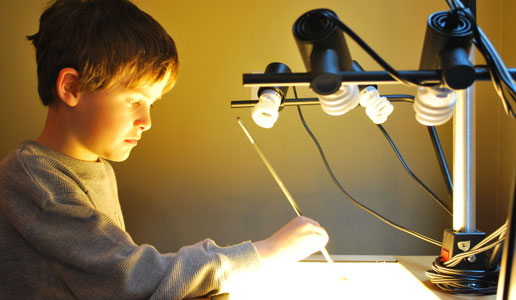 As March Break approaches, parents are in a hurry to find a place that can inspire their children and maybe even teach them a thing or two on those five mid-winter days off school. What better place to visit than the NFB Mediatheque in Toronto? The Mediatheque offers unique hands-on animation workshops for children aged 6 to 14 years old, and their parents can join in on the fun too. But what exactly is a hands-on animation workshop?
I spoke with experienced Workshop Facilitator Morgan Tams to get all the details – Morgan recently returned from a series of cross-country trips, which took him from the Northwest Territories to PEI and everywhere in between, where he facilitated workshops with teachers and students about the Canada CODE project, as part of the Cultural Olympiad.
So what do you hope kids will get out of this year's animation workshops and camp? Why should they spend their March Break with us?
It's a fantastic chance for young people to get their hands on the tools of animation – a way for them to think beyond the television and computer screens and learn how the animation they see every day gets made. It's also a great introduction to the National Film Board and a way for them to learn about  the history of this valued Canadian institution, explore our resources and engage with our stunning collection of award-winning films.
The workshops offer opportunities for kids to experiment with different types of animation. Which one is your favourite? What usually garners the best reactions from younger children and those in their teens?
Stop-motion animation using clay* seems to be the overall favourite for workshop participants. I think it's remarkably easy to create a fun little animated movie using such a simple material, and also people enjoy the experience of using one's bare hands to sculpt a memorable character. Many of our instructors are animators and character designers themselves, so naturally, a bit of knowledge is passed on to the participants.
Personally, I am a fan of drawing and scratching on film. These were two techniques pioneered by filmboard animator Norman McLaren back in the 1950s. Participants physically manipulate actual 35mm film stock, either by drawing on it, or scratching it with tools. The film is then projected for participants in our in-house cinema, and the results are some really original, imaginative and abstract animated shorts.
*Editor's Note: Stop-motion animation is the process of animating a story frame by frame, stopping the camera between each shot to change the set up slightly and then taking another shot. Once all the necessary shots are taken, the images can be sped up to become a suspended animation, using the principle of persistence of vision.
It's not all fun and games, though, is it? What skills are the participants relying on and acquiring while they are working on their short films – sometimes without even realizing it?
A big focus for the instructors at the Mediatheque is to teach critical thinking about film and media through all our workshops. This means creating a level of understanding for youth as to how media is manufactured, and this pertains to things they see every day, ranging from cartoons to advertising to the Internet.  Additionally, participants are urged to come up with original stories and characters, relying on their unique ideas and experiences, so this encourages active use of imagination, as well as development of basic art skills. It's also a great way to develop youth's ability to work in a team, as participants must work together to create the best film possible, much like in the actual film industry.
What does the week-long animation camp offer that is different from the individual workshops?
The main difference between the two  is that the groups in the week-long animation camps create films that are a full minute or more in length and create their own soundtracks as well as building all the characters and sets, and doing all the animating themselves. The participants work intensively in groups for a full five days and have to use in-depth project planning, effective time management, and creative problem-solving skills in order to see their great ideas on the big screen. It is a really immersive experience, but thoroughly rewarding. Plus there's an awesome screening and awards reception on the last day. With cake!
Can you name a favourite moment in the workshop process?
Our workshops for school groups are often booked solid a whole year in advance. This a testament to the quality of the workshops we offer and shows they are a great way for a class to spend a whole day learning about making media, and experiencing the NFB. These are by far the most enjoyable moments for me. When the students are ushered into our cinema at the end of the day to see their work on the big screen, the sound of them cheering often echoes through the halls. It's a nice feeling.
What else is the NFB Mediatheque offering during March Break?
From March 15 to 18, the Mediatheque is screening the family-friendly documentary Finding Farley, daily at 12:30 pm. This funny and inspiring doc follows award-winning author and wildlife biologist Karsten Heuer and his wife, filmmaker Leanne Allison, along with their 2-year-old son, Zev, and dog, Willow, as they set out to literally trace the footsteps of one of Canada's most famous writers, Farley Mowat. Definitely worth seeing before or after tackling an animation workshop!
For more information on Green Scenes March Break workshops and camp, click here or call 416-973-3012 (416-973-7114 for information and to register for the camp).
Check out a selection of films created during the Mediatheque's 2009 Summer Camp Workshops.