4 things about Hothouse animator Fred Casia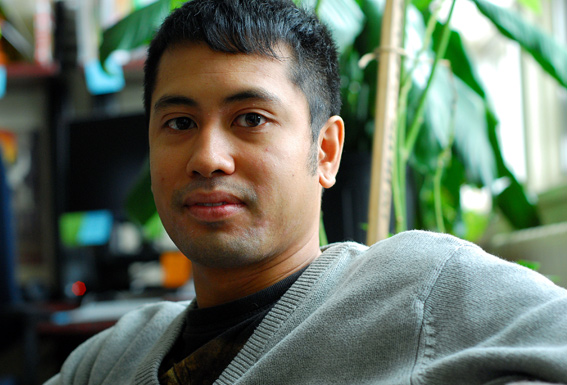 This post is part of a series of interviews with this year's Hothouse participants. Created in 2003, Hothouse is a 12-week paid apprenticeship program for emerging filmmakers that takes place in the NFB's Montreal Animation Studio. This spring, the 6 participants were given 3 months to produce a short animation film, but with a twist: all films had to be in stereoscopic-3D.
I spoke with the Hothouse filmmakers during their last week at the NFB and asked them to tell me 4 things about themselves. Here is what Fred Casia had to say.
1) One thing about himself: Fred studied graphic design at Dawson College (Montreal) and currently works as a "graphic designer, illustrator, animator and artist." He spends a lot of his time doing mural work with En Masse, a collective that connects visual artists through the creation of collaborative, large-scale black and white murals. His favourite contribution to these murals are plain and unfinished bubbly characters. "It's always interesting to see how people finish them up," he says.
2) One thing about his film: Fred said that given the fact his film was so short (all films are around 1-minute long), he didn't want to reveal too much of the plot, but he agreed to share the title and a quick description. "The title of my film is Marvin Parson's Inner Wild Wilderness. Folie sauvage in French," Fred said. "Like the title suggests, it's wild and wild. Basically, it's a fictional nature documentary that journeys inside the human body."
3) One thing about working with the NFB: Fred enjoyed working with everyone he met at the NFB, "from the producers to the sound-mixers," and was especially delighted with having music custom-made for his film. "Such a professional cast of character," he said.
4) One thing he'd like to share with other emerging filmmakers: "Obviously young filmmakers need to 'follow their heart', but they also really need to buckle down and get to work", Fred said. "My advice is to put your nose to the grindstone. Hard work always pays. It's kinda scary at first, but soon enough, survival instinct kicks in."
Find Fred online: Momunit, En Masse, The YPF, Parnell Collective.