Mi'gmaq artist Phyllis Grant talks about Waseteg, premiering tomorrow at the Atlantic Film Festival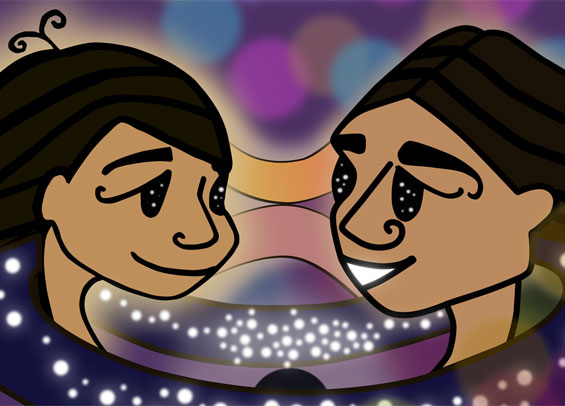 I told you recently about 4 NFB productions that were selected at the Atlantic Film Festival. Among them was Waseteg, Phyllis Grant's animated short film about a Mig'maq girl and her search for happiness.
In advance of the AFF screening (Waseteg premieres tomorrow, Wednesday Sept. 22 at 10 am at the Oxford Theatre in Halifax), I spoke with Phyllis on the phone from her home in the Pabineau First Nations Reserve, near Bathurst, New Brunswick. We talked about her work, what inspires her, and the power of rainbows.
Carolyne Weldon: Where did the idea to make the story of Waseteg into a film come from?
Phyllis Grant: Waseteg means "Light from the Dawn". The idea to tell this story came at a time where I was noticing a real enlightenment in my community. Out of a time of hardship and poverty, I saw a community moving forward, a group of people being happy and healthy and well. Making the film was very therapeutic. It led to a lot of growing up on my side, in my own life. Moving this way, toward the light, it creates a ripple effect throughout the whole world at that moment.
CW: Is the story of Waseteg based on a traditional tale? If so, to what extent did you personalize it?
PG: My father was a Mi'gmaq elder. Growing up, in the community, there were so many stories. Many stories overlapped, too. The stories would incorporate bits of one, pieces of another. The stories are meant to both teach and entertain. They contain a lesson that is relevant at that moment. Guided by intuition, the elders weave stories together based on what the community needs to hear. The story of Waseteg is also made of many stories. It's a story I wanted to share visually. Obviously it's hard to say much in 5 minutes, or to say deep things, but that's all part of the challenge.