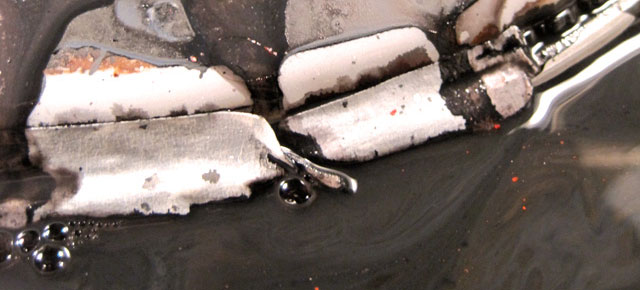 The following is a guest post by Aimée van Drimmelen as part of the Hothouse Program.
***
A while back I was asked to elaborate a bit more on my process shooting under camera stop motion on drumskins.
For several years now I've been using coated drumskins, like what you'd find on the exterior of a bass drum, as canvases for my artwork. I find the textured surfaces work really well with my ink and water drawings, and I can achieve results that are superior to paper because the substances have to air dry as opposed to being absorbed, which leaves lots of time for manipulation, and for interesting patterns to form. I had always wanted to film the process because there are so many beautiful steps from start to finish that the public never gets to see. Luckily the NFB supported the idea of working with drumskins for my animation.
I did several camera tests using paper and a couple used drumskins I had around. Whenever possible I prefer to use second hand skins, but for my final sequences I purchased a new one to ensure it was the right size, clean enough, etc. I was able to use the same skin for all three parts of stop motion portion of my film—the moving sky, the landscape/background, and the "black sequence"— which was pretty cool.
As mentioned in a previous post I ran water and yellow ink over the skin while shooting rapid shot continuously for several minutes to create my moving sky. Then I added more ink and let that dry, which become my background landscape (see photo below). On top of this I shot two sequences where inky blobs are supposed to spread below the earth's surface. I found it quite hard to keep my hands out of the shots, and the resulting footage moves too quickly (see video). There wasn't time to re-shoot so I've since layered two versions over one another to achieve a better result. When that was done I added a bunch of black ink to the mix and began shooting my "black sequence." So you'll see from the photos and video below the start, middle, and end shots of the skin. Now having served its purpose the skin looks dry and crusty and dead. Kind of like the tarsands.