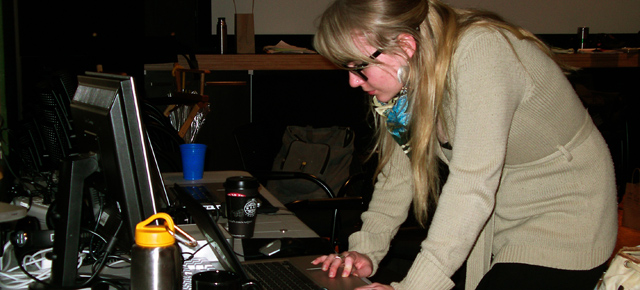 DOXA Connexions: Narrating Change, Open Forum!
This post was written by one of the young women participating in the 2011 Kris Anderson DOXA Youth Connexions Forum, as part of the DOXA Documentary Film Festival. "Connexions" is an immersive 2-week program where 6 selected emerging female filmmakers create 6 short films in 6 days, while also connecting with industry professionals & checking out all the doc films & panels.
On May 10th 2011, I was fortunate enough to attend an open public forum, Narrating Change, Filmmakers, Lawmakers, and Troublemakers. What I got out of the interesting forum (which I could have stayed and listened to for hours!) was the very power that narrative brings.
Human beings are storytelling creatures, who invest themselves in the protagonists in every narrative.  Stories help us see each other as people, with commonalities, challenges, loss, gain, victories, and hardships. It's a way in which we connect and relate with other human animals. Culture is giving us narrative content all of the time and we must question every donation of it because there is a risk of exploiting the very characters that are needed.
With this power we must use the device of storytelling carefully, with responsibility and care, especially if we are not the protagonists of our own stories, but the molders of someone else's.
This is where power and ethics mix. How does one use it responsibly when telling a story that is not one's own? We must use this medium carefully, for we risk the possibility of exploiting the very people we invest in.
I have a difficult time calling the individuals in films 'subjects' and I guess it's more of an ethics debate as to why that is, but they are people – individuals after all and the more we see people as subjects the less we see them as beings with feelings. I've realized that the future of this industry depends wholeheartedly on those who seek the greater meaning, and who search for the greater connections in life, to reveal the greater meaning instead of using 'subjects' as vessels to get a point, or message across.
I understand more then ever the importance to stay connected to the colourful characters in your film, rather then entering their lives only for the content you want for your film and then leaving them once you've extract it, but does putting a face to the emotion of your film exploit the individual? I guess it's the way one goes about it, and I understand that it is different in every case.
As a filmmaker one is placed in a significant place of power, with two responsibilities, one to your audience, and the other to your character, and it is finding that balance, and importantly, taking the responsibility in order to back up your decisions.
And with that said, and with the reflection of the open forum still cycling through my head documentary filmmakers have an obligation to their characters to be honest, to make an honest film.
—
Leta