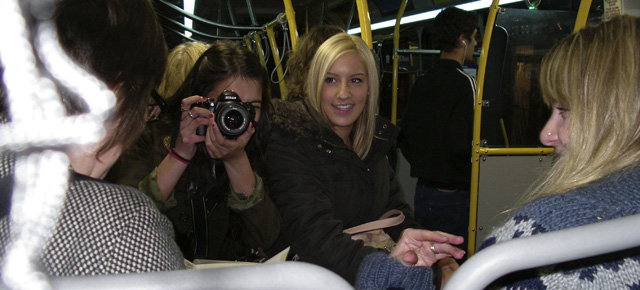 DOXA Connexions: My First Time on the Silver Screen
This post was written by one of the young women participating in the 2011 Kris Anderson DOXA Youth Connexions Forum, as part of the DOXA Documentary Film Festival. "Connexions" is an immersive 2-week program where 6 selected emerging female filmmakers create 6 short films in 6 days, while also connecting with industry professionals & checking out all the doc films & panels.
On Thursday May 12, I had the opportunity to be a part of an amazing experience. As part of the DOXA Connexions workshop myself and 5 other female filmmakers were given the task of each producing, directing, shooting, and editing a short 90 second film to be screened at the Rio Theatre. The screening was to take place at 7pm and had to would fit the theme "Spotlight on Vancouver".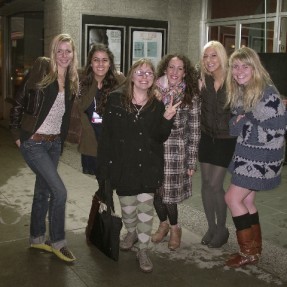 Our films were to open the screening and be shown as a compilation before the featured documentaries, Vancouver Honeymoon, The Outcast, West End `66 and Swingspan.
It was so rewarding to be part of such a diversely creative group of young women, as each film was as unique as its individual creator. The films included subjects on dance, poetry, performance art, politics, social issues, women's empowerment, and a tribute to an independent video store, Black Dog Video.
As a filmmaker, it was such an exciting experience to see my film screen in a theatre full of people who have come by free will who werent obligated, like friends and family are.
I remember walking up to the entrance of the Rio and was shocked to see a huge lineup forming almost around the block, all people waiting to buy tickets for the screening. Even though my film was only opening for the featured documentaries and was a short 90 seconds, my stomach was filled with delight and terror resulting in a somewhat nauseating excitement.
The front of the theatre was frantic with audience members, volunteers and mentors and a sense of panic overcame me as 2 of my friends were becoming more and more late for the screening. After pacing, meeting with friends and family and disbursing their tickets my 2 late guests arrived just in time before the screening. I was a tangle of emotions as I rushed in the door but as I went to meet the other Connexions participants I felt a sense of relief knowing we were all sharing this special moment.
I learned that we were to go onstage and introduce ourselves and the name of the film, which terrified me as I hate public speaking. As we gathered onstage the light shined so brightly in my eyes, blocking out the view of the audience. I recited my name and my film title over and over in my head until I was handed the microphone. Luckily, I was able to say my name and the name of my film, Escape, without choking. As the introductions ended and we headed off stage I was relieved to slip into the darkness and sink into a theatre chair. As the projector warmed up time, stretched on, building my anticipation. As the films started, I was ecstatic with how great they looked, up on the big screen.
As I watched my own film there was a wonderful feeling of disconnect from it that I'd never experienced before. Usually, I am very critical of my own work. As I watched it play on the silver screen I felt a feeling of acceptance. I was not counting the flaws or thinking of the edits I could have changed. I was't cringing at the sound or covering my ears. I was simply experiencing it, watching and listening. I was also listening to the audience watch it with me and had a feeling of deep fulfillment as it ended and the audience began to clap. Sitting there in the dark, with a room full of friends and strangers, I thought to myself, these are the moments I live for.
Janelle Huopalainen