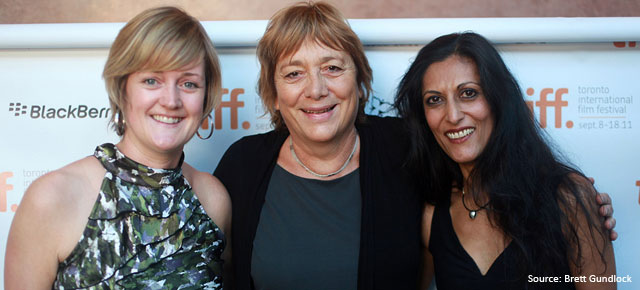 Pink Ribbons, Inc. premieres at TIFF to a packed house
Yesterday afternoon saw the world premiere of our feature documentary, Pink Ribbons, Inc. at the Toronto International Film Festival.
The film probes into the world of cause-marketing and breast cancer in an attempt to get people to think critically about what is involved in corporate fundraising and how the money is being spent. It offers a completely different take on the pink ribbon "success" story and offers insight from leading doctors, activists and social critics, as well as those suffering from breast cancer.
In attendance at the premiere were author Samantha King, director Léa Pool and producer Ravida Din (pictured above) along with activist Barbara Brenner and IV League member Sandy Kugelman, among others. The vibe in the room was electric as Steve Gravestock introduced the film, which ended with a standing ovation from the sold out crowd of 500 audience members.
Regrettably, I wasn't at the screening, but I can imagine the impact it must have had. Since the first time I saw a cut of the film a few months ago, I haven't been able to get it out of my head. It's shocking, intelligent and incredibly powerful. It takes something that you see every day of your life – that little pink ribbon – and casts it in a whole new light. It's the kind of film that at once enrages you and spurs you to action.
And I'm not the only one who was hit hard by this doc. A quick glance at some of the early reviews shows that not only are people ready for this film, they've been waiting for it:
"It's a powerful film – but also a fascinating and thoughtful one." – Montreal Gazette

"…Pink Ribbons, Inc. casts its gutsy glare at the problems with the contemporary culture of breast cancer… [the film] not only evaluat[es] the cancer "industry," but [is] bold enough to work double-duty as an unflinching, strikingly unsentimental critique of capitalism itself." – Cinema-Scope

"With a stunning documentary debut, veteran Quebec director Léa Pool mounts an eloquent and alarming argument that the massive pink-ribbon campaign against breast cancer has become tainted by a malignant breed of corporate opportunism." – Macleans.ca

"More than just a provocative, highly intelligent critique of the breast cancer industry, Pool's doc functions as an engaged, fiery takedown of capitalism and globalization, writ large." – Torontoist

"Intelligent and deeply engaged… [it's] the kind of documentary that you hold up eagerly… and say, 'This! This is what our National Film Board is capable of." – Torontoist (interview w/Léa Pool)

"It's really strong, and it's great to see a master filmmaker like Léa Pool back as well." – Steve Gravestock, quoted in The Star

"Brilliant." "Terrific." – Now Magazine
The film has 2 more screenings at TIFF – tomorrow at 9:15 pm at the AMC2 and on September 18 at 12:15 pm at the Scotiabank Theatre 1.
The film will be released to theatrical audiences in Canada in early 2012. In the meanwhile, you can watch the official trailer: