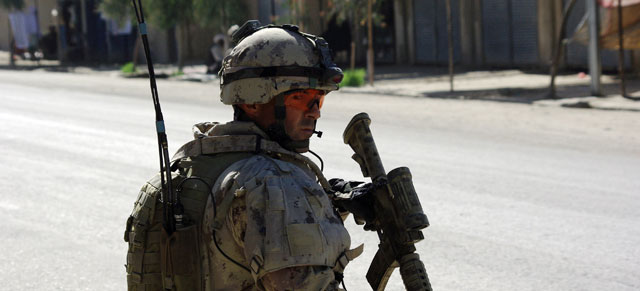 World Premiere of The Van Doos in Afghanistan on NFB.ca
This post is a translation from French. You can see the original post here.
***
Edited on November 11, 2011: Due to overwhelming demand, especially on ONF.ca, we have decided to leave the film The Van Doos in Afghanistan online, for free, until Monday morning, November 14. As of Monday morning, it will be available for purchase as a digital download.
During Veterans' Week  (November 7–11, 2011), NFB.ca will honour members of our armed forces who have served our country, as well as those who are serving in uniform today.
Starting Monday, every day right up to Remembrance Day (November 11) our site will feature a new vignette from the documentary The Van Doos in Afghanistan. On November 11, the NFB will offer the entire film free of charge for a period of 24 hours, after which you will be able to purchase it from our site as a download. This marks only the second time that the NFB premieres a new release on NFB.ca, instead of screening it as part of a festival or in movie theatres, and we are very proud to do so.
Directed by Claude Guilmain and produced by Anne-Marie Rocher, this documentary propels us into the heart of the action in Afghanistan, where members of the Royal 22e Regiment, a mechanized  brigade group based in CFB Valcartier and nicknamed the Van Doos, are serving in the field. We meet soldiers named Guillemette, Augar and Perreault on the ground, where they talk with great candour about their experience in the military.  The Van Doos in Afghanistan is a rare portrait of soldiers who, far too often, remain nameless.
The first vignette, My Battalion is already online.  I invite you to watch it today. In this clip, we meet Corporal Maxime Émond-Pépin, who sustained serious injuries to his leg and lost an eye while on his first mission in 2009. Despite his injuries, he rejoined his battalion in Afghanistan. He tells us his story and explains how important it is for him to come back to serve in the infantry.
The Van Doos in Afghanistan – My Battalion, Claude Guilmain, provided by the National Film Board of Canada
So remember to check back each day between November 7 and 11 to watch a new clip, and then, on November 11, watch the entire film for free. And please, leave us your thoughts in the comment section below.