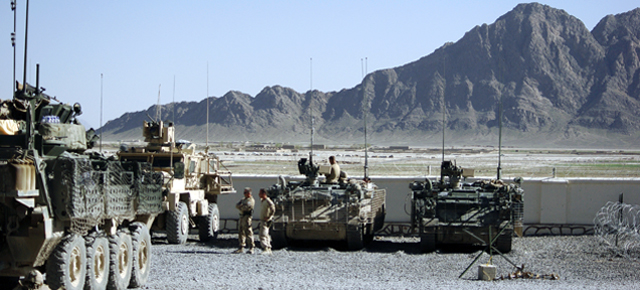 Filming war: an interview with producer Jacques Turgeon
*This post is a translation. Read the original French post here.
In March an NFB team travelled to Afghanistan to document daily life as experienced by soldiers of the 22e Regiment, the Van Doos, serving in the heat of the conflict.
Using footage from this visit, we developed The Van Doos in Afghanistan, a 45-minute documentary in which the soldiers speak frankly about what they experience daily in this theatre of war. (You can screen 6 free vignettes from the film here.)
Right now, the NFB is preparing a more extensive documentary that will portray the history of the Van Doos from the regiment's creation to the present day. The film, which includes footage from Afghanistan shot last March, will be launched to coincide with ceremonies marking the Regiment's centennial.
Shortly after Jacques Turgeon returned to Montreal, I spoke with the executive producer in his office at the NFB in Montreal. Here is some of what we talked about.
Carolyne Weldon: You just came back from Afghanistan. What were you doing there?
Jacques Turgeon: We went to shoot a documentary on the history of the Royal 22e Regiment, known as the Van Doos, which the NFB is preparing, along with Radio Canada and the organizers of the 2012 celebrations marking the regiment's centennial.  The Royal 22e Regiment, based in Valcartier, was involved in both World Wars and in the Korean War (1950-53), in addition to participating in numerous peacekeeping missions. Afghanistan is the regiment's first combat mission since the 1950s.
We were kind of surprised, because we thought we would get to Kandahar and more or less stay put. However, the morning after our arrival, we got a chance to climb aboard a helicopter and fly to some of the most advanced positions at the front – which they call F.O.B.s [Forward Operations Bases] – such as Panjwa'i.
CW: Who went with you? Did you have a large team on the ground?
JT: There were 4 of us. Director Claude Guilmain, director of photography François Vincelette, sound person Mélanie Ganthier and myself, executive producer.
Throughout our visit, we were accompanied by Captain Mélina Archambault, Public Affairs Officer (a sort of communications director) of the 1st Battalion, Royal 22e Regiment Battle Group (1 R22e R BG). She ate with us and shared our barracks at the base.
At first we wanted to meet a number of military personnel in Canada and then conduct follow-up visits in Afghanistan. With that in mind, we travelled to Ft. Wainwright in Alberta to do a first round of filming.
We met a variety of soldiers whom we later saw over there, but they may not necessarily feature among the stories that were kept during editing. In the end, they were not necessarily the most interesting stories. That's what documentary filmmaking is all about: you might have an idea – but you never really know where life will take you.
CW: What kind of welcome did you get over there?  How did they react to your project?
JT: We were given a very warm welcome. The difference between us and most journalists covering Canadian involvement in Afghanistan is that the others pay their own way, use commercial flights, need to obtain permission, request access, etc. For our part, we followed military procedure.
We left Ottawa in a military aircraft, along with the soldiers. These planes have huge cargo bays that can easily transport helicopters or tanks. However, the deafening racket it makes was so great we had to wear headphones.
From Ottawa we flew to Germany, where we had to wait for 3 or 4 days. You see, our departure for Kandahar coincided with the Canadian government's decision to intervene in Libya. So we spent a few days there. We really followed the soldiers' schedules.
Once we arrived, all doors were open to us. We saw life at the base; we sat in on a shura, a council meeting of local tribal chieftains; we observed a school being built. All this gave us quite an extensive view of Canadian involvement in Afghanistan as it was last March.
The fact that the soldiers are shown telling their stories in their own words sets our project apart from others in which someone speaks for them or describes their comments second-hand. Our approach gives viewers a new outlook on the war – that of the soldiers who are on the ground.
We gave everyone a chance to tell their stories, from simple soldiers to the highest-ranking officers, all true stories. Everyone opened up to us.
We could discuss anything with the proviso of avoiding putting our troops at risk.
CW: Did you share barracks and mealtimes with the soldiers? Did you feel safe?
JT: We shared the soldiers' lives. We always felt relatively safe; albeit there was always a palpable tension in the air. We heard machine-gun fire, patrol aircraft, helicopters, and explosions.
We were constantly surrounded by a climate of war.
CW: Could you describe one of the most memorable moments of your stay? Does one come to mind?
JT: During our stay, [Corporal] Yannick Scherrer was killed by a land mine while on patrol at Panjwa'i, on March 27. The patrol was exactly like the one we'd just taken part in, less than 3 hours before. He was Canada's 155th combat casualty.
We were allowed to attend the commemorative ceremony held in his honour on the base and we were also given permission to film his comrades-in-arms as they observed a minute of silence. This is not an event that is usually seen by the public. We were also invited to another, more private ceremony, but we didn't film it, out of respect for the people there.
As a whole, this experience has left its mark on each of us. We'll remember it for the rest of our lives. I never thought I would experience war in my lifetime. I had been able to avoid it up to then. Whenever our team members meet, we only talk about that and we all follow news from Afghanistan very closely since our visit there.
This kind of experience stays with you forever.
—
Watch clips from The Van Doos in Afghanistan
Download the digital version of the full film