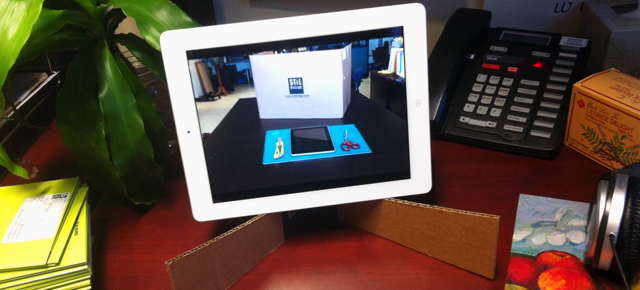 How to make a cardboard tripod for your iPad
Four days after we launched Pixstop, our new and terrific stop-motion application, a reader called Pierre Durand left us a comment on the blog. In his message, Pierre said (in both of Canada's official languages, to boot) that he liked using the app, but that he found it hard to immobilize the iPad while shooting.
"I was wondering how to have my iPad not moving at all?" Pierre wrote. "Any idea of a home-made kind of tripod for iPad?"
The NFB being the kind of place where this sort of comment creates a flurry of brain activity instead of sinking into blog comment oblivion (yeah, we're total nerds), we soon had a reply for Pierre.
My ever devoted colleagues Mivil Deschênes and Jean-Sébastien Beaulieu took the matter into their very own (and very capable) hands and came up with the perfect answer.
Last Friday, they made this stop-motion how-to video (below) illustrating the steps to MacGyver your own cardboard tripod to prop up and stabilize your iPad. But wait – there's more: the entire thing was shot with our Pixstop app! So meta!
On top of being fun and easy to make, our tripod has to be the cheapest on the market, too. All you'll need to make your own is part of an old cardboard box, an x-acto knife and 3 minutes.
So the moral of this story is: ask and you shall receive, NFB blog readers! Should you want to know something, or think we can help with anything, do speak up! Awesome things could happen.