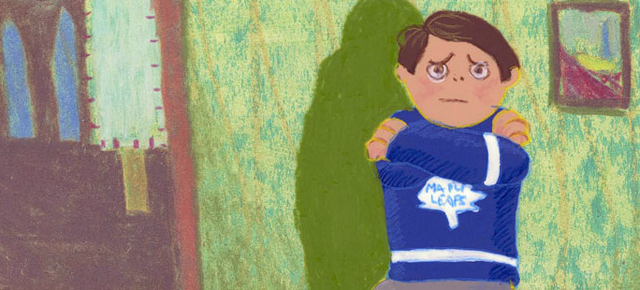 The Sweater Gets Symphonic Treatment in Toronto
Roch Carrier's The Hockey Sweater, a story about a young Montreal hockey fan who is mistakenly sent the wrong jersey and forced by his mom to wear it, is being interpreted by the Toronto Symphonic Orchestra (TSO) for the very first time this May.
The classic tale, which many view as a parable about French-English relations in Canada has been giving the full symphonic treatment by award-winning composer Abigail Richardson. The world première of the work, slated for May 12, 2012, will be hosted by famed Montreal Canadiens goalie Ken Dryden and narrated by the author himself, Roch Carrier.
The story, based on a real-life experience of the young Carrier, recounts the time Carrier's mother ordered him a new hockey sweater when his beloved Maurice Richard #9 sweater fell apart. To his great mortification, the replacement sweater that came in the mail bore the logo and colours of his bitter rivals – the Toronto Maple Leafs.
Presented as part of the TSO's Young People's Concerts series, the event has been created especially with children ages 5-12 in mind.
The symphonic adaptation isn't the story's first spin-off. In 1980, the NFB adapted The Hockey Sweater into an animated short film. Titled The Sweater, the film went on to win many awards and legions of fans. Watch it below.
The Sweater, Sheldon Cohen, provided by the National Film Board of Canada
Visit the TSO's website for more details and tickets.