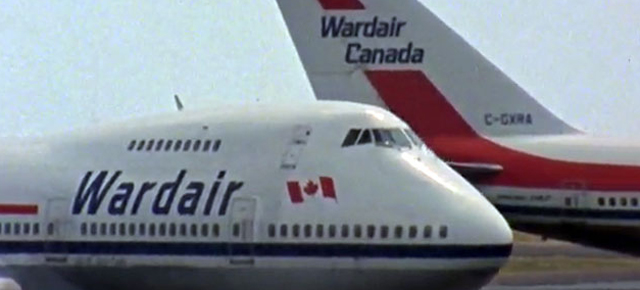 Max Ward: The NFB Profiles a Canadian Aviation Legend
Do you remember Wardair? It was a very prominent Canadian airline in the 1970s and 1980s. We have recently added a documentary about the airline's founder, Max Ward, to NFB.ca, and I thought it would be a great time to write a post about it.
I'm going to do something a little different this time. Instead of only talking about the film's production and distribution, I'm going to go full aviation geek on you and talk about the aviation side of things.
History of the airline
First, a little history: Wardair was founded by bush pilot Max Ward in 1953. The airline originally served the Canadian North as an air charter business but then expanded, becoming an air holiday charter operator in 1962. In the 1970s and 1980s it was (briefly) Canada's third largest airline, despite the fact that it only operated seven jets. In the mid 1980s, the airline switched to scheduled services and never recovered. Ward eventually sold the company to Canadian Airlines in 1989, ending one of the most fascinating airline stories ever. (Fun fact: Wardair was the first airline in Canada to operate a Boeing jet, the 727, bought in 1966.)
The documentary
The documentary Max Ward was filmed in 1983–84, when Wardair was just about to make the leap into the big leagues. Sadly, this change also led to its demise. In the documentary, we are told that Wardair is a major player in the sun holiday charters to such places as Hawaii and Barbados, but is looking to take the step up to scheduled services. Max Ward is shown throughout the film managing his company with one basic philosophy: give the customer the best possible service for the best possible price. Ward is a hands-on type of president, personally inspecting all aspects of his operation. He is shown on board aircraft noting things that need to be corrected and fixed, no matter how small or insignificant they might seem.
It is fascinating to see the succulent meals served during the Wardair flights—on Royal Doulton china! Ward explains that he prefers to eat on good crockery and his passengers deserve the same. Serving meals on such good china also makes excellent business sense as they are much tougher to break and last a great deal longer. How times have changed!
Distributing the film
When the film was finished, it was sent to the CBC, who promptly rejected it. They felt it was a 50-minute commercial for Wardair and decided not to purchase it. CTV also rejected the film. The NFB had a hard time selling Max Ward but eventually did, to individual television stations CFPL London (Ontario), CKX Brandon (Manitoba) and CFCN Calgary. International sales were just as disappointing, with only an Australian distributor buying the rights for the educational market in that country.
The lack of sales is not surprising. The film was made at the wrong time (in my opinion). Wardair was about to become a major player in Canada's aviation industry, albeit for a brief time only. At the time of filming it was just a small airline with a great deal of potential. The paradox is that the switch to scheduled services was what started the airline's downfall. There is a telling moment in the film when the filmmakers ask some travellers why they chose Wardair. The answer is not surprising: Wardair offers the cheapest flights. Unfortunately, the bottom line is always what makes or breaks any business. Competing with the major airlines of the day, Air Canada and CP Air, was not going to be easy, even with meals served on Royal Doulton china.
The most interesting aspect of this film is Ward. I think the film should have focused more on his days as an aviation pioneer in Northern Canada and less on his appearance in front of a panel for airline de-regulation. His position is clear and does not need to be repeated. Even with these flaws, the film is still fascinating, especially when you realize just how much the airline industry has changed since then. It remains a time capsule of a different era in Canadian aviation.
I invite you to watch Max Ward even if you are not an aviation enthusiast. It chronicles the adventures of a small Canadian company that dared to dream big and its dedicated president, who wanted to give customers the best flying experience possible.
Aviation geeks please note that Wardair's fleet of four Boeing 747s are prominently featured in the film, in flight and on the ground (especially C-GXRD). Throughout the film we also catch a quick glimpse of several other aircraft. I was pretty excited to see a Quebecair BAC-1-11 landing at Trudeau Airport (20 seconds into the film) as well as a CP Air DC-10, resplendent in its bright orange livery. Be sure to stay tuned until the end to see one of Wardair's DC-10s taking off from Pearson.
Enjoy the film.
Max Ward, William Canning, provided by the National Film Board of Canada