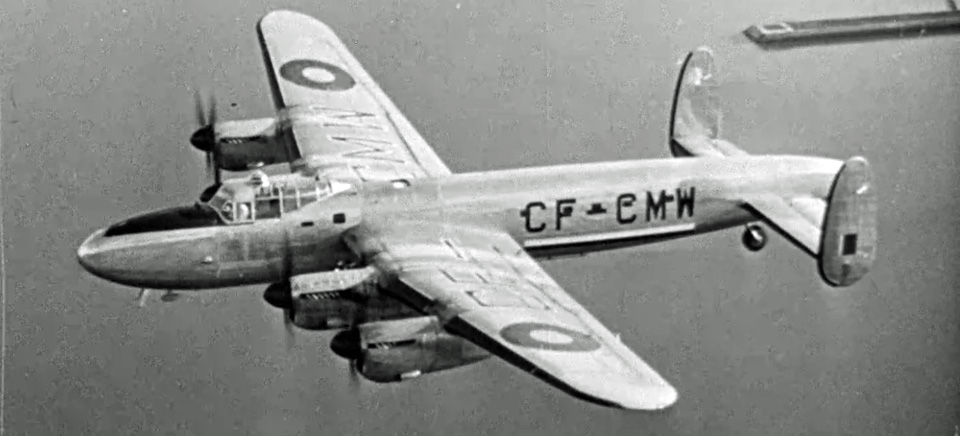 Planes, Planes and More Planes
Anyone who knows me is aware that I am a huge aviation geek. I am happy to say that we have recently added to the website several classic films on aviation in Canada that I would like to share with you, along with a few that have been online for some time. We've also added several non-aviation films that have great airplane sequences.
So without further ado, here are my classic-aircraft film picks.
Have you ever wondered how mail is carried across vast distances? Well, Flight 6, a jewel from the Canada Carries On series, explains just how it was done in 1944. Focusing on Trans-Canada Air Lines transcontinental flight 6, the film shows that delivering mail is a very serious business. It includes a wonderful moment where a young woman answers her soldier boyfriend's proposal of marriage by mail… only to be interrupted by her boss at work. Not to worry, all ends well. The film features TCA Lockheed 10A and 14A Super Electras as well as an Avro Lancastrian cargo aircraft (the civilian version of the Avro Lancaster bomber).
Flight 6, Sydney Newman, provided by the National Film Board of Canada
Wings of Mercy (1947) focuses on the Air Ambulance service in Saskatchewan. Operating from bases at Regina and Prince Albert, this service covered the entire province.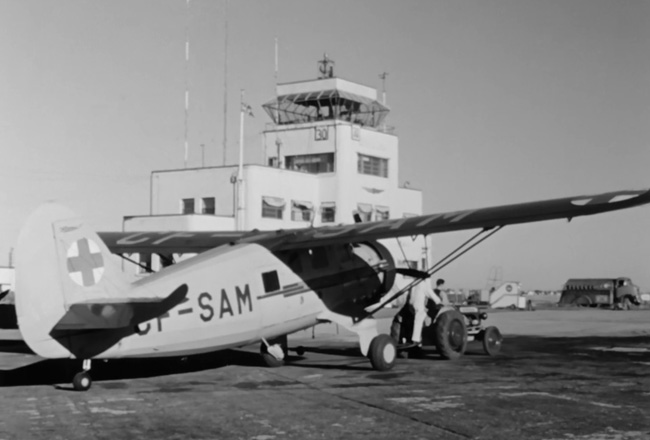 Using the rugged Noorduyn Norseman as well as the oddly shaped Fairchild F-11 Husky, the pilots operate on skis, floats and wheels, landing on just about every type of terrain and body of water possible in the effort to medically evacuate patients to the nearest hospital. This film is very obviously staged, but it has a nostalgic vibe—and those Norsemen look amazing!
Wings of Mercy, Evelyn Cherry & Lawrence Cherry, provided by the National Film Board of Canada
Now for a film that is not on aviation but includes some great airplane sequences. Road of Iron is an excellent 1955 production on the development of the area north of Sept-Îles, Quebec. For aviation fanatics, there's a three-and-a-half-minute sequence showing DC-3s and C-46 Commandos being put to use ferrying supplies into the work camp. Some terrific shots of the Hollinger Ungava transport DC-3s landing and being loaded can be found starting at 12:15.
Road of Iron, Walford Hewitson, provided by the National Film Board of Canada
An airplane I have learned to appreciate more and more over the years is the Curtiss C-46 Commando (if you've seen Ice Pilots NWT, you will recognize it). I found it in a few NFB films, none better than during a two-minute sequence in Our Northern Citizen (1956). This episode of the Perspective television series is all about the life of the Inuit on Baffin Island. As of 10:11 you are treated to spectacular footage of several C-46s landing at Frobisher Bay (now Iqaluit), as well as DC-3s and DC-4s in action. Airlines featured include Maritime Central Airways, Riddle Airlines and Coastal. Rugged workhorses at work!
Our Northern Citizen, John Howe, provided by the National Film Board of Canada
The 1959 film The Golden Age was produced as part of the World in Action television series as a salute to 50 years of flight in Canada. It's been on our site for several years, but it has so much airplane footage that I have to share it with you. The film is split 50/50 between military and commercial aviation. It includes too many airplanes for me to list here, but I can point out several highlights: the test flights of the ill-fated Avro Jetliner and Avro Arrow, neither of which ever went into production; DC-6s and Canadair North Stars landing at Dorval Airport in Montreal; and the DHC-2 Beaver in all its glory. There's also an extended sequence of the Avro CF-100 Canuck fighter during its test flight.
The Golden Age, Richard Gilbert, provided by the National Film Board of Canada
Still want more aircraft? Check out my blog post on Bush Pilots: Reflections on a Canadian Myth, featuring the Noorduyn Norseman and a few DHC-2 Beavers. Also read my colleague Carolyne Weldon's post discussing 15 NFB films on airplanes of all kinds.
Enjoy!