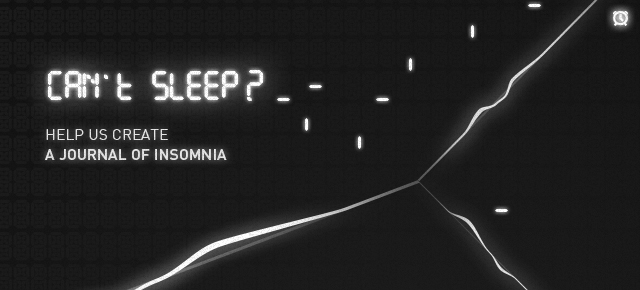 I've never suffered from insomnia (I'm touching wood as I write this), but I did work with a colleague who struggled with it for years. Every night she would go to bed, close her eyes… and fail to fall asleep. She came in to work every day and did her job without ever complaining about her lack of sleep. Ever. I have no idea how she managed.
Now, she sleeps. Not for long, but at least a few hours per night – she considers a full night's sleep a real gift. I have a lot of respect for my colleague – you see, I'm the kind of person who goes around complaining all day that I'm "so tired" if I miss so much as an hour of my golden slumber.
All this by way of saying that I honestly have no idea what it's like to suffer from insomnia. That's one of the reasons I'm looking forward to participating in the latest project from NFB Interactive:
Insomnia as a socio-economic phenomenon
The musician Moby has suffered from insomnia for years. Marilyn Monroe suffered from it too. George Clooney wrote The Ides of March during some of the many nights he spent awake. In the developed world, in any given year, 1 person in 3 cannot get to sleep. It's a real problem, and it seems to have socio-economic roots, according to a number of researchers. That's because historically, insomnia only became a concern when people started to see time as money. Night became a passive time – a non-productive period – whereas in the past, sleep was seen as an active state governed by dreams.
Looking at the phenomenon of insomnia is a bit like watching a snake eat its tail," says NFB Interactive executive producer Hugues Sweeney, who is heading up the Journal of Insomnia project. The more economically productive we are, the less we are able to sleep. And the more nights of sleep we lose, the greater the negative economic impact. Instead of growing, the market value of time winds up shrinking instead.
Insomnia is not a disease. It is a symptom – an alarm signal and a wake-up call for more serious problems such as burnout and depression, or even suicide. People with insomnia are in distress. That's why Hugues and his team have decided to turn to the general public – asking people express themselves on this subject.
1 project, 2 phases
Phase I – The Confessional Site
For the first phase of the project, a website is online at NFB.ca/insomnia. We're asking insomniacs from all over the world to share their stories. The project is accepting submissions in English and French, and we hope to be able to paint a portrait of insomnia in North America, Asia, Europe, and Oceania.
People with insomnia are invited to respond to an online survey that has more than 80 questions. Obviously, we're not expecting people to answer them all in one session! (Though if you're awake in the middle of the night with nothing else to do…). Seriously though – users can save their answers and return to the questionnaire later. You can answer in writing using your keyboard, on video with your webcam, or by doodling on the site itself using your mouse.
All content will serve as part of the experience site, which is the second phase of the project.
Phase II – The Experience Site
The second phase of the project offers a portrait of people with chronic insomnia. Visitors to the site – both those who have insomnia and those who don't – will see a series of profiles of people with insomnia. They can then pick one person and make an appointment with them to "experience insomnia." It will either be day or night on the site depending on where visitors find themselves on the planet.
The Journal of Insomnia is a unique artistic and collaborative project, bringing together the stories and experiences gathered in Phase 1. The result is powerful and intimate – highlighting the experience of insomnia rather than its clinical treatment.
Since the user experience is marked by time, each site visitor will be associated with their time zone. The project will run 24/7 – round the clock and around the globe.
The Team
This is a personal project that Hugues Sweeney has been working on since he first started at the NFB, back in 2009. So The Journal of Insomnia is the result of a long development process – and we are excited to have it take on a life of its own online in the coming months.
The Internet is insomnia. It's always night somewhere, and day somewhere else," Sweeney says. "The network never sleeps. [The Journal of Insomnia] is not a pilot project, is not therapeutic, and isn't a reference work on the subject. It's an invitation to intimately experience the phenomenon of insomnia and to reflect on a condition that has so many in its grip, robbing them of restful nights.
In order to bring the project to fruition, Sweeney called on the creative team at Akufen, with Guillaume Braun as creative director and Bruno Choinière as artistic director. The team also includes Thibaut Duverneix of the studio Departement (video and editorial), Philippe Lambert (sound design) and Marianne Prairie (research).
Insomniacs wanted
Do you suffer from insomnia? If you do, we'd like to invite you to participate in Phase 1 of the project by watching the trailer below and then visiting NFB.ca/insomnia. We also encourage you to share the trailer and website information with any insomniacs you might know.
And on that note, I wish you all lots of zzzzzzzzzzzzzzzzzzzzzzzz……