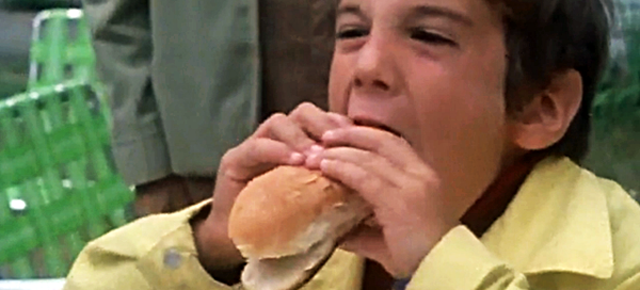 Food is everything. Without it we die, while a single bite of it can unfurl passions, flood us with nostalgia, transport us to heaven and make us dearly yearn for home and mother. It was World Food Day this week and to mark the occasion, I offer you 5 flavorsome films about food. Like Orson Welles said, "Ask not what you can do for your country. Ask what's for lunch."
Hold The Ketchup
Hold the Ketchup, Albert Kish, provided by the National Film Board of Canada
Hold the Ketchup, aside from being a terrific title, is a 1977 documentary about what newcomers to Montreal like to eat. Because, as Portuguese grocery store clerk succinctly puts it, in an early scene, "[immigrants] can sleep like a Canadian, dress like a Canadian, do things like a Canadian… but we can never eat like a Canadian." One is soon forced to ponder who can, when the image fades into a close-up of a piece of white, flaccid Wonderbread being mercilessly obliterated to bits by a knife-wielding hand attempting to butter it.
But more than a diss of local cuisine, this deliciously vintage film is a celebration of the foods and recipes carried to Canada by immigrants from all over. The film takes us shopping in all sorts of"ethnic" grocery stores – Italian, Chinese, Portuguese, and even a live-chicken market – before heading to the homes of those who will lovingly prepare the food and consume it.
There's a Chinese Elvis, in gigantic shirt lapels and a pompadour, discussing the gap between what people call Chinese food and actual Chinese food. There's a Spanish backyard barbecue fiesta, replete with grilled sardines and live accordion. ("We're not too serious like other Canadians," a barbecue attendee says. "We like to spend time eating, talking, drinking. We try to do this every Sunday.") There's even a demonstration on how to make the "famous" Transylvanian layer cabbage.
In 2012, the novelty of all this foreign food has largely worn off. Curry, kimchi, couscous, osso bucco… everyone eats a little of what everyone else eats. To fully appreciate the film's yummy effervescence, try channeling a not-so-distant past when the only vegetables available in Montreal were potatoes, carrots, celery and turnip, and a decent espresso was something you remembered from your honeymoon in Italy. Soon, those cardamom pods, apple strudels and sushi rolls look start looking like as many holy grails. Yum.
A Monk's Secret
A Monk's Secret, Yves Étienne Massicotte, provided by the National Film Board of Canada
Rest assured: this somewhat ambiguously titled short doc is all about cheese – the famous Oka – and of the awesome monks who make it. The Trappists in Oka, Quebec, began making the cheese around 1890, when a fellow monk from France taught them the recipe, which dates back to the 11th century. The film introduces us to Brother Albéric, who continues to make Oka cheese at an abbey in Holland, Manitoba, following this time-honoured top-secret recipe. The doc, like the cheese itself, is fresh, sweet, and ever so slightly nutty.
How Do They Put the Centers in Chocolates?
How Do They Put the Centres in Chocolates? , Don White, provided by the National Film Board of Canada
This short doc from the How Do They? series (which focuses on the genesis of man-made objects like potato chips, rope or chain-link fences) is easily as prosaic as its title. Poetry aside, it does a pretty decent job at answering the question that ad guys over at Cadbury once succeeded in escalating to "secret" status. The entire thing is one big melted chocolate assembly line bonanza, which may or may not sound all that enticing, but 5 minutes of cocoa swirls and whirls left me with a serious hankering for the sweet stuff 52% of British women prefer to bedroom sports.
Pierogi Pinch
Pierogi Pinch, Kiarra Albina, provided by the National Film Board of Canada
This adorable ultra-short film was made by Kiarra Albina, a Calgary-born artist who participated in the 6th edition of Hothouse, the NFB's animation apprenticeship. Around a minute long, the film deals with the intricate act of pierogi making, which, it turns out, can be a real pain (pinch?) in the neck if you attempt going it alone.
My Urban Garden
My Urban Garden, Polly Bennell, provided by the National Film Board of Canada
The message of this 1984 documentary's protagonist, Carol Bowlby is encapsulated in the film's first sentence: "Anyone, anywhere, can have a garden." Bowlby, a no-fuss Haligonian who feeds her family of 5 from a small backyard plot the size of a living room 7 months out of the year, claims gardening "doesn't have to have anything to do with the fact that you live in the city, or you live in an apartment." Hurray! Balcony gardens for everyone!
Viewing short growing seasons, lack of space and poor soil quality as challenges rather than stop-signs, she is full of tips on everything from growing tomatoes in buckets to ways of protecting young transplants from the spring's unpredictable chill.
Like Bowlby says, it's probably "good for city people to watch and nurture a growing thing." I strongly concur.