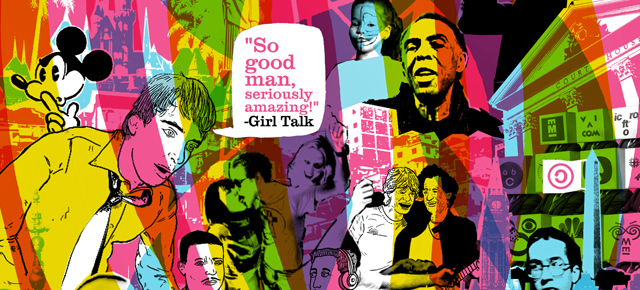 Steal Like An Artist: In Defense of the Right to Remix
If, as conventional wisdom has it, "everything has already been done", what remains, by definition, is rearranging the existing parts. A person who shares this opinion is filmmaker and remixer Kirby Ferguson, the man behind deeply researched and highly entertaining 4-part web series, Everything Is a Remix.
So what's a remix, anyway? According to Ferguson, a remix is any piece of art that includes a clear reference to another. This, you will be quick to notice, makes almost everything a remix, from your favourite song to your favourite movie. Pervasiveness does not equal respectability, however, and remixing has long been in the doghouse of the "real arts." Is remixing a worthy form of creativity, or is it tantamount to copycatting?
"Nothing is original", says Kirby Ferguson. From Bob Dylan to Steve Jobs, he says our most celebrated creators both borrow, steal and transform. In the TEDTalk below, he passionately argues for creativity, calling for protections for people who, with good intentions, weave together bits of existing culture into something fresh and relevant.
As companion piece, also check out the NFB's RIP! A Remix Manifesto, a feature doc in which filmmaker Brett Gaylor and mashup artist Girl Talk explore copyright and content creation in the digital age, dissecting the media landscape of the 21st century and shattering the wall between users and producers. With Creative Commons founder, Lawrence Lessig, Brazil's Minister of Culture, Gilberto Gil, and pop culture critic Cory Doctorow. Enjoy!
http://www.nfb.ca/film/rip_a_remix_manifesto/