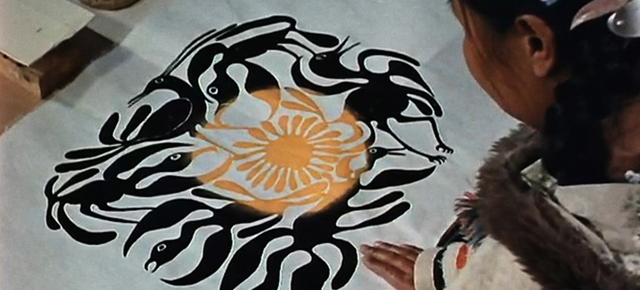 Remembering Acclaimed Inuit Artist Kenojuak Ashevak
Kenojuak Ashevak, one of Canada's most acclaimed graphic artists, died yesterday at the age of 85.
At the time of her death, the Inuit art pioneer was living in a wood-frame house in Kinngait (Cape Dorset) on Baffin Island, not far from the igloo where she was born, in a camp area known as Ikirisaq.
Through her long and fruitful career, which spanned 5 decades and spawned thousands of drawings, etchings, and prints, many of them well-known, Ashevak received many great honours, among them the Order of Canada, membership to the Royal Canadian Academy of the Arts, 2 honorary doctorates, and induction, in 20o1, to Canada's Walk of Fame.
One of our documentary shorts, Eskimo Artist: Kenojuak (1963), captured the beauty and power of Ashevak's work. The film, just over 19 minutes in length, was nominated for an Academy Award in 1964. The film follows the artist as she travels by dog team from her winter camp to Cape Dorset, to oversee stonecut prints being done after a drawing she made.
Eskimo Artist: Kenojuak, John Feeney, provided by the National Film Board of Canada
The film opens in darkness, to the sound of sleds gliding on snow. Ahead, a pack of dogs are running fast. Behind, a little family is being pulled in the night: Ashevak, her husband, 2 small children and a baby, slung on Ashevak's back and hidden underneath her hood. They reach the settlement of Cape Dorset at dawn, and this Arctic sunrise is filmed with all the glory and majesty such an apparition deserves.
Earlier, back at the camp, there is lovely footage of Ashevak drawing the piece that will later be printed in town while her family sleeps in their igloo. Her confident artistry, the mastery of her pencil stroke is remarkable. As National Gallery of Canada art expert Christine Lalonde would note, much later: "When you see her, you realize she doesn't use an eraser. She just sits down and she starts to draw."
Today, it is perhaps best to remember her by this wonderful quote of hers:
"There is no word for art. We say it is to transfer something from the real to the unreal. I am an owl, and I am a happy owl. I like to make people happy and everything happy. I am the light of happiness and I am a dancing owl."

*
Here are some images from the film and shoot. The film, despite what the stills suggest, is in full colour.