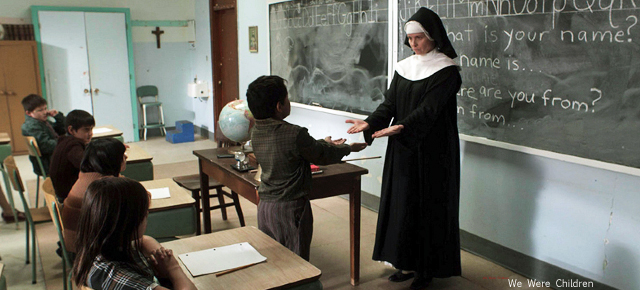 Watch We Were Children and Many More NFB Films At Your Local Library This Spring
The NFB Film Club is gearing up for another season of rich and varied programming. In spring 2013, the NFB – in partnership with libraries across the country – is offering Canadians 4 must-see programs for the general public and one specially for children.
In honour of National Aboriginal Day on June 21, the NFB Film Club presents We Were Children. This moving documentary tells the stories of Lyna and Glen, who were taken from their homes and placed in church-run boarding schools as children. The screening also features the short Button Blanket, part of the Vistas series on the theme of nationhood.
We Were Children (Trailer), Tim Wolochatiuk, provided by the National Film Board of Canada
The short films Vive la rose and The Basketball Game will be shown, respectively, with the longer films Hard Light, an intimate exploration of how we are shaped by both our past and present environment, and Legend of a Warrior, a documentary that follows filmmaker Corey Lee in his efforts to reconnect with his father, martial arts legend Frank Lee.
Legend of a Warrior (Trailer), Corey Lee, provided by the National Film Board of Canada
This spring, the NFB Film Club will also offer a program made up entirely of shorts. Enjoy Here and the Great Elsewhere, Unheralded and The Portrait – three films that will take you into three unique worlds, capturing your imagination and transporting you to very different times and places.
Here and the Great Elsewhere (Trailer), Michèle Lemieux, provided by the National Film Board of Canada
Children will be delighted by the vibrant and colourful short films in the special program we have put together for them, featuring The Tender Tale of Cinderella Penguin, Operation Cuckoo, Sea Dream, and the new NFB release A Sea Turtle Story.
For more information on the NFB Film Club, please contact:
Marianne Di Domenico | 514-283-8953 | m.didomenico@onf.ca