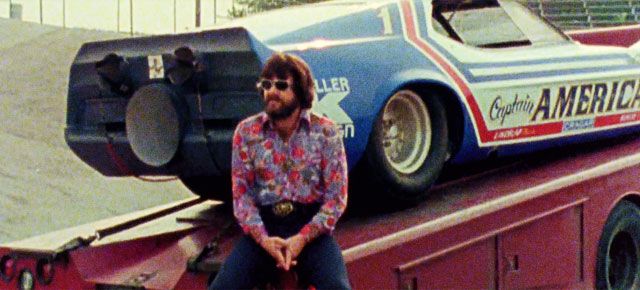 Need for Speed | 3 Films About Stuntmen & Daredevils
"Why do you like jumping?" the interviewer asks Tom Barry, a young stunt driver who briefly appears in The Devil at Your Heels.
"Psychiatrists have all sorts of theories and reasons, and whatnot," he says from behind his aviator shades and fluffy blonde beard.
"They say everything from people having masculinity complexes to suicidal tendencies. I really don't think it's any of those. You know, I was told a long time ago by my mother, she said: if life is boring, risk it."
As the weather warms and people pull their sweet summer rides out of garage hibernation, check out 3 films about reckless gentlemen who get creatively destructive with wheeled vehicles. From stunt driving to motorcycle racing to rocket-powered Lincoln Continentals, here's a little something to knock the boring straight out of life – even if only by proxy.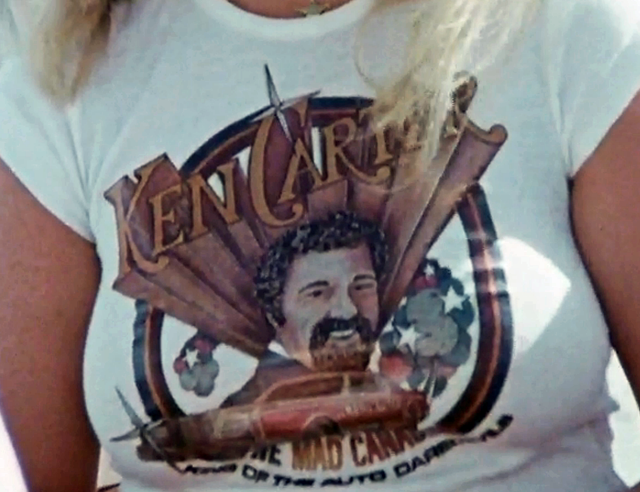 The Devil at Your Heels
The crown-jewel of this brash trio, this film tells the baffling true story of Ken Carter, a man with an ardent yet unusual dream. Carter already makes a juicy living jumping cars and defying death but he wants more. He wants to pull the greatest daredevil stunt of all times. He wants to jump a car over the distance of a mile, over the St-Lawrence seaway.
If you think that sounds like a terrible idea, factor in the fact Carter wants to attempt this in a custom-made rocket-powered car. The film, shot over 5 years, follows our stuntman in his surreal quest. The whole thing, as you can imagine, is one brilliant illustration of Murphy's Law after another: everything that can go wrong, does go wrong – and splendidly.
First there's the massive ramp that can't be finished in time because of dismal weather. Evel Knievel, sent by ABC to assess the operation's readiness files a negative report and ABC pulls its funding. "Looks like a dangerous jump to me, boy," Knievel warns. "If you land on that water you better have someone to get you in a hurry."
Then there's the fuel tank that won't stop exploding during dry runs. Then the entire car needs to be redesigned. The whole time, money is threatening to run out. Throughout, Carter maintains good spirits, frolicking in the pool of his Ft. Lauderdale home and saying stuff like "Rome wasn't built in a day." His obsession is mystifying, totally pointless and yet uncannily noble. Ken Carter is not one for giving up.
You'll have to watch The Devil at Your Heels to see how the whole venture pans out, but odds are high you won't regret doing so. The film, funny and full of action, explosions, and suspense, positively glows with Carter's determination and slick, late 1970s fashion statements. (I loved his "turtleneck and chains" look as well as his brown and white polka dot shirt.)
For those who might be into this sort of thrill but don't have an hour and 40 minutes to spare, check out The Mad Canadian, a 10-minute primer on Ken Carter's roadside antics, before the rocket cars and all that jazz. You see him jump 12 cars, which is pretty wild, and walking out of the wreck, smashed ankle and all, promising a repeat performance the very next day. Mad Canuck indeed.
The Devil at Your Heels, Robert Fortier, provided by the National Film Board of Canada
Ride for Your Life
For those who think car jumps are for wusses (all that metal padding!) here's a film about yet another breakneck venture: motorcycle racing. Our hero is Mike Duff, a strapping young Grand Prix motorcycle road racer from Toronto. We meet Duff, who won the 1965 Finnish Grand Prix, after he's just smashed his hip to smithereens in Japan.
There's fairly gory footage of his hip replacement, and hints of underwater physio, but in no time, our racer is back in his zippered leather one-piece and zooming away, ninja-like, on his death engine. (You can tell the film is nearly a half century old by marveling at the total absence of sponsor badges and logos on the racers' suits. Eery.)
The film itself, just short of 10 minutes in length, is full of daring camera angles and poetic blurs. Duff, sporting a brilliantined hairdo that's half Tintin, half Elvis, tells the camera he wants a world championship title, while aknowledging his wife won't be sad when he finally quits. "She wants a home," he says, from the shade of their RV. Something about him – the coyness? the looks? – reminds one of Ryan Gosling in Drive.
Amazingly, Duff emerged from his biking career alive. In the decades since Ride for Your Life was filmed, the racer has moved on. In 1984, Mike became Michelle, and began transitioning into a woman. These days, Ms. Duff lives in an isolated cottage in central Ontario where she does photography and writes children's fiction. True story.
Ride for Your Life, Robin Spry, provided by the National Film Board of Canada
Canada Vignettes: Stunt Family
The family that pulls stunts together stays together? Meet the Fourniers, a family from Drummondville, Québec, that crashes cars for a living. Under the guidance of its cigar-smoking patriarch, Marcel, the clan has participated in over 100 films and seen 2,000 smashed windshields up close and personal. Witness the Fournier tribe's fitness in this action-packed 3-minute ultra short.
Canada Vignettes: Stunt Family, Lois Siegel, provided by the National Film Board of Canada
* * *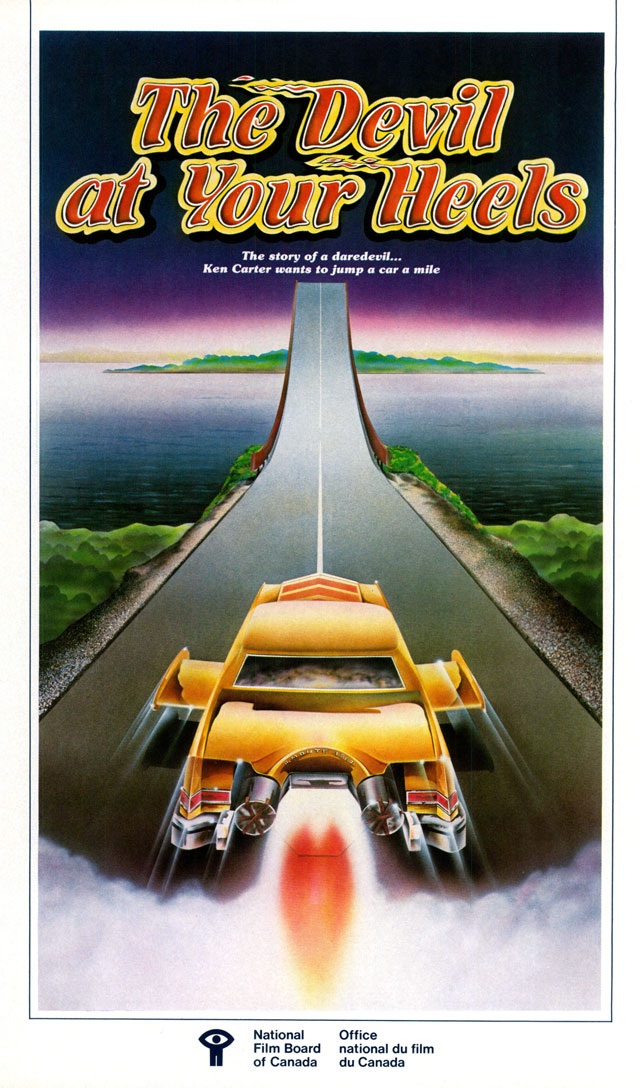 The Devil at Your Heels official poster.
* * *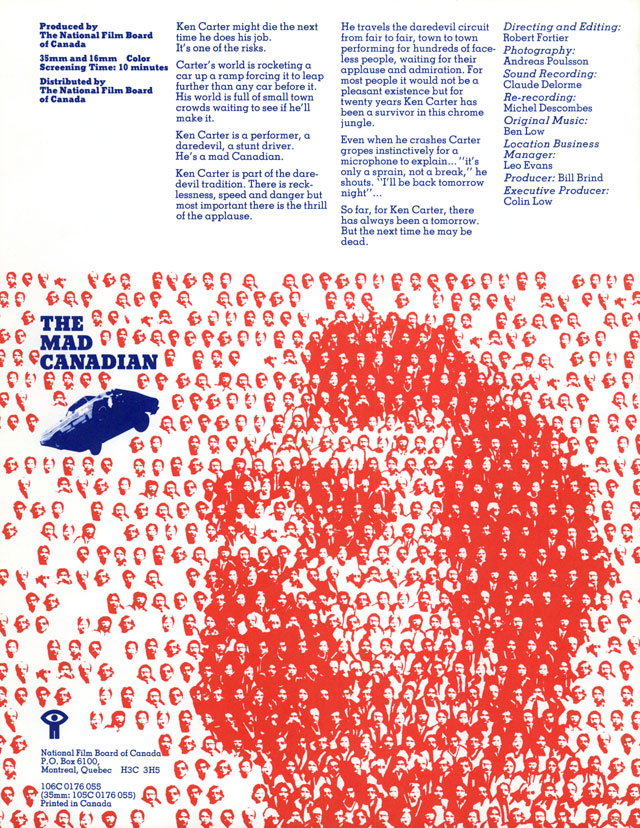 The Mad Canadian official poster.
* * *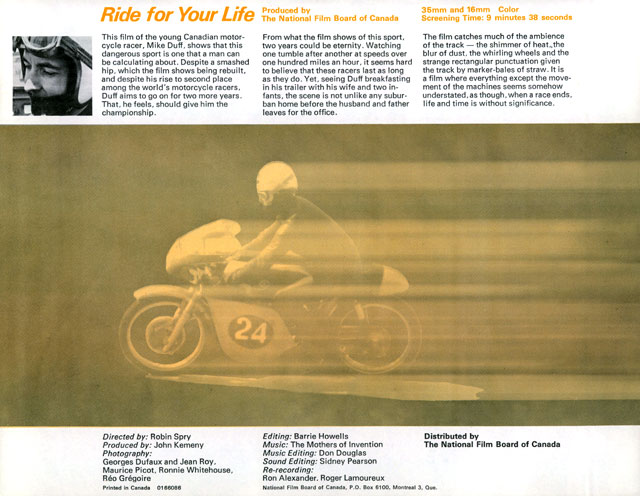 Ride for Your Life official poster.
* * *