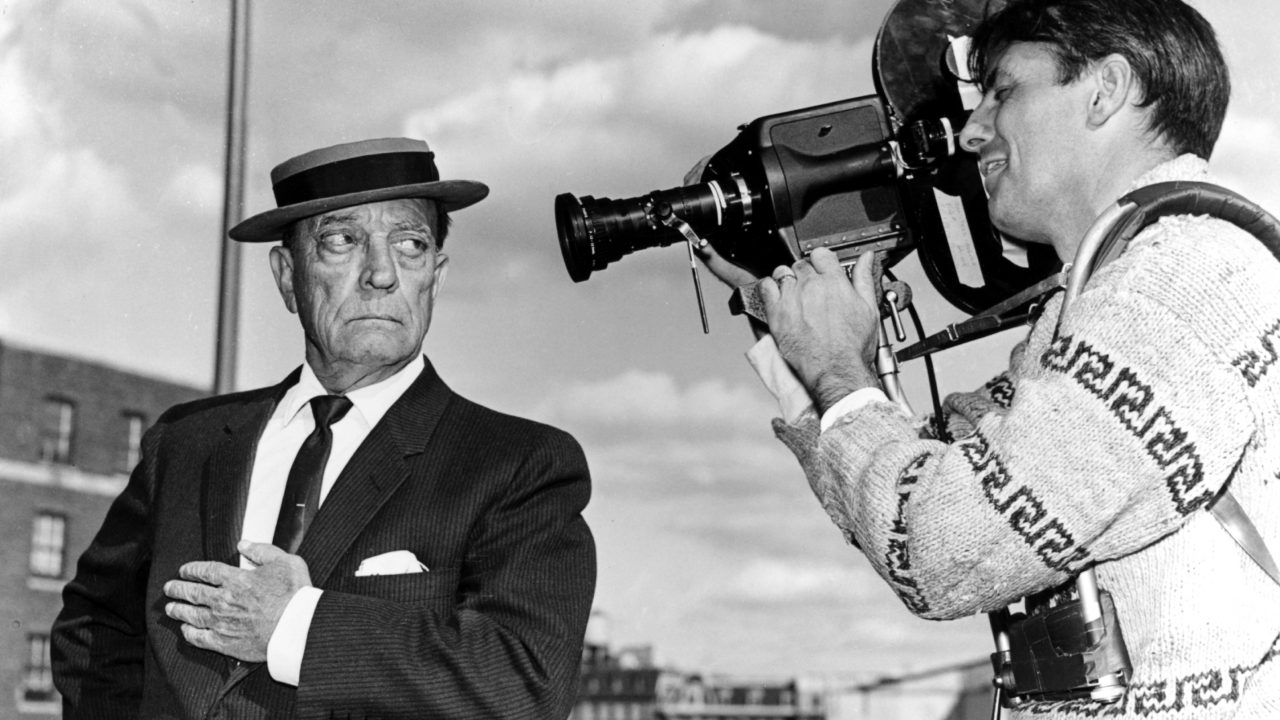 This Week on NFB.ca: Spin-offs, Sequels, and Prequels – Oh, My!
Everything old is new again. All you have to do is take a look at today's mass entertainment for proof. Reboots, sequels, prequels and spin-offs are the order of the day. From The Conners and Murphy Brown to every superhero in the Marvel and DC universes – it's everywhere you look.
We're no stranger to the phenomenon. Believe it or not, the NFB has its share of making-ofs, prequels, sequels, and spin-offs, too. And that's what we decided to focus on this week. There's nothing better than discovering there's more of your old favourites. So sit back, relax, and enjoy some great films.
Buster Keaton Rides Again
This documentary by John Spotton is essentially the making-of Gerald Potterton's short film The Railrodder,but it's so much more than that. It's a wildly entertaining opportunity to get up close and personal with comedic legend Buster Keaton. Join him and his wife as they ride the rails in luxury across Canada while shooting the short comedy.
Buster Keaton Rides Again, John Spotton, provided by the National Film Board of Canada
The Devil at Your Heels
This profile of Montreal-born stunt driver Ken Carter is an NFB classic. Carter had this idea to build a rocket-powered car and jump from a 10-storey take-off ramp across the St. Lawrence River. A mile-wide stretch across the river, mind you. It took him 5 years to raise the funds to try it. During that time, director Roger Fortier released a 10-minute short called The Mad Canadian, which followed Carter as he prepared for various stunts.
The Devil at Your Heels, Robert Fortier, provided by the National Film Board of Canada
90 Days
Ah… remember the 80s? Here is film rooted firmly in the 80s. It's a feature by director Giles Walker and it brings us the misadventures of two modern men in search of romance. 90 Days is a sequel to Walker's earlier film, The Masculine Mystique, which he co-directed with John N. Smith. That film was a blend of documentary and fiction that focused on 4 men navigating the feminist 80s. This one is pure fiction, and completely tongue-in-cheek.
90 Days, Giles Walker, provided by the National Film Board of Canada
Totem: Return and Renewal
This short film provides a follow-up to Totem: Return of the G'Psgolox Pole. In the earlier doc, we witness the efforts of the Haisla people to reclaim their cultural artefact which was taken in 1929. When the people of Sweden saw the film, they joined the Haisla people in their fight, pressuring the government and the museum to release the pole. In this film, we get to watch as the community gets it back and the celebration that ensues.
Totem: Return and Renewal, Gil Cardinal, provided by the National Film Board of Canada
Cry of the Wild
In 1971, Bill Mason released a short documentary entitled Death of a Legend. It was produced for the Canadian Wildlife service to dispel the negative myths surrounding wolves. What Mason really wanted to make was a major feature on wolves. So, he went ahead and shot a whole bunch more footage and this is the result. It took over 3 years and captures moments never-before-seen on film. It was also the highest box office film the NFB had ever made at the time of its release, earning $5 million in North America in 1973-74.
Cry of the Wild, Bill Mason, provided by the National Film Board of Canada