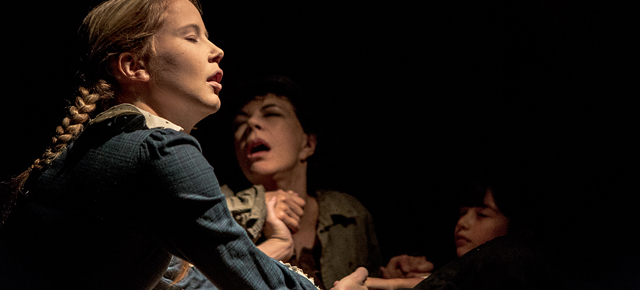 Guy Maddin Discusses Montreal, Dreams and His New Seances Project
Winnipeg filmmaker Guy Maddin arrived in Montreal earlier this month to tackle an ambitious feat: the filming of 12 short films in 13 days. The shoot was part of Seances, Maddin's new and tantalizingly mysterious project.
The basic premise of Seances is that most silent filmmakers lost at least one of their films to a twist of fate. Ever since, these films have hovered like ghosts in search of their final resting place… until Maddin decided to recreate the lost works. Each day on set, the filmmaker calls on the spirits to "take hold" of the actors, plunging them into a deep trance that enables them to act out – and recreate – the lost film of the day. All the material collected, including additional short films shot in Paris and New York, will eventually become a feature film and an innovative interactive work.
As the shoot was coming to a close, we sat down with Maddin to discuss his Montreal experience and learn more about his new occult undertaking.
Carolyne Weldon: The Montreal shoot is coming to a close. Are you happy with the material you gathered here so far?
Guy Maddin: From start to finish, Montreal is an incredible place to make movies. I love it. I have a new producer now who I adore, Liz Jarvis and the NFB people have been really good. David Christensen and Alicia Smith have been incredible, and the people here at Phi [Montreal's Phi Centre] have been lifesavers. The community here, from Phi down to the arts community is amazing. Chris [Lavis] and Maciek [Szczerbowski] – they're filmmakers! They're Academy Award-nominated filmmakers and they're my art directors. They decided to do it just to see how I make films up close. I'm honoured. So I have these guys who are the most incredible art directors coming in and helping my production designer Galen Johnson – and what a team! Because he's an amazing designer and they're just incredible in their own rights, and they brought with them their whole team who are super sweet and really lovable people, and that's the Montreal arts community as far as I can tell. Then there's the acting community here and it's incredible. It actually has a star system! It's just nice to feel welcome.
CW: Was it your first time working with these Québécois actors? Anyone you felt was a particularly good fit for this project?
GM: There are some real interesting stars in the feature right now. At this time, it seems to be built around episodes featuring Roy Dupuis, Clara Furey, Céline Bonnier and Louis Negin, but it's a bit early to tell.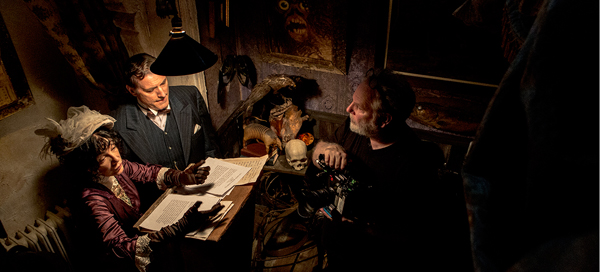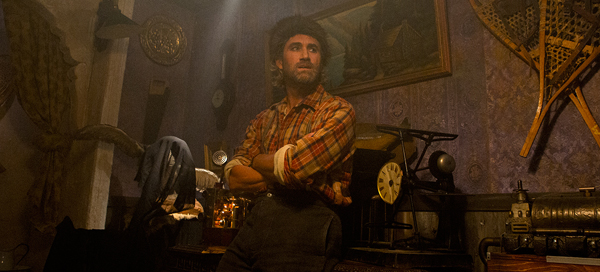 CW: How does the material shot in Montreal tie in to the larger Seances project?
GM: That is also a little bit early to say. The feature film script is made up of narrative material taken from our original short screenplays. They were designed to fit together into a whole, where the themes kind of rhyme and sit in counterpoint to each other. It's a big dreamy, complicated narrative that's made up out of very simple narratives that intertwine now and then before rounding off satisfactorily, leaving people wishing they could watch it all over again. The movie is a sort of intermingling of these timeless legends about lust, involving caves and forests and oceans and submarines and biplanes and things like that. All the modes of transportation mixed with the same ol' mode of fornication. I'm very pleased.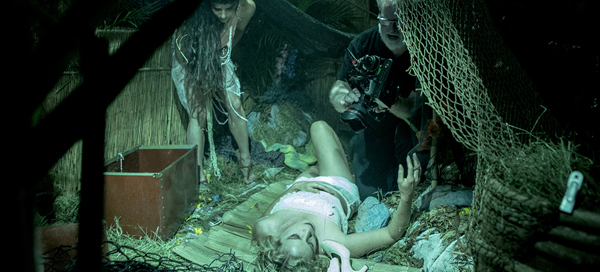 CW: What is the next step for you with regards to Seances?
GM: There were 18 scripts shot in Paris [at Centre Pompidou], 12 shot here, and there'll be another 25 shot next year in New York. So it's all part of a continuum. We'll have plenty of material to make the NFB website what it should be, which is, I hope, the first of its kind – a place where anyone on the Internet can hold séances with cinema. Like, literally little paranormal things, little eerie atmospheric, hopefully very beautiful, dreamy things in which various narratives start conversing with each other like haunted spirits and they form unique, non sequitur, adult stories that sometimes will be delightful and wonderful and other times kind of boring and each time, utterly unique. Every time a combination of cinematic conversations among various films happens, that combination will never occur again.
I'm so lucky to make, with the NFB, all these new movies and destroy them as soon as they're made. It's very exciting. I think this is really brand new territory for the NFB – destroying movies! (Laughs.) Anyone can create movies… c'mon! Let's just destroy them.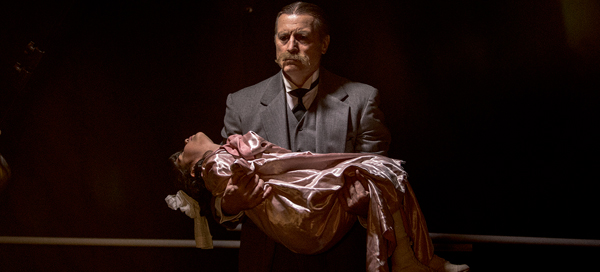 CW: You've already created 2 films with us (Night Mayor and Nude Caboose). What can fans of your work expect from this project? What's the Guy Maddin twist?
GM: The movies won't look quite the same. They're shot in color and they're really visually rich. Way more rich than you could suspect from our humble, charming sets. They're perfect starting points for what we do in post-production, which is where we start to turn everything into ectoplasmically smeared, blobs – haunted material. Sometimes they're very droning and dreaming, other times very plot-packed. It's like how every night the tenor of your dreams is different. Sometimes you have one of those exhausting anxiety dreams, or a chase dream. Other times you have kind of an uncomfortable, slow dream. Other times you have extremely pleasant dreams, if you're lucky. So some of these will be a mixture between extreme anxiety and very horny, kind of illicit things. We hope that everybody emerges from the viewing experience as if they've just awakened from a dream they just can't wait to tell someone about. But it's impossible to tell anyone about a dream without boring the crap out of people because you just have to watch. You just have to dream. Have you ever noticed how when you try to tell someone your dream, people start to like, tie their shoelaces?
*
To watch snippets of the shoot, check out the Phi Centre's Vimeo channel.
Photo credits: Vincent Toi