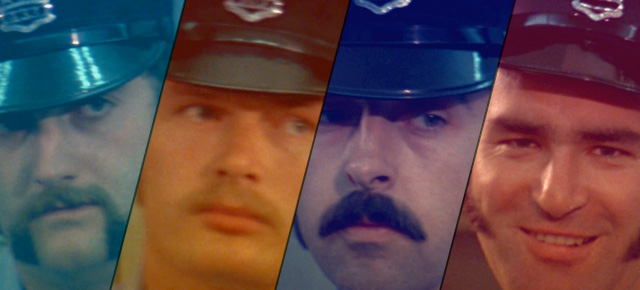 Freeze! Watch 2 Gritty Cop Flicks on NFB.ca
If the population can be divided in its affection for police officers, a good cop flick is something most people can bond over. From LA Confidential to Fargo and Dirty Harry to The Departed, good police films are among the most celebrated out there. So what it is about them that fascinate us so?
For one thing, cop films provide viewers with a view of the ugly underbelly of society, a milieu most of us are blissfully ignorant of. For another, these films, when done properly, humanise and demystify the work of police officers, a crowd that hasn't historically been popular with everyone. (The television series The Wire did a stellar job at this.)
NFB.ca has 2 films online that do just that: offering us a window onto seriously shady urban life while bringing us to understand (and respect, even) the exacting work that policemen do.
As for realism, these 2 cop flicks can't be beat. Both films are documentaries, which means they're 100% real. Everything shown in them happened in real life, which is either a good thing or a bad thing, depending on how you look at it.
Note: Both films deal with mature subject matter. Viewer discretion is advised.
Whistling Smith (1975)
Whistling Smith, Michael Scott & Marrin Canell, provided by the National Film Board of Canada
This first cop flick is a portrait of Sergeant Bernie "Whistling" Smith, a bighearted yet seriously tough Vancouver cop. (Smith died of cancer last fall, at the age of 89.)
The film, 27 minutes in length, follows Smith as he patrols his "beat," a seedy stretch of East Hastings Street in Vancouver's Downtown Eastside. This territory, the narrator informs us, includes Canada's largest concentration of "rubby-dubs, drug addicts, muggers and prostitutes," a contingent periodically joined by thousands of loggers and seamen who "come down from the mountains and in from the sea to partake in the great abundance of sin."
(For those wondering, rubby-dubs are drunkards who drink alcohol in "non-beverage form." That includes rubbing alcohol, canned heat, antifreeze and wood alcohol. At the time of the film, it appears the cheapest source of booze and poison of choice on Vancouver's skid row was vanilla extract.)
What makes Sergeant Smith special, aside from his salty language and obvious love for his job, is that he patrols his beat on foot. There, he encounters all sorts of street people at face level.
We see vast numbers of drunks, in various states of torpor, an Aboriginal kid from Williams Lake sniffing glue, and Wilma, a prostitute, heroin addict and mother of 3 who wants to break the cycle but can't quite.
Towards her as towards all of them, Smith displays a fine mix of concern and relentlessness. His message is always the same: scram! He wants the drunks, the addicts and the prostitutes off his beat. When he's on patrol, the area's crime rate is cut in half.
All in all, the doc is a rip-roaring depiction of the man a Canadian magazine once described as "the toughest, most honest, most foul-mouthed son of a bitch on any police force in the country." Quite a feat for someone who spent his days whistling.
Station 10 (1973)
Station 10, Michael Scott, provided by the National Film Board of Canada
This second cop flick is longer (57 minutes), grittier, and even more troubling than the first. Shot over a 60-day period in Montreal, the film is narrated by Captain Jacques Cinq-Mars, a man who spent the majority of his life in the thick of death, violence and danger.
Cinq-Mars, who came from a military family, joined the army at 18 and was part of the disastrous raid on German-held Dieppe, on 19 August 1942. There, he was wounded 16 times before being captured and held for 33 months in prison camps. When he finally came home in 1946, after a 3-month 2,900-kilometer forced march across crumbling Nazi empire, he joined the Montreal police force.
Captain Cinq-Mars has the perfect relaxed voice and poise to describe the unsettling (and at times truly upsetting) events that unfold in Station 10. After all he's gone through, nothing seems to ruffle him much. Machine guns are seized, suicide notes are read, girls are drugged and raped and robbers are arrested. "It's like a jungle out there," he says.
The film, which blends black-and-white and colour footage and often blurs the identity of criminals by obscuring their face with clunky black squares, is a fascinating look at Montreal's crime milieu of the 1970s and at the hands-on cops tasked with containing it. It's dirty work, but you're sure glad someone (as in someone other than you) is staying on top of it.
*
Fun fact: Rolling Stones fans will enjoy a glimpse of a smiling Mick Jagger, dapper in a top hat, at around the 49:00 mark. The band was in town for a concert, which prompts Cinq-Mars to explain you can't dream of arresting everyone that breaks the law. "Drugs and kids; kids and drugs. Sure it's illegal. But take a rock concert or a festival and try to arrest all the kids with grass or hash. Our jails aren't big enough." he says.