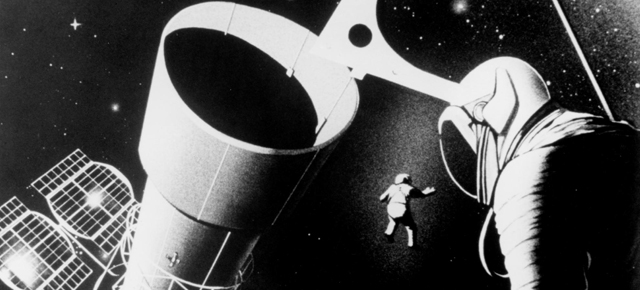 The Movie That Influenced Kubrick's 2001
Last week on the French side of NFB.ca, we paid homage to a few of the greatest international filmmakers of the 20th century: Godard, Rossellini, Lucas, and Herzog. Each filmmaker has greatly contributed to international cinema, but did you know all four of them were influenced by NFB films?
One such film happens to be Universe, a 26-minute masterpiece about astronomy that heavily inspired Stanley Kubrick's 2001: A Space Odyssey (1968).
Universe, Roman Kroitor & Colin Low, provided by the National Film Board of Canada
Directed by Roman Kroitor and Colin Low, Universe explains how our universe and its planets work. Using photography, animation, and special effects, Universe takes viewers on a 6.4 billion kilometer voyage among stars, moons, suns, and nebulas.
Universe is one of the NFB's most lauded works. In addition to having been nominated for an Oscar® in 1960, the film won the Jury award for Best Animated Short at the Cannes Film Festival, and over 20 other prestigious awards throughout its run.
Through Kubrick's editorial eye

I've already told you that Kubrick was a fan of Arthur Lipsett. What I didn't tell you is that the American director was also influenced by Universe while researching 2001: A Space Odyssey.
In a short excerpt on the subject, Ron Miller addresses the rumours that Universe was a decisive factor in Kubrick's choice to make a movie about space:
Perhaps of all the films Kubrick screened, no other had so much influence on his science fiction epic…many of the influences and resemblances have been pointed out before—just check out the sequence starting at 5:50—for instance.
In fact, Kubrick was such a huge fan of the film that he even solicited the talent of the artists who worked on Universe to work on 2001. Although co-director Colin Low declined the invitation, Wally Gentleman, the special effects creator, directed some of the most spectacular scenes in 2001, A Space Odyssey.
Another, lesser known (but incredibly cool), connection between the two films: the narrator of Universe, Douglas Rain, is also the voice of HAL 9000, everyone's favorite sentient computer villain.
***
Sources:
The Movie That Inspired 2001 (io9)