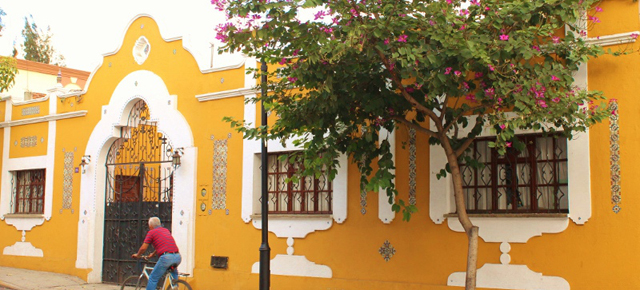 Mexico, Through Canada's Eyes
I recently had the good fortune to travel to Mexico and experience the rich history, incredible food, and warm people that this nation of 120 million has to offer. I journeyed to Mexico City first, where I ate the best tacos of my life from a fire-grilling taco stand on the sidewalk of the Condesa neighbourhood, visited the extensive National Museum of Anthropology, and, yes, definitely noticed the smog. I then traveled south to the city of Oaxaca, in the state of the same name, where I imbibed the finest mezcal the world has to offer at the Union Palenqueros de Oaxaca, marveled at the charmingly colourful architecture of the city's Spanish colonial historic centre, gaped at the stunning mountains, and even paid a visit to Monte Albán—a place considered to be the oldest city in North America (at the city's height in 300 AD, it was home to over 40,000 people). Here's a pic I snapped from up on high: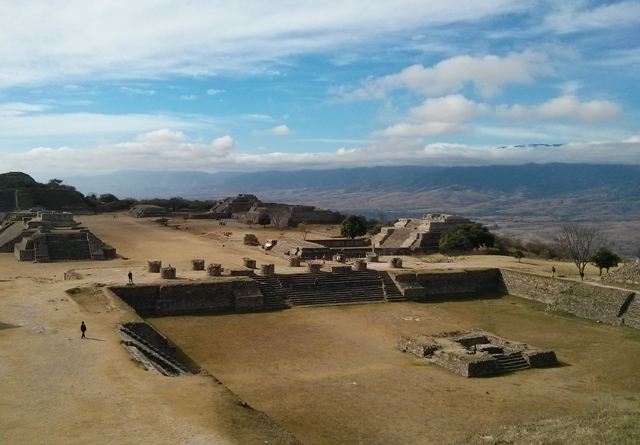 I was truly inspired by, entertained by, and curious about everything I saw on my trip. But I came home with a curiousity about the contemporary relationship between Canada and Mexico. Thankfully, the NFB has some films for that!
Hard work, displacement, and exploitation: a reality for Mexican labourers in Canada
It's well-known that many South American labourers live in Canada seasonally to work long hours for low wages, but Min Sook Lee's 2003 documentary El Contrato dives deeply into the very emotionally and physically exhausting journey these men undertake. The film follows a poverty-stricken father from central Mexico, along with several of his countrymen, as they make their annual migration to Leamington, Ontario to work in fruit and vegetable greenhouses (Leamington is home to the most concentrated greenhouse fruit and vegetable production in Canada.)
The Mexican labourers work 7 days a week, 10 hours a day, for $7.25 an hour. Many aspects of the Mexicans' employment are well below the standards that any local might deem acceptable: they pay taxes but are denied any benefits, they live in cramped quarters together,  they are berated, verbally abused, and disrespected by their bosses, and their industry has no mandatory health and safety precautions. The plight of these men is truly heartbreaking. And, perhaps worst of all, they are separated from their families for half the year. Mexico's economy and job market are so dire in some areas of the country that those who need to support their families must travel to Canada to work.
El Contrato is a difficult film to watch for the fact that it forces us to examine Canadian corporations' complicity in the exploitation of these foreign workers. But it's an eye-opening documentary that deserves attention.
El Contrato , Min Sook Lee, provided by the National Film Board of Canada
Hands, Work, and Beauty
On a brighter note (pun intended), one of the first things I noticed in Mexican markets was the rich colours found in tapestries, pottery, and embroidery. I bought a beautiful wool-and-leather bag that is dyed with the blood of the cochineal insect, a very commonly used natural colouring agent in Mexico. As a fan of handicrafts myself (I like to think I'm a fairly competent amateur sewer and crocheter), I always marvel at the time, attention, and care taken by artisans working on the one-of-a-kind items we see in artisan's markets. Donald Winkler's 1974 short documentary In Praise of Hands takes us on a journey through the development of hand-crafted textiles and pottery in a number of countries, such as Mexico, Japan, and India, among others. Watch the film below and fast-forward to the 6:40 and 19:07 marks to see Mexican tapestry and embroidery accompanied by lively music from the jovial locals.
In Praise of Hands, Donald Winkler, provided by the National Film Board of Canada
"Some people undoubtedly feel drawn to Mexico as to the hidden life of man himself…"
If you're in the mind to immerse yourself in a booze-soaked modern literary nightmare, you may find yourself perusing Malcolm Lowry's Under the Volcano (originally published in 1949). The novel follows a semi-autobiographical British protagonist as he drinks himself to death while languishing in the hot, dry climate of mid-century Mexico. Lowry himself spent the period between 1935 and 1940 in Mexico (in a state similar to that of his inebriated protagonist), drinking and writing with equal abandon in an attempt to wrestle with his physical and mental demons. Some of Lowry's descriptions of the Mexican culture in the novel are remarkably evocative, and demonstrate his own longing for answers in the eternal struggle to understand his inevitable death:
The person who falls in love with Mexico falls in love with a colorful and proud and present entity, but he is also involved, in the deepest sense with a mystery…
The sense of… past, of sorrow, of death: these are the factors intrinsic in Mexico. Yet the Mexicans are the gayest people, who turn every possible occasion, including the Day of the Dead, into a fiesta. The Mexicans laugh at death; that does not mean they don't take it seriously. It is perhaps only by the possession of a tragic sense of life such as theirs that joy and mirth find their place; it is an attitude that testifies to the dignity of man. Death, defeated by rebirth, is tragic and comic at once. On many planes this is true.
Some people undoubtedly feel drawn to Mexico as to the hidden life of man himself; they wonder if they might not even discover themselves there.
Lowry was born in England and moved to British Columbia after his sojourn in Mexico. In 1976, the NFB produced a documentary on Lowry's life and work: Volcano: An Inquiry into the Life and Death of Malcolm Lowry. The film interviews his family, friends, classmates, and colleagues—from all stages of his life—to paint a portrait of a strange, deeply troubled, and immensely talented artist. Much of the second half of the film was shot in Mexico, and many sequences are remarkable for the hypnotic and jarring soundscapes and landscapes they employ to give the viewer a feeling of Lowry's daring experiences and warped perspectives. It's a strange and fascinating tale of a strange and fascinating man. Lowry's writing is read by the great Richard Burton, whose tone of measured severity is perfect for Lowry's wayward, bizarre, and haunting prose.
(Skip to the 33:41 mark in the film if you'd like to go straight to Lowry's Mexican adventure).
Volcano: An Inquiry into the Life and Death of Malcolm Lowry , Donald Brittain & John Kramer, provided by the National Film Board of Canada
Global Scale, Local Tales
A couple of other films in our collection explore the role of contemporary Mexico in global politics and economics. The Emperor's New Clothes, a feature documentary from 1995, explores the nascent effects of the North American Free Trade Agreement (NAFTA). Shot in Canada, Mexico, and the United States, the film is similar to El Contrato in that it explores the human cost of economic growth. And 1983's Prisoners of Debt: Inside the Global Banking Crisis (sound familiar?) is a documentary that addresses, among other things, Mexico's declaration of bankruptcy in 1982 and its effect on the global banking system. You can watch both films below.
Prisoners of Debt: Inside the Global Banking Crisis, Peter Raymont & Robert Collison, provided by the National Film Board of Canada
The Emperor's New Clothes, Magnus Isacsson, provided by the National Film Board of Canada
Mexico is our neighbour not only geographically but also economically (NAFTA) and politically (their political history certainly has more in common with ours than the United States). It boasts a beautiful landscape with a wonderfully rich culture, all of which are worth exploring in our online screening room. Enjoy!