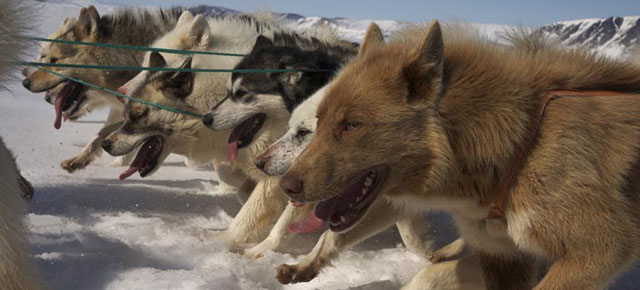 The NFB is Nominated for 23 Canadian Screen Awards
Yesterday, the nominees for the 2014 Canadian Screen Awards were announced, and we're popping the champagne. We're proud to announce that the NFB has raked in—count 'em—23 nominations!
Here are some NFB films nominated in the short film and documentary categories:
Ted Rogers Best Feature Length Documentary
Check out the trailer for nominee Vanishing Point below:
Vanishing Point, Stephen A. Smith & Julia Szucs, provided by the National Film Board of Canada
We're holding down three of the five spots in the category above. You can also explore some of these fantastic filmmakers' previous works: Chelsea McMullan's 2012 short Mise en Scène is streaming for free online, and many of Alanis Obomsawin's stellar works are available online as well. Obomsawin is also nominated for Best Direction in a Documentary Program and the Donald Brittain Award for Best Social Political/Documentary Program for The People of the Kattawapiskak River. In addition to her nominations, Obomsawin was chosen to receive the Academy's Humanitarian Award for Exceptional Contributions to Community & Public Service. An Officer of the Order of Canada, Ms. Obomsawin is one of Canada's most distinguished artists and was also recently named as an Honorary Fellow for 2013 by the Royal Society of Canada.
Best Short Documentary
Chi (directed by Anne Wheeler, produced for the NFB by Yves Ma)
Mary & Myself (directed by Sam Decoste, produced for the NFB by Annette Clarke)
We're taking up two of this category's three spots. If you want to see some of animator Anne Wheeler's previous work online, head over here. And check out a short clip from Mary & Myself below:
Mary & Myself (Clip 1), Sam Decoste, provided by the National Film Board of Canada
Best Animated Short
We are holding it down in this category, y'all! Going five for five! We're really proud of all our films, and a few of the ones in this last category are even available to stream for free online (but they'll only be available for a limited time, so watch them now while you have the chance. If they're no longer available, you'll still be able to access trailers and/or clips of each film).
Subconscious Password, Chris Landreth, provided by the National Film Board of Canada
Hollow Land, Michelle Kranot & Uri Kranot, provided by the National Film Board of Canada
Gloria Victoria, Theodore Ushev, provided by the National Film Board of Canada
But that's not all! We also have a number of works nominated in craft categories, such as, for example, We Were Children, which scooped up nominations for Best Photography in a Documentary Program or Series (Jeremy Benning, Kim Bell), Best Production Design or Art Direction in a Non-Fiction Program or Series (Gordon Wilding) and Best Sound in an Information/Documentary or Lifestyle Program or Series (Daniel Pellerin).
Produced by Maya Gallus and Justine Pimlott for Red Queen Productions and Anita Lee for the NFB, The Mystery of Mazo de la Roche was nominated for Best Photography in a Documentary Program or Series (Stan Barua), the Barbara Sears Award for Best Editorial Research (Maya Gallus) and the Barbara Sears Award for Best Visual Research (Erin Chisholm).
On the interactive side of things, we were recognized with two nominations for Best Original Interactive Production Produced for Digital Media: the graphic novel app The Loxleys and the War of 1812, produced in partnership with the Department of Canadian Heritage, and NFB Space School, an interactive learning experience developed and produced by the NFB in collaboration with the Canadian Space Agency.
You can see list of all the nominees in short film and doc categories here, and get all the info about the NFB's nominations from our press releases here. Let the games begin!