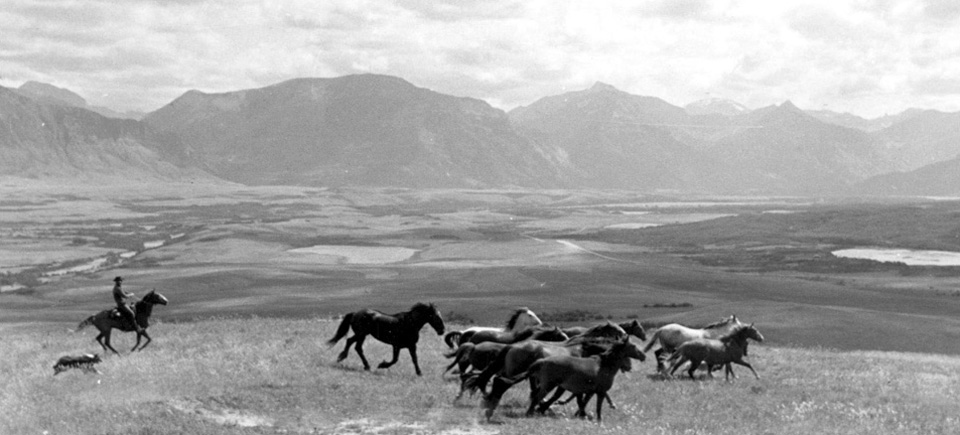 Ride 'em, cowboy! Check out 5 films about the Wild West
Howdy, y'all! Join us for a visit to ranch country with the world's best, funniest, and most riveting cowboys in this week's programming on NFB.ca. We're goin' country and we're not looking back!
Riding on the spirit of the wind
We'll start this list off with Corral (Colin Low, 1954) because it's absolutely stunning. Sometimes, when people see that a film was made decades ago, they suspect it isn't relevant anymore, or is somehow boring, dated, or incomprehensible. This is absolutely not true in Corral: it's a breathtakingly beautiful, timeless film that will stand forever as a testament to the power of cinema. You think I'm exaggerating with all this flowery language? Not so! Lean back in a comfy chair and hit play: you'll be mesmerized and lulled into a hypnotic dream in which horses' manes flick delicately in the country wind and the mountainous backdrop frames a rugged cowboy's independent spirit. (Oh, and the soundtrack is amazing too).
Corral by Colin Low, National Film Board of Canada
Let's get animated!
We've got a couple of animated cowboys on this list, although the similarities between them definitely stop there. Our protagonist in Wild Life (Wendy Tilby & Amanda Forbis, 2011) is sedentary, melancholy and quite philosophical—sound like a cowboy to you? Nope, me neither! No wonder this British fella ultimately fails at his dream of becoming a rancher in Alberta. But you've gotta follow him on his journey to find out how it ends.
Wild Life by Amanda Forbis & by Wendy Tilby, National Film Board of Canada
And, on the other end of the character spectrum, we've got The Great Toy Robbery (Jeff Hale, 1963), which stars a devastatingly handsome and charming cowboy with dimpled cheeks and a beautiful yodeling voice. But he's not very smart, is he? No matter. He ends up an accidental hero when a group of thugs roll into town over Christmas and steal all of Santa's presents. Watch this lovable idiot play the role of saviour in his white suit, white boots, and white ten-gallon hat.
The Great Toy Robbery by Jeff Hale, National Film Board of Canada
Up and down the coast on the rodeo circuit
Kenny McLean is considered by many to be Canada's best rodeo cowboy of all time. In Hard Rider (Josef Reeve, 1972), we follow Kenny as he tours the rodeo circuit all the way from Alberta down to Texas. Kenny's busy with some hefty bronco busting, calf roping and steer wrestling. Sure, this is what he does for a living—and he does it very well—but his real life is with his wife and infant son on his ranch in British Columbia.
Hard Rider by Josef Reeve, National Film Board of Canada
The cowboys of yesteryear and the new world of farming
In A Slow Hello (Tom Radford, 1974), we meet a charming and languid cowboy of the old style, all ranch-strolling and grass-chewing. But this was already starting to change back in the mid-'70s in favour of industrial efficiency and young upstart cowboys with graduate degrees in Business Administration. Take a trip through the changing face of farming; you might get some insight into the contemporary cattle industry, streamlined by the demands of the marketplace.
A Slow Hello by Tom Radford, National Film Board of Canada
Happy watching, y'all!