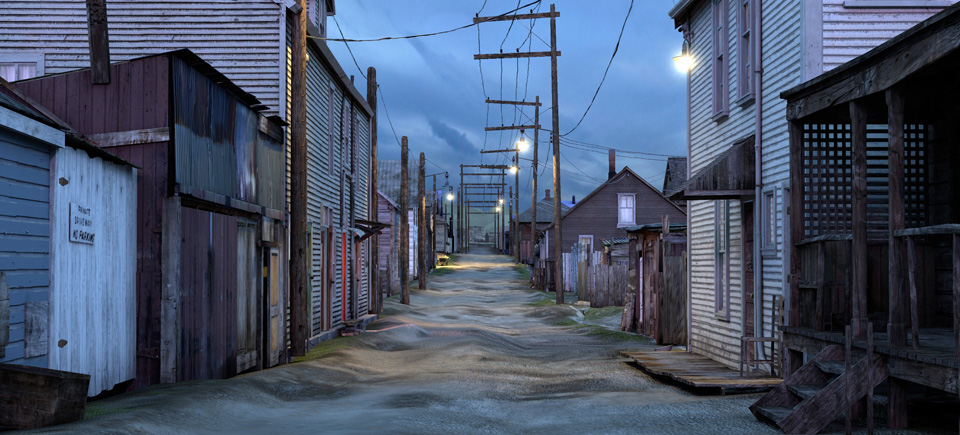 Circa 1948, an immersive artistic storyworld, launched at Tribeca
Vancouver. 1948. An abandoned hotel and a dilapidated back alley. You may think this seems like a faraway time and place, but history will not be silent.
The NFB's Digital Studio has collaborated with internationally-acclaimed artist Stan Douglas on a new interactive experience, Circa 1948. The project transports you to post-WWII Vancouver to explore the urban landscape; but when you end up hearing disembodied voices, then you'll get into the real story of this revived piece of history. Ghostly locales, personalized narratives, and a stunning visual design all make up a vast array of related strands and pieces that combine to construct what we call a storyworld.
Get a taste of this richly layered, mysterious storyworld in the audio clip below, and feel free to share widely in your networks:
Circa 1948, , provided by the National Film Board of Canada
Circa 1948 launches April 22, 2014 at the Tribeca Film Festival, but the primary element of this project can go anywhere, with anyone. It's a free app optimized for iPad and iPhone, and you can download it here. You can also check out the introductory digital flip-book, which comes complete with a catchy, old-timey soundtrack that will make you feel as though you're traveling back into history.
The visual design of the app is stunning in the way that it has managed to re-create not only the appearance but something of the atmosphere of Vancouver in 1948.

Left: 3D render of Hotel Vancouver, Circa 1948 app. Right: Lobby of the Hotel Vancouver, 1916, photo: R. Broadridge, Vancouver Public Library 8402
This project has already garnered press well in advance of its release; check out this review in TIME, or this one in Canada's own MacLean's.
Those in the know will be aware that Stan Douglas' career as an artist has always been composed of historically-based recombinant storytelling. Experimenting with new technologies (touch- and gyroscope-driven navigation modes, an independent and Canadian-made open-source rendering engine), this project takes users on an audio-visual tour of photorealistic 3D illustrations of a Vancouver from a bygone era.
But enough about the project, let Stan Douglas himself have his say: "Art is good for two things. One is to let you see things that you thought you understood in a different way.
The other is to give you an experience you can't have any other way."
Curiosity piqued? Head over to iTunes to download the free Circa 1948 iPad app and learn more about the project here.