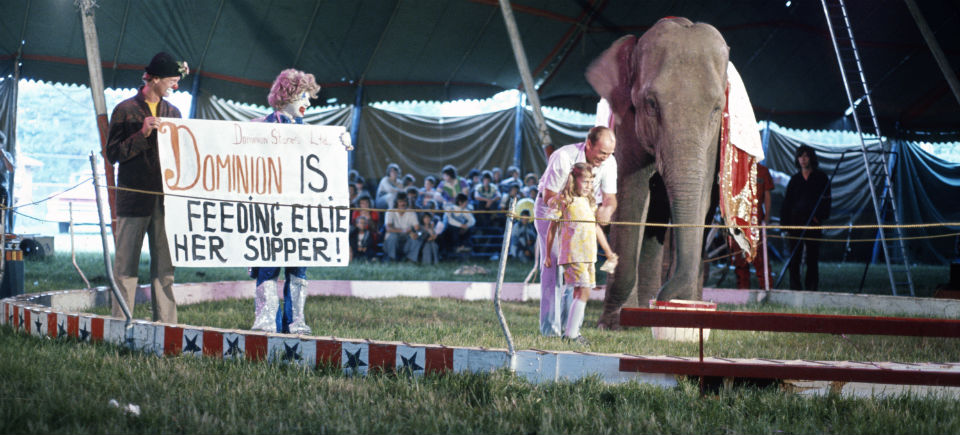 High Grass Circus: low-tech, grassroots entertainment
You may have once dreamed of running away and joining the circus, but you probably didn't have the one in High Grass Circus in mind. Featuring three lions, two elephants and a hippo, along with the usual assortment of clowns and fire-eaters, the Royal Bros. Circus toured small-town Canada in the 1970s and is the subject of Tony Ianzelo and Torben Schioler's charming and hilarious documentary.
The show must go on… no matter what!
If you've never seen this film, you're in for a treat. In this day and age of sophisticated circuses in the style of Cirque du soleil, the Royal Bros. tent circus will seem delightfully quaint and definitely low-tech as we follow it on an entertaining trek throughout southern Ontario. We're there for one of its early morning starts, when it's discovered that some of the workers have left in the night, tired of the 24-hour grind. We're there when the fire-eater disappears and a new one must be trained quickly in time for the next show. We're also there when a thunderstorm threatens to collapse the tent and trap the people inside it.
I'm sure most readers will be wondering how such a plagued circus manages to stay in business. Well, it certainly isn't easy. The troupe visits 120–140 towns every year, putting on one show per day, seven days a week! The sheer logistics of setting up the tent, taking it down and moving to the next town every single day are mind-numbing but, as they say, the show must go on.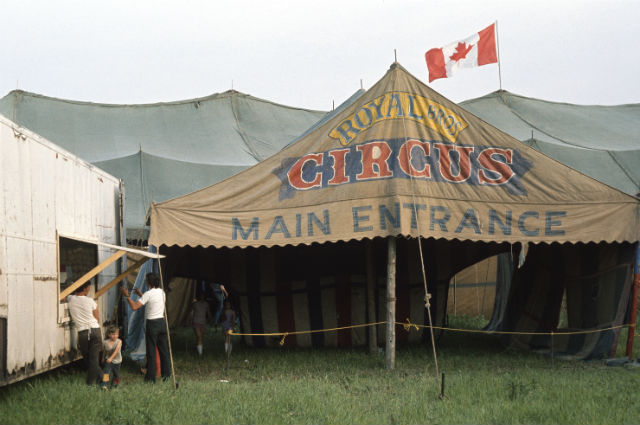 Capturing the magic: shooting backstage and on-stage
Ianzelo and Schioler shot the film in the spring and summer of 1975 and part of 1976, capturing the efforts of the circus's two owners to keep things rolling, day in, day out. Having toured just about everywhere in Canada, the owners say they prefer to concentrate on towns with small populations that don't have movie theatres or other forms of amusement. They clearly feel that big cities are too sophisticated for their unique brand of entertainment.
All the performers have their say in the film, but it's the interaction between stage hands that's most fun to watch. Everyone has to do triple duty in order to get the show ready every night. Even the animals are put to good use: at one point, one of the elephants helps pull trucks out of the mud after a major rainstorm.
The little film with the big Oscar® nomination
Once High Grass Circus was completed, the NFB shopped it around to various TV networks, to very little interest. It was shown to an enthusiastic crowd at a circus convention (!) in Sarasota, Florida, in February 1977, and got a few more minor screenings until early 1978, when it picked up an Oscar® nomination in the Best Feature Documentary category. Although the film didn't win the Oscar®, the nomination led to several sales, including to the CBC, which broadcast it on July 12, 1978, on its entire network.
Other sales followed to networks in New Zealand, the UK, South Africa and Yugoslavia. A nine-minute cut-down version of the film, entitled Little Big Top, was released to theatres across Canada in late 1977, playing for an incredible 15 weeks in Vancouver and generally doing excellent business all over the country.
In August 1980, PBS bought the film along with seven other documentaries (including Buster Keaton Rides Again and Bethune) and broadcast them on 11 stations as part of its Masterpiece Documentary series.
Let's go to the circus
What makes this little jewel of a film so entertaining and heart-warming is that the people in it are never ridiculed: instead, the filmmakers offer us an intimate look at their daily lives. There are so many wonderful moments that I can't list them all, but the highlights include the elephants going for a swim in a local creek and the owner trying to rent a snake over the phone from a reptile farm in Florida. How can you not love a bunch of people who end every show with the phrase, "If audiences were paid, you'd be worth a million"?
I invite you to discover this frank, touching and hilarious film. Enjoy.
High Grass Circus, Torben Schioler & Tony Ianzelo, provided by the National Film Board of Canada