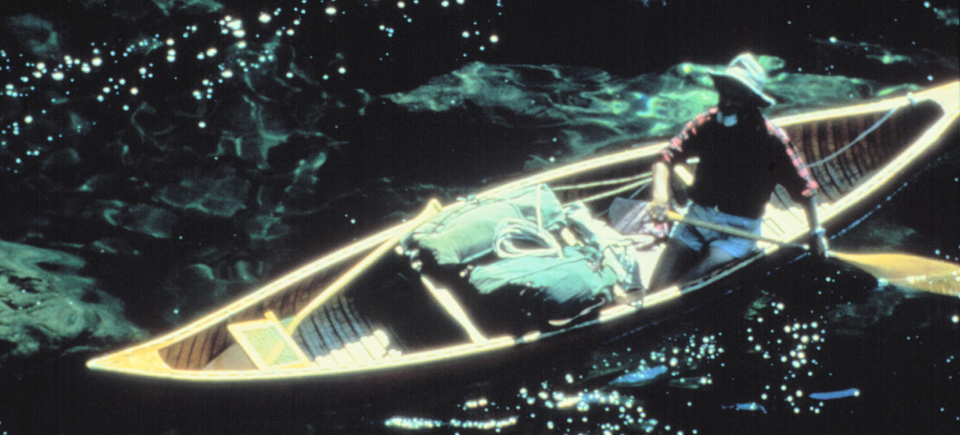 Celebrate summer vacation with Summer Films: Part I
We're in the thick of it: far enough away from winter on both sides of the calendar to neither remember it nor dread its impending return. How to celebrate the season?
You're probably heading out to cottages, lakes, and the countryside with family and friends. Got some lazy summer afternoons to spend with us on NFB.ca? This week and next week, we're featuring films all about summer vacation. Some are hilarious, some are stunningly beautiful, but all are guaranteed to delight and entertain you. Gather the fam and the kids and click play!
Have you ever had to trek through Yonge and Dundas Square on a hot summer day, dear Torontonians? You know what I'm talking about. Tourists everywhere!
Tourist Go Home , Stanley Jackson & Ronald Weyman, provided by the National Film Board of Canada
Yes, for the most part, we welcome visitors to this vast country and we love showing off everything amazing that Canada has to offer. But this hilarious film will indulge your underlying grumpiness by presenting the fictional Canadian Anti-Tourist League, whose mandate is to get rid of any and all foreigners attempting to spoil our pristine cities and shores with their incessant—ugh—vacationing. Take it somewhere else, tourists!
A time, a place, a mood: Waterwalker
It's not often that I find myself short on words to discuss a film. But Waterwalker truly transcends any possible textual description. A beautifully-shot and hypnotic meditation on the power of the outdoors, this film features first-person narration from celebrated outdoorsman Bill Mason about a range of topics, from art to spirituality to being alone in the wild.
Waterwalker, Bill Mason, provided by the National Film Board of Canada
I do not exaggerate when I tell you that I was absolutely riveted by this film—glued to my screen—from start to finish. In addition to the visual splendour and philosophical questioning in the film, the soundtrack—by none other than celebrated Canadian musician Bruce Cockburn—suits the footage perfectly, and only serves to amplify the power and beauty captured by the camera.
Read more about this fantastic film in this blog post. And leave your feedback in the comments; we'd love to know what you think of this gem!
What's better than getting to know a new cutie on the beach? A sun-soaked summer romance is a staple of youth, and you can live vicariously through the mid-century sweethearts in Island Romance.
Island Romance, Donald Ginsberg, provided by the National Film Board of Canada
A girl from Winnipeg meets a young fisherman from North Rustico, PEI and the 2 lovebirds hit it off as they tour the picturesque seaside landscape. The film is a classic summertime romance and a nostalgic visit to the delightfully sun-soaked PEI of the past.
Ah, the sweet optimism of the mid-20th century. Progress! Plastics!
Did you know that the 1967 World's Fair, more commonly known as the Expo and held in Montreal, was largely considered to be the most successful World's Fair of the 20th century with over 50 million visitors? Explore the sun-soaked Expo grounds, with their brightly coloured exhibits and crowded pavilions, in this delightful short promotional film produced to entice visitors to the Expo. Hey, it worked, didn't it?
Impressions of Expo 67, William Brind, provided by the National Film Board of Canada
Escape through imagination: Big Drive
We're all familiar with the dreaded family road trip. In this colourful short animation, 4 sisters squeeze into the back of the family car for a long journey. Restlessness gradually gives way to mayhem in the small car's interior. But rather than getting at each others' throats, the sisters are inspired to combine their creative energy to make the big drive an even bigger adventure.
Big Drive , Anita Lebeau, provided by the National Film Board of Canada
More summer films!
Enjoy even more films about these beloved dog days with Part II of our Summer Film Series on the blog.