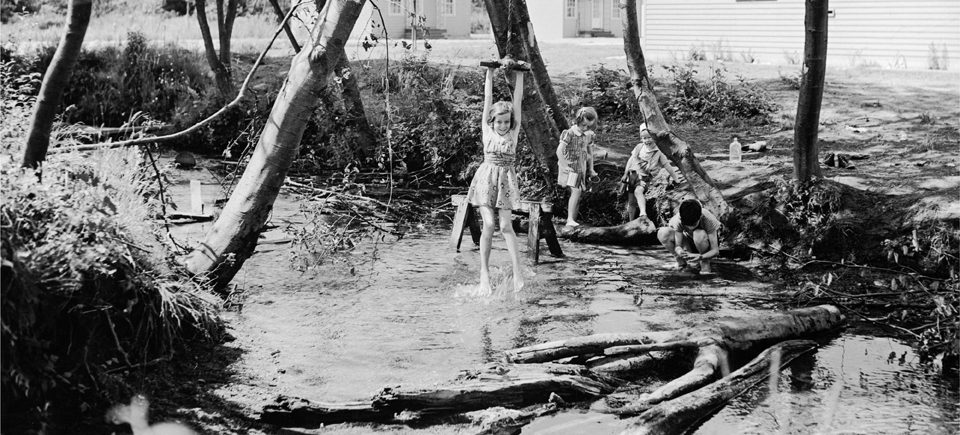 Summer Films, Part II: more shimmery cinema for your vacation
As you may have seen, last week we kicked off our vacation programming with this delightful selection of summer films. But we won't stop there! This week, there's a whole new crop of sunny cinematic sweets on NFB.ca, and I'm going to take you on a tour of the highlights right here.
Does it ever feel like summer was somehow… better when you were a kid? Thinking back to those carefree days when school was out and you didn't have to show up for the 9-to-5 grind, don't you feel absolutely ecstatic? The title of our first film definitely rings true around the world.
Summer Is For Kids, Stanley Jackson, provided by the National Film Board of Canada
This gorgeously photographed black-and-white stunner is full of hilariously charming phrases like "gee, whiz!" and "gosh, this is swell." Our protagonist, Roger, is a pre-teen boy whose summer camp adventures include swimming, hiking, and cooking food over a fire—it's quintessential Canadiana! But when the big day comes for Roger to take his end-of-season swimming test, will his nerves hold out?
In this almost hyperbolically wholesome film, bright rays of sunshine bounce off the pearly white smiles of wide-eyed innocents as they experience the unadulterated joy of  a mid-century Muskoka summer. Ah, those were the days…
You know this one, right? Well, if you don't, be warned: this little ditty is a major earworm.
Blackfly, Christopher Hinton, provided by the National Film Board of Canada
Just one listen and you'll be humming this classic Wade Hemsworth folk song to everyone you meet—friends, coworkers, even the mailman. Performed by iconic Canadian songbirds Kate and Anna McGarrigle (about whom there's an NFB doc too), the eponymous song is perhaps just as incessant and familiar as the little critter it describes. If you've ever spent any time in Northern Ontario, you'll know what a pesky little bug the blackfly is.
And if you're a McGarriggle fan, check out Canada Vignettes: Log Driver's Waltz, in which the sisters' unmistakeable voices can be heard belting out one of our proud nation's very favourite songs.
If you're into all things needlework, you'll be thrilled with the intricate creation of Distant Islands, a short animation made entirely out of stitched scenes. This film's animated embroidered tapestries recall a young girl's happy summers spent sailing with her family off the coast of British Columbia.
Distant Islands, Bettina Maylone, provided by the National Film Board of Canada
Are you one of those crafty types who went nuts over our "Quilt Fever" blog post back in 2011? (Yes, it's a post about a film that portrays the traditional art of quilt-making through sophisticated computer animation and lively music). If you've ever felt the satisfaction of threading a needle and doing a little stitching, Distant Islands will amaze and delight you.
If you thought your family was weird, imagine living in a van with your siblings and parents as the whole family tours Canada to put on a traveling puppet show for kids nationwide. Sound like an adventure? Well, it isn't always all fun and games—although, OK, sometimes it is. Watch this heartwarming and curious little doc below.
On the Road with La Mouette, Philippe d' Hauterive & François Aubry, provided by the National Film Board of Canada
Despite the hardships along the way, you can't help but be charmed by the Théâtre de La Mouette's nimble little play, in which an ecological message prompts school children to think about sustainability in coastal industries like fishing. This is an entertaining little endeavour with a big heart.
From Gerald Potterton, the director of The Railrodder (a hilarious Buster Keaton flick), comes another slapstick comedy about an ambitious trekker: in The Quiet Racket, our protagonist just wants to get away from the din of the big city. But what he discovers in the countryside is that noise is everywhere no matter where you go.
The Quiet Racket, Gerald Potterton, provided by the National Film Board of Canada
Want to know more about this zany film? Check out this blog post, in which folks of a certain generation will learn that The Quiet Racket's star was also famous for playing a certain "Johnny Jellybean" (don't ask me, I'm 31).
Tips for a cinematic summer
We know, you're busy swimming and sunning yourselves at the cottage. But why not bring the ol' laptop out to the dock at sunset and watch a few family-friendly shorts? Better yet, for those who own a projector: hook it up and hang a sheet and—voila!—you've got yourselves an outdoor cinema. Crack a cold beer and put your feet up while you watch this week's NFB.ca programming on summer cinema.