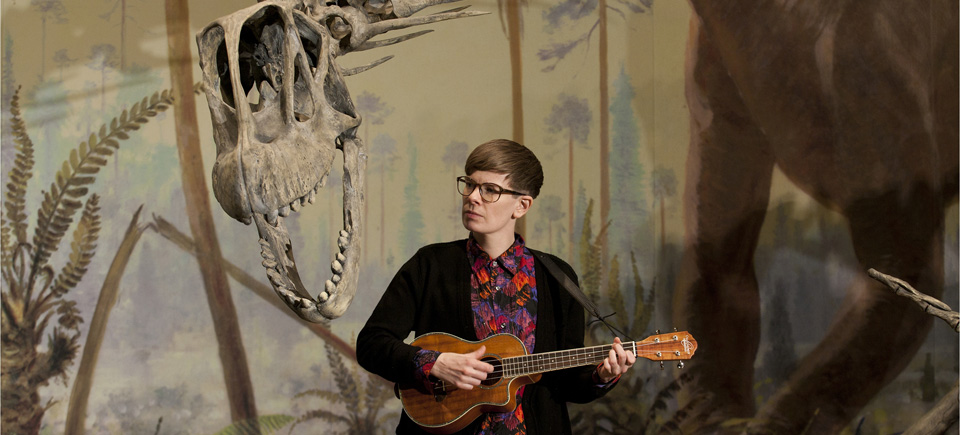 The State of the Art, Part II: Documentary Aesthetics
Check out the previous post in this series—The State of the Art, Part I: Documentary Ethics.
What shapes and forms do non-fiction film and video take? What techniques and visual languages are making docs look and feel the way they do today? And, most importantly, what's stirring the hearts and minds of audiences?
We recently brought you a breakdown of 4 common types of documentary films, but today's creative types are certainly thinking outside the box. Over at the TIFF 2014 Doc Conference, a wide variety of filmmakers, producers, critics, curators, and other industry folks had some fascinating thoughts to share about the aesthetics of today's docs. Read on for their thoughts!
Taking a real story to surreal heights
Joshua Oppenheimer's acclaimed 2012 doc The Act of Killing is an almost hallucinogenic, hyper-coloured, hyper-real journey through the horror and audacity of state-sanctioned genocide in Indonesia. Oppenheimer's method, he says, "was very simple and recursive; we would shoot one scene, I would play it back to the perpetrators [of the genocide], and ask them to respond and to tell me what they wanted to do next. That organically led to the surreal heights in which the film culminates."
If the subjects of your doc are really—shall we say—"out there", then allowing that to influence the filmmaking process may very well result in some pretty crazy-looking footage! An incredible example of exactly this kind of surreal, unhinged documentary aesthetic is the NFB's Oscar®-nominated Volcano: An Inquiry into the Life and Death of Malcolm Lowry. It may start out simply enough as a biopic, but this riveting feature doc takes its cue from Lowry's eccentric prose, and it climbs to zany heights before you know it. Check it out:
Volcano: An Inquiry into the Life and Death of Malcolm Lowry , Donald Brittain & John Kramer, provided by the National Film Board of Canada
Like the Lowry biopic, both The Act of Killing and Oppenheimer's new film The Look of Silence (which just premiered at TIFF) are full of striking, unforgettable images. "I feel in both of these films that I want to immerse you in a world so that it becomes a nightmare," says Oppenheimer, "a kind of fever dream."
"In The Look of Silence, I want to immerse you in this family that has lived under decades of silence and fear; what does [this fear] do to eyes, faces, hands, how people speak and behave? This involves making films that really don't feel like observational docs at all, but rather lyrical, visual concentrations or condensations of a kind of essence. I'm looking for visual metaphors that strike the core of what this world is in which I want to immerse you."
What do you think of these kinds of immersive, surreal or hyper-real documentaries? How does this aesthetic work with or against traditional notions of documentary?
Interactive stories: encouraging audience feedback and participation
Interactive documentaries are appearing all over the place: on new platforms, in new places, and to new audiences. (For example, just think of the multi-award-winning Highrise project and its recent New York Times collaboration A Short History of the Highrise). But how do these kinds of stories work? What forms do they take to engage and affect their audiences?
Jed Weintrob, Head of Production at Condé Nast Entertainment, has some interesting thoughts on the topic: "Take some digital video conventions (addressing the camera directly, personal stories surrounded by time-sensitive narrative),"—think selfies and amateur YouTube videos—and add these to more "traditional" documentary formats (exposition, compelling storytelling). Interactive storytelling "need[s] to include a lot of the conventions that belong to online content—[namely], addressing and engaging the audience in a conversation."
Check out a brief clip from A Short History of the Highrise below, and ask yourself: does this short video make me want to interact with the Highrise project as a whole (which can be accessed here)? What intrigues a viewer enough for him/her to want to access a wealth of content from which they can pick and choose? How do interactive docs turn linear storytelling on its head?
A Short History of the Highrise, Part One: Mud, Katerina Cizek, provided by the National Film Board of Canada
More, more, more! A wealth of information
Marc Schiller is the CEO of Bond Strategy and Influence, a creative digital consulting agency. Bond recently launched CinePacks, a service that bundles and curates documentary content, and this service encourages filmmakers to deliver extra content—above and beyond the completed documentary film—to audiences who are hungry to know more about a certain topic. This could be, say, a discussions with experts, or a filmed Q&A after a screening with the filmmakers. "Think like a fan", advises Schiller; "not, 'I have some extra stuff', but who would want this? How? And why?"
Oppenheimer revealed that The Act of Killing took 3 years to shoot and resulted in 1,200 hours of footage, resulting in an unabridged version of the film that clocked in at 2 hours and 40 minutes. Beware, filmmakers: this doesn't mean you should pile all your footage into one extra long film that goes on forever! Schiller and Oppenheimer simply recognize that audiences sometimes want to know more; you can package and distribute extra content on channels like social media, etc.
Here at the NFB, our 2011 doc on the mining industry, The Hole Story, was partnered with an interactive project that engaged viewers who wanted to go deeper into the story. Check out the interactive site here, and watch the trailer for the film below (you can buy the film on DVD or get it as a digital download).
The Hole Story (Trailer), Richard Desjardins & Robert Monderie, provided by the National Film Board of Canada
The artistry of documentary
"I wouldn't describe myself as a documentarian," said filmmaker Sturla Gunnarsson at the TIFF Doc Conference. "I think of myself as a filmmaker. I do theatrical and TV fiction, as well as docs, and I find the crossover is enriching for me. I try to approach my fiction films by trying to make them feel real, and I try to make my docs feel dramatic… I want films to be entertaining, to be arresting. I approach filmmaking as an exercise."
A panel of festival curators at the TIFF Doc Conference echoed these sentiments. Charlotte Cook, Head of Programming at Hot Docs, said that "documentary isn't only a tool [for information, social change, etc.], but artistry is as much an important part of it… The Look of Silence is a perfect example of the power of documentary. A fiction film could not create that level of power. There is a broadening of the scope of what we think documentary is. I hope in my lifetime there will be no more documentary film festivals. Documentary still isn't seen on the level of 'film' and I hope it does [get seen like that]."
These formal and aesthetic qualities are no doubt facilitated through technology. "The sheer huge shift that has taken place in technology and access in the last 15—maybe 20—years," said critic Geoff Pevere, "has led to an increase in the number of documentaries, and style and narrative innovation. You're more likely to see some very, very exciting work." Critic Nicholas Rapold agreed: "A lot of filmmakers and cameramen are taking a lot of care with the image, and it's just something I appreciate, and that's also related to the technology issue—people are using the technology to bring out a better image."
Keep on filmin' on…
So there you have it, folks. Documentary aesthetics are innovating fast; we've got content everywhere (online and off), we've got personal expression at a high, and we've got imaginative talents like Joshua Oppenheimer revolutionizing the state of documentary filmmaking today. What's your favourite thing about the style and form of docs? What kind of film gets its message across best? Let us know in the comments!
***
Header image: from My Prairie Home (2012), a documentary-musical featuring musician Rae Spoon.