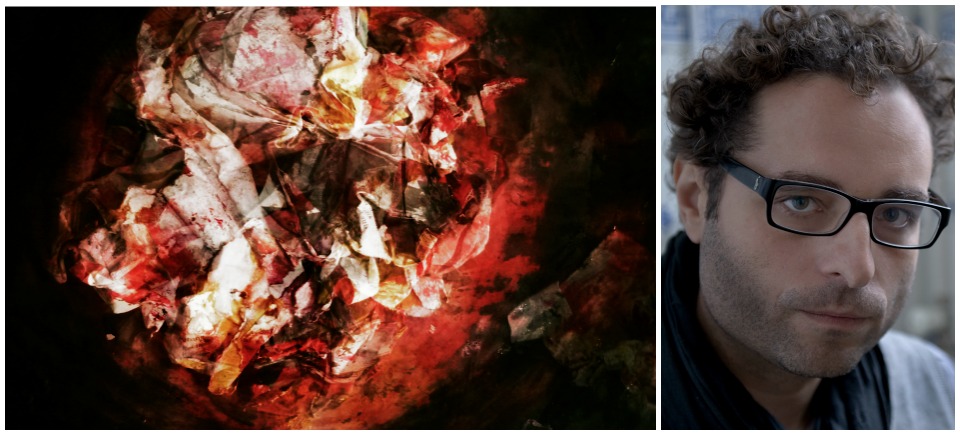 Theodore Ushev, artist-in-residence, on creation, destruction, McLaren, and working in public
We've already written about the exciting things going on at the Musées de la civilisation à Québec in Quebec City. As you may recall, Frame x Frame: Animated Film at the NFB is a fascinating new exhibit that runs all the way up until next summer, and part of the exhibit is a series of residencies by today's best and most talented animators. The artists are actually parking their butts inside the museum and working day in and day out on a brand new project, all for the public to see!
Past resident animators at the museum have been Janet Perlman and Francis Desharnais. Now, it's time to welcome acclaimed animator Theodore Ushev to his upcoming residency at the musuem, which will run from Nov. 19th to the 29th, 2014.
Let's find out what Ushev will be up to at the museum! But first, if you're not familiar with his work, introduce yourself with the 6-minute animation Gloria Victoria, an absolutely riveting, kinetic, and provocative film about the relationship between art and war.
Gloria Victoria, Theodore Ushev, provided by the National Film Board of Canada
Pretty neat film, huh? Ushev was born in Bulgaria, and began his career as a poster artist there. In 1999, he settled in Montreal, where he quickly acquired a reputation as a prolific and talented animator thanks to such films as The Man Who Waited (2006) and Tzaritza (2006).
So what's this talented guy gonna get up to during his museum residency?
Theodore Ushev: 

100 Norman Prints—Erased

That's the title of Ushev's residency project. Intrigued? Me too!

"A museum. An aquarium." So writes Ushev, comparing himself to a fish in a bowl, as onlookers gawk at his labour, on display for everyone to see.

"Every day, exactly at 10:00 am, meticulously and precisely, as a public service employee, I [will] erase and wash out 100 frames from 10  prints of films by Norman McLaren (in 16mm). On every hour, until 5:00 pm, the procedure [will be] repeated. For 10 days. At the end, I [will] have 100 prints, erased and bleached out, from McLaren films, which I stick together in an unique copy, containing 10 000 cleaned frames. This work can be shown, screened, but never copied, duplicated, digitalized or even distributed. It is the only artefact of those 10 days."

Wowza! If that piques your curiousity, but you won't be in Quebec City to see it, a web cam has been installed in Ushev's workspace in order to document the action for an online audience. Watch the animator at work in his 'cage' here.

Broadcast live streaming video on Ustream

These concerns with the art of the past are not new in Ushev's work. His stunning film Tower Bawher (one of my personal faves in the NFB collection) is a tour-de-force exploration of Russian constructivist art and is filled with visual references to artists of the era, including Vertov, Stenberg, Rodchenko, Lissitsky and Popova. Check it out:

Tower Bawher , Theodore Ushev, provided by the National Film Board of Canada
In your own words, Theodore!
We decided to ask the expert animator about what he thinks will come out of his museum residency. And boy did he have some colourful reflections!
Does he think that being observed by the public while he works will affect him? "For me, an animator imprisoned in his/her studio (at the NFB, for example) it is not an option. Animators must come out of their caves, and get into the pace of real life. In festivals, I see films that are often remote, made by people who live in abstinence and dissociation. That's what makes the film sterile and antiseptic!"
Ushev is intrigued by the prospect of being on display as a working animator. "I've been talking for a long time about making a film while caged, confined in a closed space, observed by the public and a web cam the whole time. However, I have no intention of communicating with the public. They'll only be able to ask me questions once I leave my 'aquarium'."
"I'm a dangerous animal! Homus animaticus immigrantis. Some people think that immigrants are dangerous, that  they threaten society and Western civilization, and that should only work in ethnic restaurants and stores (and stay away from "our" High Culture, please!) so I think the Museum of Civilization is a perfect place for caging a kind of Immigrant Balcanicus Animaticus that destroys the greatest film animator, McLaren. I hope there will be people who, despite signs saying not to disturb the animator, will throw me peanuts!"
And how does the museum residency project fit in with Ushev's previous works?
"The link is obvious," says Ushev. "The theme and the concept are that of 'palimpsest'—destroying in order to re-create again is brilliant for our civilization. You cannot create new things without getting rid of the old. It is the history of our civilization. I will be neither the first nor the last artist to try to reinvent the wheel. Vandalism is so connected to human nature that we are willing to accept that graffiti is more valid than the old buildings [on which it appears]."
Ushev's powerful film Drux Flux  deals with exactly this conundrum: the inhumanity of progress.
Drux Flux , Theodore Ushev, provided by the National Film Board of Canada
Ushev in Quebec City: master class, poster exhibit, screening, and more
Theodore Ushev is not only an animator-in-residence at the museum. He'll also be participating in a variety of activities at the Sommets du cinéma d'animation, an international festival dedicated to animation in all its forms. Ushev's latest creation, Third Page From the Sun, will be screening at the festival, and you can get an exclusive preview clip of the film here: