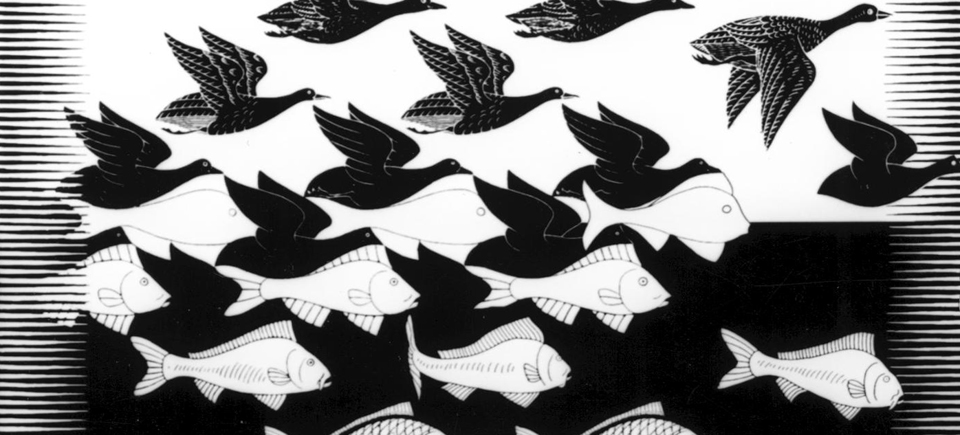 M.C. Escher, The Mathemagician
* This blog post was written by Nathalie Mantha, Educator at the National Gallery of Canada.
M.C. Escher.  A Fascinating Artist! 
Looking at an artwork by Dutch artist Maurits Cornelis Escher (1898–1972) is like immersing yourself in an imaginary world where the impossible becomes real!
M.C. Escher is best known for his prints of animals and people transforming into something different.  Images that trick our perception and twist pictorial space are also a favourite theme. M.C. Escher used a wide range of printmaking techniques such as woodcut, wood engraving, linocut, mezzotint and lithography – painstaking work he usually undertook himself, rather than employing the services of a printmaker.
When Escher made his art, abstraction was popular. Many artists, such as Picasso, transformed realistic subject-matter into abstract compositions. Escher, on the other hand, used mathematical concepts that he applied to human and animal forms in order to divide and animate the picture plane. Escher's artworks always represent recognisable forms.
Art Meets Science
M.C. Escher's images are a great way to integrate art, math, and science into your curriculum. For example, he used symmetry, geometry, tessellations, and optical illusions in his prints. Exploring his creative universe will bring a bit of magic into your classroom.
Mathematicians, scientists, and psychologists were very interested in M.C. Escher's art. Some even corresponded with the artist, letting him know how much they enjoyed his work and delving into great detail about the mathematical principles his artworks demonstrate.  Nevertheless, Escher often said he didn't understand much of this "math talk."  His images were, for him, visual challenges. Throughout his career, he experimented with and reworked his ideas until he obtained the desired effect.
Escher told his children that you need to draw your subject in order to understand it. So, why not challenge your students to put certain mathematical principles on paper – without using numbers!
M.C. Escher on CAMPUS
The National Gallery of Canada (NGC) has collaborated with the National Film Board (NFB) on a learning bundle about this fascinating artist on CAMPUS, the NFB education platform.
On CAMPUS, discover the short animation Sky and Water 1, 1938  inspired by the M.C. Escher work of the same name. This short film brings to life one of the artist's best known woodcuts where birds and fish intertwine on the surface of the paper, transforming one into the other, positive space transforming into negative space. The image is carefully crafted to create the illusion of a metamorphosis.
M.C. Escher: Sky and Water 1, Gayle Thomas, provided by the National Film Board of Canada
You can see the artwork that inspired the video on M.C. Escher. Mindscapes. This NGC website provides a chronology, a gallery of images, and information about the artist's themes and techniques. Short clips of George Escher, the artist's eldest son, reminiscing about his father's life and work can be found on the site.
Also on CAMPUS, in the Learning Bundles, are two lesson plans inspired by the National Gallery of Canada's collection. One focusses exclusively on Escher while the other explores the theme of math in art more broadly.
M.C. Escher at the National Gallery of Canada
The National Gallery of Canada holds the third largest public collection of works by M.C. Escher, this thanks to his son George Escher who donated over 230 works.  George Escher immigrated to Canada and now lives in the Ottawa region.  His donation is a way to share his father's art and legacy with the public and to ensure that it is conserved for future generations. Works on paper are often fragile requiring the care that the only a Gallery can provide.
M.C. Escher, The Mathemagician showcasing 54 works spanning the artist's career, is on view at the National Gallery of Canada until May 3, 2015.