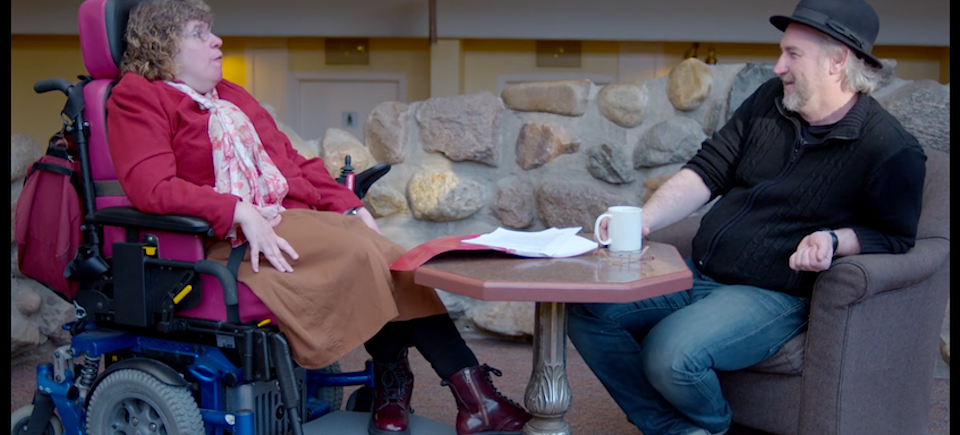 We Regret to Inform You: Deconstructing Disability
The notion that "disabled" and "productive" are mutually exclusive identities is skewered in We Regret to Inform You, a lively short doc from Northwest Studio that exposes the institutional obstacles facing Canadians living with disability.
Heidi Janz was born with cerebral palsy: her mobility and speech are severely impaired. So when she recently lost her teaching job and had to apply for federal disability benefits, there was no reason to believe she would be denied.
But in the official reasoning of the Canada Pension Plan, the agency that administers disability benefits, Janz had failed to meet official requirements. The fact that she'd endeavoured to get herself a PhD in philosophy AND become a published playwright was held against her. She was deemed "too productive" to be eligible for benefits.
"We Regret to Inform You puts the whole disabled/able-bodied dichotomy under new scrutiny," says producer Bonnie Thompson, who is overseeing the final stages of post-production at Northwest Studio. "Here in Canada over 60% of people who apply for disability benefits are initially denied, so something is clearly wrong, and Heidi reframes the issue in a challenging and engaging manner."
Janz now adds filmmaker to that list of accomplishments, sharing the director credit with Eva Colmers, a seasoned Edmonton-based filmmaker whose credits include NFB films like The Enemy Within and The Elder Project, and the recent release Granny Baby, produced through her own company No Problem Productions.
We Regret to Inform You —a title that references language employed by the CPP — was shot in Edmonton over two days last winter by DP aAron Munson, and was edited by Scott Parker. It is scheduled for release in the fall of 2015.
Pictured above: Heidi Janz with Trevor Rueger, executive director of Alberta Playwrights Network. Below: Janz with co-director Eva Colmers.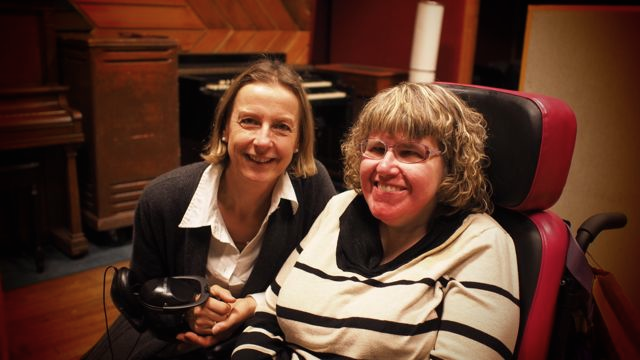 Short is Beautiful
"You can say a lot in a short-format doc," says Thompson. "It's a versatile format, ideal for established and emerging filmmakers alike and easy to circulate — and it has a long history the NFB."
Short issue-oriented docs featured prominently in the mixed programs of the NFB travelling projectionists who criss-crossed the country during the 40s and 50s. These travelling circuits were disbanded in 1955, with the advent of TV, but at their peak they were reaching about 500,000 people every month.
As distribution models change yet again, the short doc is seeing resurgence at NFB. "These days short films do well on the web, where they circulate widely on social networks," says Thompson, "A film like We Regret to Inform You, which speaks to a wide range of communities and interests, can have long and fruitful online life."
"Accessibility is key"
The film will be released in no fewer than 6 different versions – all with a view to reaching a wide range of disabled constituencies. "It's standard practice at the NFB to close-caption all releases, but the issue of versioning took on additional importance with this film," says Thompson. "Accessibility is key for Heidi. She was insistent on sub-titling her own dialogue, for example. At one point we found ourselves in the editing suite, wearing glasses that simulated glaucoma."
Mark Power, the production supervisor at Northwest Studio, oversaw versioning in consultation with Accessible Media Inc, a non-profit agency that provides a range of services to the hearing and visually impaired.
Disability & Individualism
The disabled artist/activist Sunaura Taylor engages American philosopher Judith Butler in a fascinating discussion about disability and individualism in the 2008 feature doc Examined Life: Philosophy is in the Streets. Co-produced by the NFB and Sphinx Productions, the film features eight leading contemporary thinkers, and was directed by Sunaura's sister Astra Taylor. Astra's latest project — a feature doc called What is Democracy?— was recently greenlit for production in the Ontario Studio. It's being produced by Lea Marin. Here's an excerpt from Examined Life: