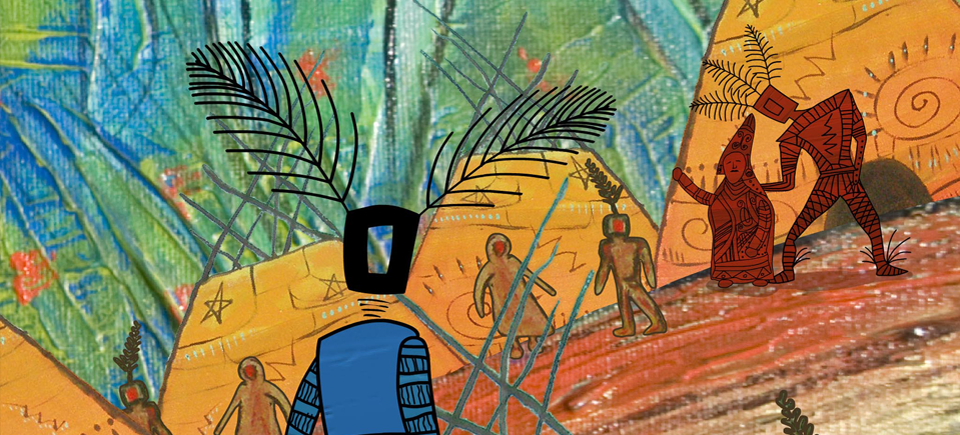 6 Short Films to Watch on National Aboriginal Day
On Sunday, communities across Canada will celebrate National Aboriginal Day.
This day was designated to honour the contributions of the First Nations, Inuit and Métis peoples and highlight their unique heritage and diverse cultures. The holiday was established in 1996, and fits into the scope of the Celebrate Canada program, which also includes Saint-Jean-Baptiste Day (June 24), Canadian Multiculturalism Day (June 27) and Canada Day (July 1).
The specific date of June 21 was chosen because it also marks the summer solstice, a day that is highly symbolic across Indigenous cultures.
In honour of this special day, we present you with 6 short films from our collection that celebrate different aspects of Indigenous life and tradition.
Five of these 6 films come from NFB-led initiatives: Stories From Our Land and The Vistas Series. Both of these programs are representative of the kind of work that we do in northern communities, with the aim of telling Canadian stories to people across Canada and the rest of the world.
Due to the mandates of these two programs, we felt that featuring their films would be a fitting way to mark National Aboriginal Day.
Stories From Our Land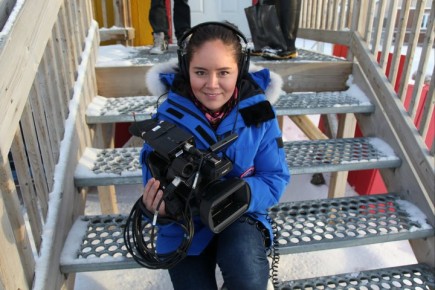 Stories From Our Land is a program that began in 2010 with a workshop in Iqaluit, during which established industry professionals worked with emerging filmmakers to plan, shoot and edit "micro documentaries" on subjects that were close to their hearts.
The project was a way to work with the community and provide them with the training and tools that would enable them to share their stories. It was run by the NFB and the Nunavut Film Development Corporation and included figures like Cordell Barker, Sturla Gunnarsson, Paul Cowan and Zacharias Kunuk.
Of the 29 people who participated in this workshop, 6 went on to produce 5-minute films which were shot and edited in 3 days as part of  Stories From Our Land 1.5. The participants then submitted ideas for 10-minute films, 3 of which were produced in 2012 as part of Stories From Our Land 2.0.
The films below come from both the Stories From Our Land 1.5 and 2.0 editions and follow a couple of key guidelines – they tell a northern story from a northern perspective, and they do not rely on interviews or narration.
If You Want to Get Married… You Have to Learn How to Build an Igloo!
This 5-minute film by Allen Auksaq pays tribute to the 1949 classic, How to Build an Igloo. From beginning to end, we watch as Dean Ittuksarjuat constructs this traditional Inuit home – from the first cut of the knife and the forming of the blocks of snow to the carving of the entrance after the residence is completed.
If you watch closely, you'll see that even though he's working with snow, nothing goes to waste. Even the shavings off the snow blocks are used to seal the igloo at the bottom, solidifying the foundation and preventing wind from entering.
Stories from Our Land 1.5: If You Want to Get Married… You Have to Learn How to Build an Igloo! , Allen Auksaq, provided by the National Film Board of Canada
Family Making Sleds
This playful short by Rosie Bonnie Ammaaq begins with footage of a man threading rope through runners and slats and then expertly tying the knots that hold them together. While he progresses with his wooden sled, his wife and child are shown creating their own cardboard sleds out of recycled materials and playing with them on the coffee table.
As the father works, his youngest child approaches in curiosity, wondering what on earth he is building. But the father, in a perfect example of visual storytelling, opts to show his daughter what he's been working on, rather than just telling her.
Stories from Our Land 1.5: Family Making Sleds, Rosie Bonnie Ammaaq, provided by the National Film Board of Canada
Finding Home
There's an old saying that goes, "You can never go home again." Nyla Innuksuk is intent on proving that wrong.
After over 20 years, the young filmmaker has made the decision to take the journey back to Nunavut to connect with her ancestors and with her father, who separated from her mother when Nyla was just a small child. In a short film long on emotion, she returns to her Igloolik birthplace and chronicles her experience, which ends on a very symbolic note.
Stories from Our Land Vol. 2 – Finding Home, Nyla Innuksuk, provided by the National Film Board of Canada
Note: You can read a first-person account of the original 2010 Stories From Our Land workshop sessions as seen through the eyes of editor Carrie Haber, who chronicled the experience for this blog in January 2011.
The Vista Series
The Vistas Series is a collection of 13 short films on the subject of nationhood which were produced in conjunction with APTN as part of the 2010 Vancouver Olympics celebrations. From Halifax to Vancouver, every production studio in the NFB's English Program worked on this project, which resulted in 13 unique films from 13 unique Indigenous voices.
Like Stories From Our Land, the goal of these films is to bring Indigenous perspectives and stories to people living in Canada and the rest of the world, and the project included some young, emerging talent as well as established filmmakers.
Little Thunder
In this animated short, Nance Ackerman (Cottonland) and Alan Syliboy collaborate to bring us the story of Little Thunder, who must leave his family and embark on a cross-country canoe trip to become a man.
The film was inspired by a Mi'kmaq story called The Stone Canoe and explores Indigenous humour and legend.
Vistas: Little Thunder, Nance Ackerman & Alan Syliboy, provided by the National Film Board of Canada
Walk-in-the-Forest
This short film, which producer Michael Fukushima calls "a charming animated gem" hails from the mind of Montreal filmmaker and artist Diane Obomsawin, otherwise known as Obom.
Falling perfectly into place with Obom's previous work, this film follows a medicine man as he walks in the woods in search of a flower to help an ailing woman, but along the way discovers an intriguing secret world.
The music for this film, which adds a whole other dimension to the work, was composed by Judith Gruber-Stitzer.
Vistas: Walk-in-the-Forest, Diane Obomsawin, provided by the National Film Board of Canada
Summer Legend
The sixth and final film we're presenting in honour of National Aboriginal Day is a 1986 classic by Françoise Hartmann.
This beautifully animated short recounts the tale of the great spirit Glooscap, his battle with Winter and his quest to bring Summer back to the North and the Mi'kmaq people.
This is a legend that was first recorded at the end of the 19th century and has been retold many times since in the community, but the popularity of this film (always an NFB favourite!) has been instrumental in keeping the story alive in the world at large.
Summer Legend, Françoise Hartmann, provided by the National Film Board of Canada
***
For a list of events taking place across Canada to celebrate National Aboriginal Day, visit the Aboriginal Affairs and Northern Development Canada website.
Public venues
Jun 20 & 21 9:00 am to 5:00 pm Vistas: The Visit, Vistas: Little Thunder, Owl and Lemming: An Eskimo Legend, Maq and the Spirit of the Woods, Summer Legend : National Aboriginal Day, Family Snack Room, Glenbow, 130 9th Avenue S.E., Calgary, AB
Jun 21 4:00 pm Between Two Worlds : Museum of Inuit Art, Harbourfront Centre, 207 Queens Quay West, Toronto, ON
Jun 21 2:00 pm Reel Injun : National Aboriginal Day with ImagineNative, presented at Yorks Woods Public Library, 1785 Finch Avenue West,  Toronto, ON
Jun 21 7:00 pm  Kanehsatake: 270 Years of Resistance : DOC TALKS, Cineworks Film Co-op Studio, rear of 1131 Howe St., Vancouver, BC
Jun 24 7:00 pm Hi-Ho Mistahey : Cinema Politica, Princess Twin Cinema, 46 King St. N., Waterloo, ON