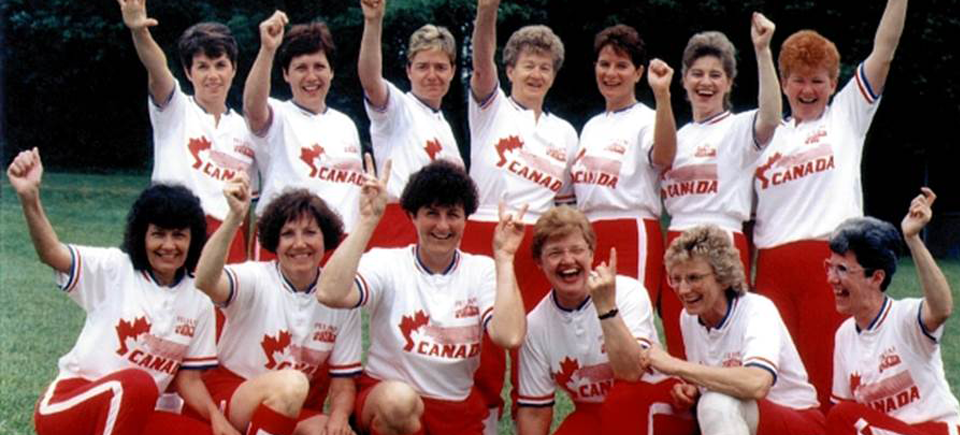 Watch 3 Films on Sports for the 2015 Pan Am Games
Photo credit: Lois Siegel
This year, from July 10 – 26, the XVII Pan Am Games are being held in Toronto. To celebrate, we've put together a playlist of films that highlight some of the sporting events being featured.
But first, to get you into the spirit of things, here are some quick facts about this year's Games:
6,000+ athletes will be competing (that's double the athletes who competed in the 2010 Vancouver Olympics)
45% of the participating athletes are female – a world record for any multi-sport event
41 nations will be participating
364 medal events will be spread out over 36 different sports
19 of the sports will be either direct or indirect qualifiers for the 2016 Summer Olympic Games in Rio de Janeiro
Baseball Girls
This year, women's baseball and rugby will be included in the Pan Am Games for the first time. In honour of this historic event, we're featuring Lois Siegel's quirky and fun documentary Baseball Girls.
This is a documentary that, whether you're a baseball fan or not, will hook you from the opening credits. The archival footage used in this sequence is light and fun, but when it's followed by Babe Ruth's famous quote – "They [women] are too delicate. It would kill them to play ball every day" – you just know that this film will prove the man wrong.
From the mid-1800's, baseball has been a popular North American sport. Even though the sport was monopolized by men, women have always been there. And yes, the female teams of yesteryear played in dresses, but ever resourceful, those women learned to use their uniform to their advantage by catching baseballs in their skirts.
Using more of that gold archival footage, Siegel's film takes us through the history of women in baseball, and then she travels across North America to capture the more contemporary stories.
Baseball Girls, Lois Siegel, provided by the National Film Board of Canada
Singlehanders
Ten different sailing events will be featured at this year's Pan Am Games. Sailing has been an Olympic sport since 1900, but a women's event only entered into official competition in 1988.
This year, there are 3 events in which women will compete against each other, 2 in which men will compete and 5 in which men and women will be in direct competition.
Word on the street is that Brazil is the country to watch when it comes to sailing. In the last two Games alone, they've collected 14 medals – 8 of which were gold.
In honour of this great sport, we're featuring this 1982 documentary about the 1980 Observer Singlehanded Transatlantic Race. The race, and the film for that matter, is called "Singlehanded" because each boat is sailed by only one person, without a crew.
The film focuses on two sailors – Bob Lush and Mike Birch. Lush discovered his passion for sailing later in life. He risked his job, his home and even his life in pursuit of this passion. This is his first time doing the race, and he competes at a low level. Birch, on the other hand, is a professional sailor and competes in the most advanced class.
Regardless of their different backgrounds, it's simply awe-inspiring to watch both men out there, alone, racing across the open water.
Singlehanders, Shelagh Mackenzie & Kent Nason, provided by the National Film Board of Canada
60 Cycles
Road cycling has been part of the Pan Am Games since their inception in 1951. To highlight the event, we're featuring Jean-Claude Labrecque's classic film from 1965 that follows the 11th Tour du St.Laurent.
60 Cycles is one of those films that has everything: A wicked soundtrack, picturesque towns, non-stop action, and even a tiny glimmer of humour (I dare you not to develop a soft spot for racer #4). There is a also a distinct lack of helmets… but it was the 60s.
Using very few words, the film is a testament to how man and machine can work so closely together that they almost become one. Honestly, I can't say enough about this film. It's one of those rare gems that hits all the right notes, making it mandatory viewing for film students and cinema buffs, as well as a cult classic for the cycling crowd.
Enjoy the film. And don't say I didn't warn you about #4.
60 Cycles, Jean-Claude Labrecque, provided by the National Film Board of Canada
***
Our official playlist features a total of 12 films on various sports being featured at this year's Pan Am Games. Other titles include Don Owen's Runner, a stunningly shot short film about (seemingly) everyone's favourite pastime; Golden Gloves, Gilles Groulx's study of 3 Montreal boxers in training; and Paul Cowan's I'll Go Again, about 4 athletes who competed in the 1976 Olympics.
Watch the full playlist here.