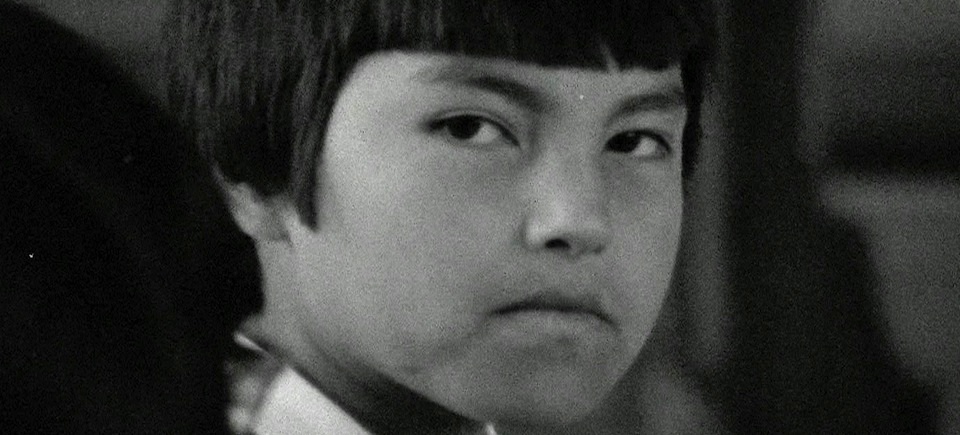 Indigenous New Wave: NFB at the Pan Am Games
Archival footage serves as both inspiration and raw material in Souvenir, an audacious series of shorts by Aboriginal artists that gets its world premiere during the upcoming Pan Am Games in Toronto.
Four leading figures in the Indigenous arts — Kent Monkman, Caroline Monnet, Jeff Barnaby and Michelle Latimer — have each crafted a three-to-four-minute short, working with footage mined from the NFB archives and recordings by cutting edge Aboriginal musicians.
"It all happened pretty quickly, and there's a great sense of creative mash-up with the whole project," says Kate Vollum, NFB associate producer on Souvenir. "We've got all these exciting artists and filmmakers, diving into the archives with a playful and critical eye. Working within a tight schedule and such defined parameters has been challenging, but also stimulating — and lots of fun."
The idea of Souvenir was born out of an invitation by curator Rhéanne Chartrand for the NFB to participate in Gazing Back, Looking Forward, a multidisciplinary exhibit she was planning for the Aboriginal Pavilion at the Toronto Pan Am Games.
The four artists were given access to a pre-selected set of all rights-cleared images in the NFB archive. Their mandate: to fashion a short film, no longer than four minutes, that reframed archival imagery in a new light for a contemporary audience.
The NFB possesses arguably the most important Canadian collection of moving images relating to Aboriginal experience. Spanning over seven decades of production, it charts major shifts in representational modes, ranging from early ethnographic docs, which presented Aboriginal culture from an outsider perspective, to the Direct Cinema experimentation of the 60s and community engagement initiatives like Challenge for Change where the NFB began to work with and develop indigenous filmmakers.
"The artists had access to a wide spectrum of imagery that reflects the whole complicated history of Canada's First Nations," says Vollum. "Each film makes a distinct statement, but they share a common interest in investigating and exploding cinematic stereotypes of Native people."
Sisters & Brothers, Kent Monkman's contribution to the series, makes a trenchant reference to the recent Truth and Reconciliation Commission – intercutting images of dwindling bison herds with footage of residential schools, a visually arresting montage propelled forward by the pow-wow step sound of A Tribe Called Red. Famous for his drag persona Miss Chief Eagle Testickle, Monkman is a multi-disciplinary artist who has won international acclaim for work that challenges received wisdom about Canadian history with an iconoclastic gaze.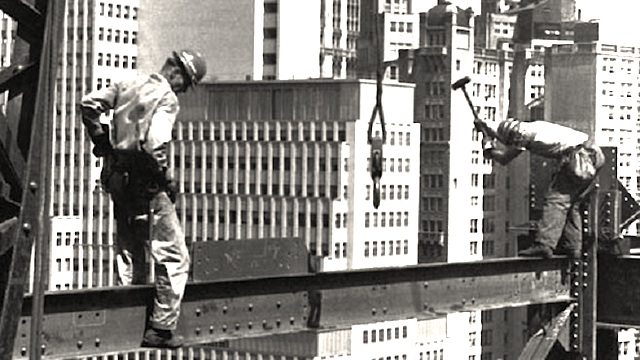 With Mobilize, the Algonquin filmmaker and visual artist Caroline Monnet juxtaposes sublime imagery of Mohawk construction workers, plying their trade high above busy city streets, with shots of traditional hunter/gathers, setting it all against a fierce and beautiful track by Tanya Tagaq – described recently in The Guardian as "the polar punk who makes Bjork sound tame."
Rounding out the series are Etlinisigu'niet (Bleed Down), a haunting riff on colonialism and resilience from Mi'gmaq writer/director Jeff Barnaby, whose 2012 feature film Rhymes for Young Ghouls won the TriBeCa Creative Promise Award; and Nimmikaage (She Dances for People), in which curator and filmmaker Michelle Latimer investigates the image of Native women within official Canadian iconography. Currently collaborating with Peter Mettler on a feature doc, Latimer recently nabbed a Sundance Special Jury Honourable Mention for her animated short Choke. Both films employ sound from Tagaq's Juno-Award winning album Animism.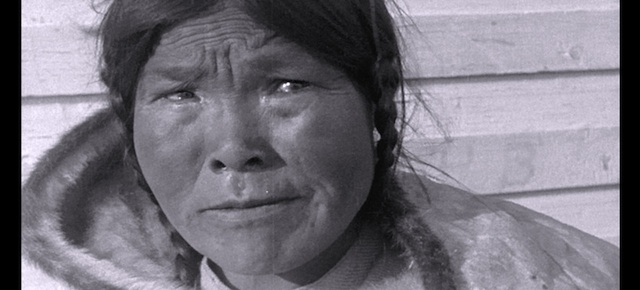 "Although each filmmaker was working from the same set of assets, each work has its own artistic vision," says executive producer Anita Lee. "A short film can have remarkable power and impact, and we expect them to have a rich life after the Pan Am Games, especially online."
Souvenir premieres on July 13, during the Pan Am Games, at the Aboriginal Pavilion, located at the Fort York National Historic Site in downtown Toronto. The host exhibit Gazing Back, Looking Forward will run for the duration of the 2015 Pan Am Games.
Monkman and Barnaby edited their own films, while Jesse Riviere cut Monnet's Mobilize, and Roslyn Kalloo edited Nimmikaage (She Dances for People). Kate Vollum is associate producer on the project, and Anita Lee is executive producer.
For an overview of NFB films by and about Native people, check out the playlist compiled by Gil Cardinal, the Alberta-born Métis filmmaker and producer behind films like Foster Child.  His selection includes this landmark 1969 doc You Are On Indian Land, one of the first films to be made in collaboration with the Indian Film Crew, an initiative established in 1968 as part of Challenge for Change.
You Are on Indian Land, Michael Kanentakeron Mitchell, provided by the National Film Board of Canada