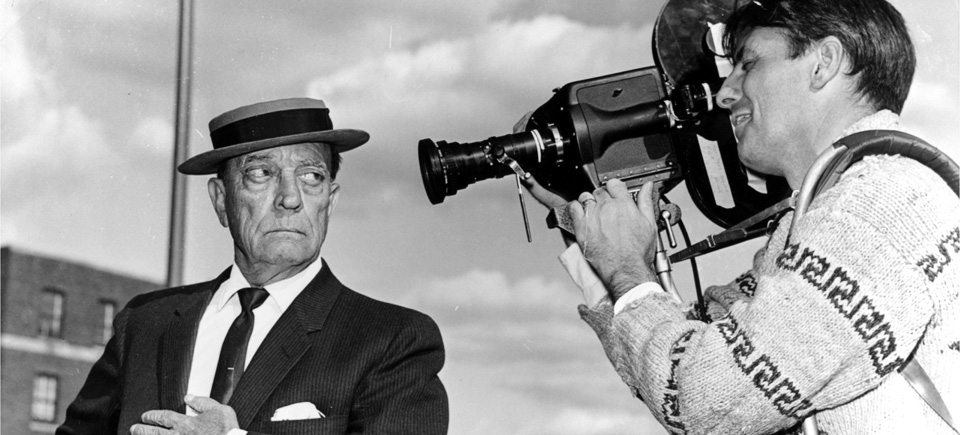 A Tribute to Comedic Genius Buster Keaton
2016 marked 50 years since the world lost the great Buster Keaton. I view him as one of the greatest filmmakers of all time and a comedic genius. I wanted to write this tribute to say that he is far from forgotten, and here at the NFB we consider ourselves blessed to have produced a film with him.
I first discovered Buster Keaton at Concordia University when I saw his short film Cops (1922). In a compact 22 minutes, he manages to get the entire Los Angeles Police force to chase him, with hilarious results. I then saw The General (1926), which most people consider to be his masterpiece. I was hooked for life.
Imagine how excited I was when I started working at the NFB and discovered that Keaton had made a 24-minute travelogue with us in 1965. The Railrodder was released around the world to great acclaim and popularity (it was shown in over 50 countries in its first 5 years). It is shot like a silent film and contains no dialogue. Keaton performs several gags and stunts flawlessly as he makes his way from coast to coast across Canada on a railway speeder (amazing, considering he was already 69 years old at the time). This film continues to be a favourite in Canada and around the world and is guaranteed to put a smile on your face. (You can read more about the production of the film in this blog post I wrote several years ago.)
The Railrodder, Gerald Potterton, provided by the National Film Board of Canada
During the shooting of The Railrodder, a second crew followed Keaton, director Gerald Potterton and his crew to make a behind-the-scenes documentary. The resultant film, Buster Keaton Rides Again, was broadcast on Canadian television during The Railrodder's theatrical release. It contains some amazing moments of Keaton at work and at rest. The scenes with his wife Eleanor are wonderful. You can see that they are thoroughly enjoying their Canadian experience. You can also see him singing and playing the ukulele. The documentary contains sequences from several of Keaton's classic films and tells the story of his rise to fame and subsequent fall before his resurgence in the 1950s.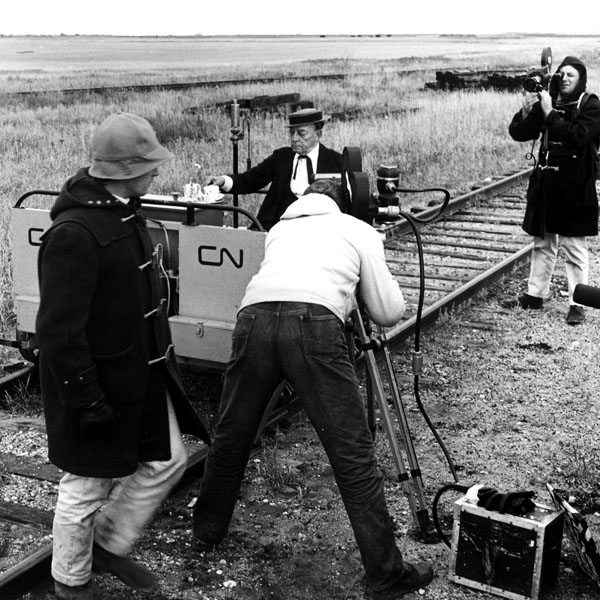 Gerald Potterton told me that Buster Keaton was one of the loveliest people he had ever met and that working with him was an absolute pleasure. There are several priceless sequences in the documentary showing Potterton and Keaton setting up gags and simply enjoying the experience of making this film together.
I invite you to watch this candid view of a great cinema icon at work. We will never forget you, Buster Keaton. Thank you for gracing us with your presence and making a film at the NFB.
Buster Keaton Rides Again, John Spotton, provided by the National Film Board of Canada
---
👉 For more on Buster Keaton and his work with the NFB, read "Buster Keaton rides the rails in Canada."
👉 Pour lire cet article en français, cliquez ici.