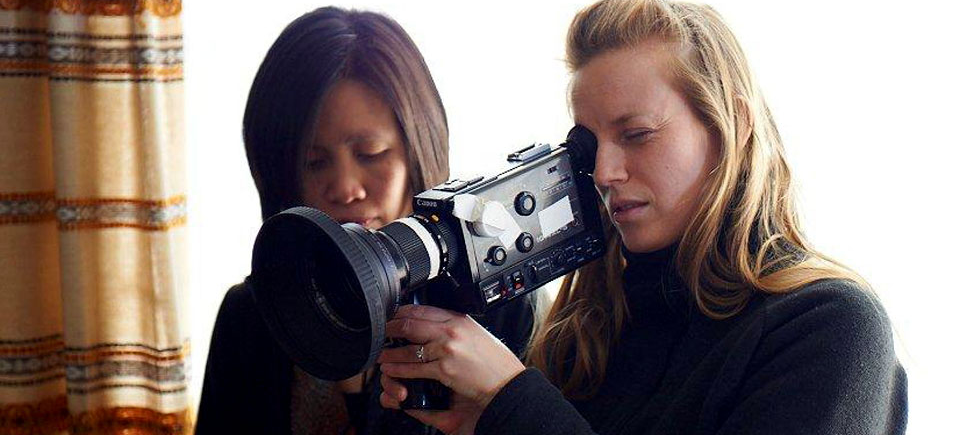 8 Female Directors Who Are Crushing It At the NFB
Mr. Frog Went A-Courting, Evelyn Lambart, provided by the National Film Board of Canada
We begin our journey with the first female animator in Canadian cinema history, Evelyn Lambart. In 1942, Lambart paved the way for female directors at the NFB, becoming the first woman in the animation department. Even more incredible, she would become one of the only working female directors in the world during the 1940s and 50s.
In Lambart's spectacularly charming take on the eponymous folk song, Mr. Frog Went A-Courting, we get a lively and colourful rendition of the events that start with a wedding and culminate in a tasty treat.
Here and the Great Elsewhere, Michèle Lemieux, provided by the National Film Board of Canada
From the first female animator in Canadian cinema history, we move to the only filmmaker on Earth who uses the Alexeïeff-Parker pinscreen: Michèle Lemieux. With one functioning pinscreen currently in existence, you could say Lemieux has this lucrative field of animation pinned down. Jokes aside, pinscreen animation is extremely challenging, simply due to its uniqueness. Lemieux not only creates gorgeous films, she also created the very tools she uses to bring us those films. Impressive!
See Lemieux's hard work in action in her philosophical film where an everyman questions humanity's eternal quest for meaning.
MacPherson, Martine Chartrand, provided by the National Film Board of Canada
Me and My Moulton, Torill Kove, provided by the National Film Board of Canada
You have to be pretty spectacular to be able to brag that the King of Norway loved your film, and director Torill Kove is just that! All three of the films she's made with the NFB have gone on to receive Oscar®-nominations, and her 2006 submission, The Danish Poet, claimed the much coveted statuette.
Laugh along with Kove's particular brand of bright and outlandish humour in her 2014 Oscar®-nominated short about 3 sisters, their quirky parents and a dream bicycle.
Trick or Treaty?, Alanis Obomsawin, provided by the National Film Board of Canada
Perhaps the most notorious Indigenous filmmaker of our generation, Alanis Obomsawin rose to global attention when she recorded the 78 nerve-wracking day armed stand-off between the Mohawks, the Quebec police, and the Canadian army, during the 1990 Oka Crisis. As fearless as she is talented, Obomsawin has dedicated her life to raising awareness to Indigenous issues.
Her latest documentary, Trick or Treaty? caps off her trilogy on First Nations communities; in particular, Canada's Indigenous people's fight for justice concerning the legacy of Treaty No. 9.
Stories We Tell, Sarah Polley, provided by the National Film Board of Canada
When writer/director Sarah Polley decided to turn her family's eclectic history into a feature documentary, you knew the end results would be extraordinary. Already an accomplished actress, Polley was nominated for an Oscar® for Best Adapted Screenplay for her feature directorial debut, Away From Her.
Polley's playful investigation into the elusive truth buried within the contradictions of a family of storytellers paints a touching and intriguing portrait of a complex network of relatives, friends, and strangers. Stories We Tell went on to sweep award season accolades, including the top documentary prizes at the National Board of Review, the New York Film Critic's Circle, and the Los Angeles Film Critic's Association.
Everything Will Be, Julia Kwan, provided by the National Film Board of Canada
A fresh voice to the filmmaking world, Julia Kwan already has an impressive list of awards she can attach to her name. In 2005, Kwan wrote and directed the film Eve & the Fire Horse, which went on to win the Special Jury Prize for World Cinema at the Sundance Film Festival, and in 2007, was awarded the Claude Jutra Award for Best Direction for a First Feature Film.
In her first feature-length documentary, Everything Will Be, Kwan masterfully captures the culturally diverse neighbourhood of Vancouver's once-thriving Chinatown, now in the midst of gentrification that plays out across many ethnic enclaves in North America.
Mina Shum
Ninth Floor, Mina Shum, provided by the National Film Board of Canada
Still craving more? Check out our Women in Cinema playlist!