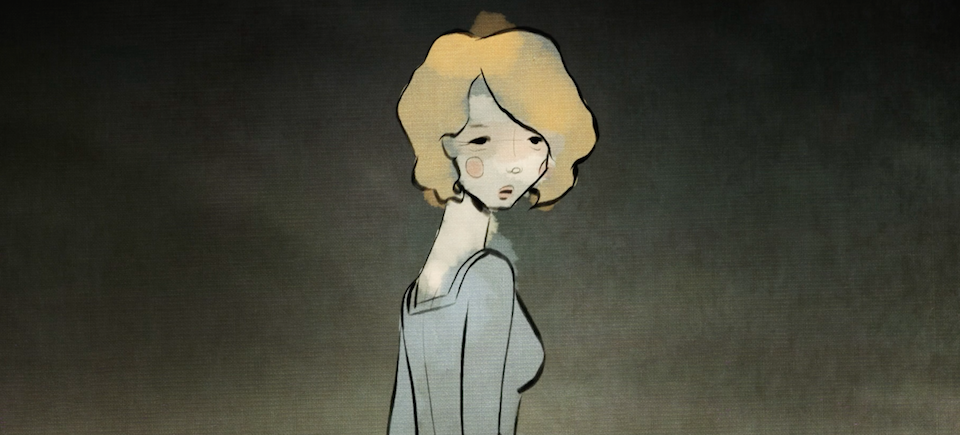 Settling Scores: Q&A with Composer Jeff Johnston
Jeff Johnston comes to film music as one of Canada's most accomplished jazz pianists. In a career that spans over 25 years, he's played with some of the biggest names in jazz – Kenny Wheeler, Sheila Jordan, Archie Shepp, Slide Hampton and a host of other luminaries.
Raised in a musical household in St. John's, he's now based in Montreal where he's mentored scores of young musicians as a member of the faculty atMcGill's Schulich School of Music. An avid performer, he has recorded with the likes of Dave Liebman and John Abercrombie, as well as his own acclaimed trio, and has been nominated several times over for both Juno and East Coast Music Awards.
In recent years he's also earned a reputation as a gifted and versatile film composer, and among his latest credits is Mystery of the Secret Room, an animated short directed by fellow Newfoundlander Wanda Nolan.
Mystery of the Secret Room, Wanda Nolan, provided by the National Film Board of Canada
How did you first get into film composition?
I've always been aware of the power of film music, ever since I first started watching movies. The whole process of putting music to picture fascinates me. I wrote my first film score about twenty years ago. It was for the NFB in fact — Barbara Doran's documentary When Women Kill. Since then I've written music for a range of productions — a lot of documentaries, short drama, corporate videos, and some NFB animation. I wrote the theme for Animania, an NFB series that was broadcast on Teletoon, and for Mary Lewis' short The Sparky Book. I've done studio work for other film composers too, which is always interesting. I've worked on several films with composer Ramachandra Borcar. Just recently Kevin Dean, who wrote the music for Academy award winner Torill Kove's new film Threads, had me come into the studio to play piano on that soundtrack.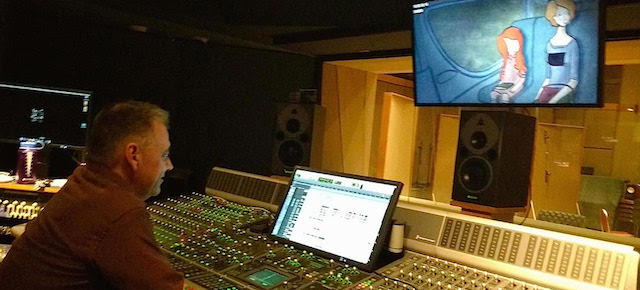 What brought you to Mystery of the Secret Room?
Annette Clarke, who's producing the film, first told me about the project last fall. And I was immediately interested. Wanda's written this emotional story of a kid whose mother is suffering from mental illness, a young girl trying to make sense of a difficult situation. It's a short but powerful film — one that would give me the chance to explore various musical environments and textures, and I immediately started hearing elements of the soundtrack in my head.
Annette introduced me to Wanda when I was back in St John's, and then we got to hang out when she was here in Montreal working with the animation team. She showed me an early version of the film, which I loved, and later that night she came out to hear me play. I composed a few early sketches – and Wanda liked them. The decision was made, and we started to collaborate on the score.
I always want to glean as much information as I can from a director. I wanted to know Wanda's influences — her favourite movies, her favourite music, anything that could help me understand what she wanted the music to communicate. She introduced me to Pan's Labyrinth, a beautiful feature, and to Madame Tutli-Putli, a fantastic NFB animation. I welcome this kind of input. Getting started is the hardest part — writing those first musical phrases. It helps to have a springboard, something to give me that initial bounce.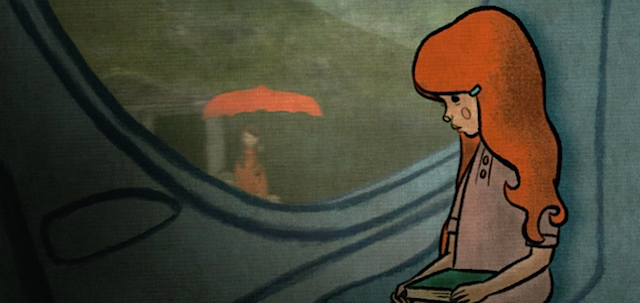 Does animation require a different approach from documentary film? 
Yes: with documentary, the music should help tell a story that's already there in the footage. You don't want to lead the audience. You don't want to introduce a new mood or change the direction of the film, unless it's specified. You don't want to get too over the top, too dramatic.
But with animation like Mystery of the Secret Room, you're part of the creative process. In just five minutes, Wanda has written underwater action scenes, pastoral sequences in rural Newfoundland, dramatic scenes that take place in an imaginary world. If it were a live action, it would cost millions. That's the beauty of animation: you can evoke so much in a few minutes. The challenge for me was to weave the music together seamlessly, even though any given scene may be drastically different from the next, and may last only 40 or 50 seconds.
So music and sound is key, even more so in a film like this one that has no dialogue or narration. It was a fantastic opportunity for a composer. I got to work in a range of genres, from intimate emotive dimensions to big sweeping orchestral textures.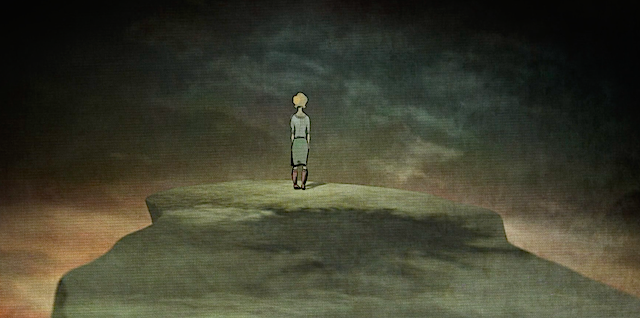 Does the score feature recognizable musical themes?
There is a musical theme that we use at the top and again at the end, but it's subtle throughout the rest of the score. In a longer film, you're able develop clearly identifiable musical themes. In a five-minute film, you don't really have time. But the score does have a kind of unity, a nice musical arc. We use different instruments and textures to denote different characters and moments in the story. The last scene, which has the big orchestral sounds, took some time. There was lots of back and forth before I arrived at something that everybody liked.
I should note that sound designer Kyle Stanfield played a huge role. There's lots of overlap between our work throughout the film. There's no dialogue or narration, so it's wall-to-wall sound, and Kyle and I had to be on the same page. We were in contact in the weeks leading up to the final mix, sending sound files back and forth. I've never worked that closely with a sound designer. Some of my music, particularly when the action shifts between the real and imaginary worlds, verges on what composers would consider sound design. Kyle's great — very collaborative — and I'm very happy with the final results. Below: sound designer Kyle Stanfield, director Wanda Nolan, composer Jeff Johnston, and NFB sound engineer Jean-Paul Vialard during the mix at NFB Headquarters.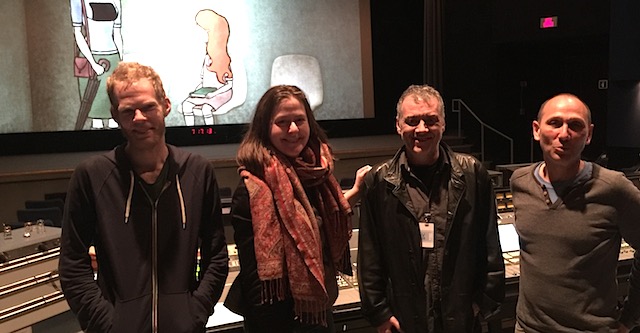 Tell me about the recording process.
I work out of my home studio using digital recording software and sound samples. That's where I did all the writing and where I recorded a good portion of the soundtrack. I recorded additional tracks at the NFB studio with the brilliant sound engineer Geoff Mitchell. I recorded the piano tracks and had Kate Bevan-Baker on violin and Louise Campbell on clarinet. They are both experienced and fantastic studio players who know how to work with a click track, which is basically a metronome. It's your tempo track, essential when you're composing for film, where precise time measurements are vital.
You need to think of things like this when hiring studio musicians. An experienced studio musician can innovate within the click track's strict parameters. You're working within a robotic environment, with hard and fast parameters, but accomplished musicians can still sound expressive and make beautiful music within those constraints.
Who are your influences?
I've been developing my skills as an orchestral writer in the last few years — and I love the work of people like Alexandre Desplat, who won an Oscar for his work on The Grand Budapest Hotel, and Thomas Newman, who scored Bridge of Spies, WALL-E and lots of other movies. Jeff Beal (House Of Cards) who uses traditional orchestral techniques mixed with more modern elements is one of my current favorites. There are several great Canadian composers I admire as well. Darren Fung, a former piano student of mine, is composing great music these days and recently scored the documentaries Gun Runners and The Great Human Odyssey.
Another big influence lately has been my orchestration teacher, the Hollywood based film composer Milton Nelson. He's super-talented, a great orchestrator and arranger, and a generous teacher. His recent work on this year's Tony awards was outstanding.
How does film work fit into your other musical activities?
I love performing and teaching. I try to play as much as I can, whether it's with my own trio or other lineups and ensembles. But lately my focus has been on composing and running my music production company. Orchestral composition, and musical sound design, has become a kind of passion. I love writing with these elements and when I'm writing that kind of music, I'm always thinking cinematically. I feel lucky and blessed to be able to pursue my passions, to be able to work everyday in music, but there's been a definite shift in my goals over the past few years.
Listen to an excerpt from Jeff's soundtrack for Mystery of the Secret Room.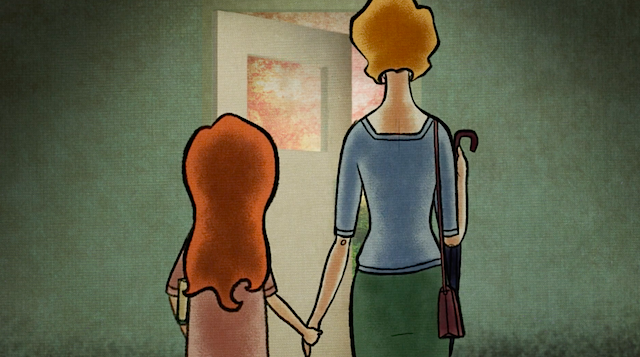 Mystery of the Secret Room is written and directed by Wanda Nolan. Animation and art direction is directed by Claire Blanchet; original music is composed by Jeff Johnston; and sound design is by Kyle Stanfield. Produced by Annette Clarke for NFB's Quebec-Atlantic Studio, it's scheduled for release in fall 2016.