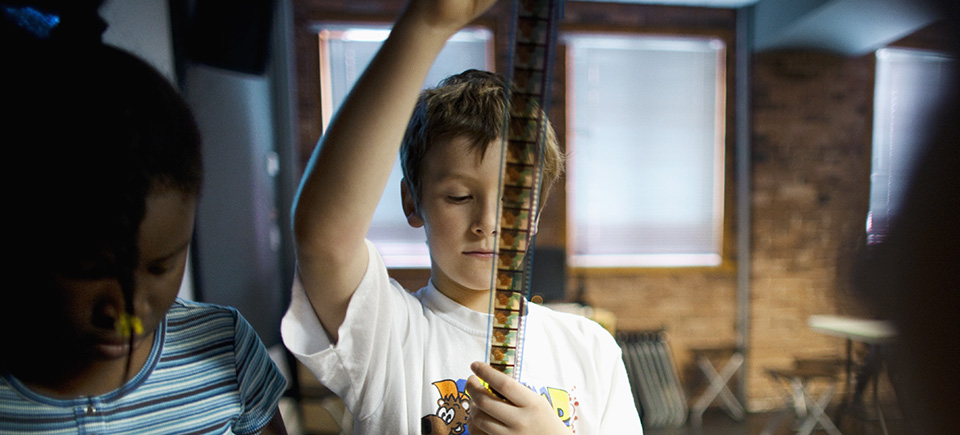 Media Literacy: The Key 21st-Century Competency
Creating, innovating and thinking critically about media
Harness the power of media technologies
Media-literate young people deeply understand media texts and environments and are skilled at navigating the challenges of the 21st-century world creatively and intelligently. Media literacy includes knowing how to harness the power of media technologies to create art and solve problems, and thinking critically about the power and effect of these tools.
Think differently
Viewing the works of innovative artists such as Frida Kahlo (Bone Wind Fire), Pete Clarkson (Debris), and Seth (Seth's Dominion), and drawing on them to create their owns works can inspire young people to think differently. Asking students to consider artist Georgia O'Keeffe's notion that an empty space contains expression that has not yet been articulated can spark innovative projects, such as cartoon strips about identity or social-media issues or three-dimensional collages illustrating solutions to environmental challenges. Reflecting on their learning during and after the creative process reinforces how media forms such as comics or even discarded household items can be manipulated to construct original messages.
Bone Wind Fire, Jill Sharpe, provided by the National Film Board of Canada
Understand how media impact our world
Media-literacy skills include the ability to understand implicit and explicit meanings and the ways in which media forms reflect and impact our world. Creative experimenting with production apps, combined with individual and collaborative reflection on process and product, develops media literacy more effectively than analysis alone.
Analyzing films such as Glenn Gould: Off the Record, Debris, and Stories from Our Land will encourage students to consider the impact of Canada's natural environments on its artists and allow them to appreciate and absorb film techniques that lend drama and poignancy. When they extend this understanding through media production — sculpture, carvings, music, and film, for example — they can express a wide range of social studies, art and environmental themes: this is creating through media while actively thinking about it.
Debris, John Bolton, provided by the National Film Board of Canada
Explore the boundaries of one's imagination
Creating with technology pushes learners to explore the boundaries of their imaginations. When educators facilitate media literacy across the curriculum through collaborative production, the results can be transformative. Accessible yet rich apps like McLaren's Workshop and Stop-Mo Studio, and films such as Debris, Animate Everything!, and Home Cooked Music, emphasize the use of simple ingredients, so learners quickly gain production and media-literacy skills.
To understand the range of possibilities, watch Norman McLaren: Animated Musician first, then Animate Everything! Log ideas while you watch, linking to current subject study, and plan a production project for students (e.g., retell or re-shape the narrative of a historical event; illustrate science concepts; develop rules for appropriate social media behaviour; teach a mathematics concept; explore civics and citizenship concepts; animate a current event; re-shape a literature work into another medium; propose a design for a new tool). Include reflection journals that record choices and experience, explaining how the media project shaped meaning and built students media awareness.