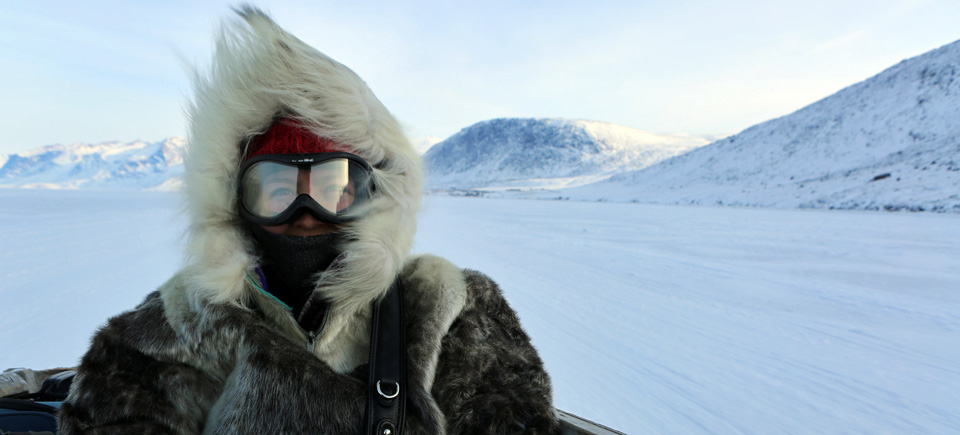 NFB Film Club Programming – Spring 2017
The NFB Film Club is a turnkey initiative created specifically for public libraries. It grants free access to new and thought-provoking documentaries as well as award-winning and entertaining animation for the whole family.
Great new titles for spring
The NFB Film Club is gearing up for another season of rich and wide-ranging programming, offering a new set of titles to help you celebrate spring. The lineup comprises 5 must-see programs for general audiences and one for children—a compelling selection of features and shorts exploring timely topics.
An Inuit view of the seal hunt
Alethea Arnaquq-Baril's Angry Inuk at last brings Inuit voices into the conversation about Canada's seal hunt. In this multiple-award-winning doc, her cameras travel through the Canadian Arctic to hear from the people the animal activists rarely bother to meet—the hunters, the craftspeople, the families for whom the seal hunt is a critical part of their livelihood and survival―and follow a group of students to Europe, where they plead the Inuit case before a European Union panel. The film was selected to mark National Canadian Film Day (April 19) and Earth Day (April 22) but can be screened on other dates as well.
Angry Inuk, Alethea Arnaquq-Baril, provided by the National Film Board of Canada
Trading AK-47s for running shoes
Anjali Nayar's Gun Runners follows two Kenyan cattle rustlers, Julius Arile and Robert Matanda, who trade their rifles for running shoes to compete against the world's best marathon runners. Filmed over a 10-year period in Kenya and New York City and told entirely by its main characters, Gun Runners takes us from life in the North Kenyan bush to the mean streets of the New York Marathon. A story about the American Dream, African-style, that's sure to inspire amateur runners and armchair athletes alike.
Gun Runners, Anjali Nayar, provided by the National Film Board of Canada
A new doc by Alanis Obomsawin
We Can't Make the Same Mistake Twice documents a nine-year legal battle in which Indigenous Canadians took on the Canadian government to secure equal services for their children. This documentary by veteran director Alanis Obomsawin is part of Aabiziingwashi (#WideAwake): Indigenous Cinema on Tour, a cross-country screening series that marks the 150th anniversary of Confederation by showcasing groundbreaking NFB films made by Indigenous directors.
We Can't Make the Same Mistake Twice, Alanis Obomsawin, provided by the National Film Board of Canada
Canada… from coast to coast to coast
Selected for the 150th anniversary of Confederation, Kevin McMahon's An Idea of Canada follows the summer journey taken by Governor General Adrienne Clarkson and her husband, John Ralston Saul, to Canada's three seacoasts. Travelling by boat, small plane, snowmobile, pickup truck and canoe, they encounter every kind of weather as they visit western Nunavut, Newfoundland, Labrador and Haida Gwaii (Queen Charlotte Islands). A meditation on the myth and reality of the rugged landscape that symbolizes Canada for most people.
First-hand accounts of WWII "comfort women"
Tiffany Hsiung's The Apology follows the personal journeys of three former "comfort women" who were among the 200,000 girls and young women kidnapped and forced into military sexual slavery by the Imperial Japanese Army during World War II. Some 70 years after their imprisonment in so-called "comfort stations," the three "grandmothers"—Grandma Gil in South Korea, Grandma Cao in China, and Grandma Adela in the Philippines—know that time is running out to give a first-hand account of the truth and ensure that this horrific chapter of history is not forgotten.
The Apology, Tiffany Hsiung, provided by the National Film Board of Canada
Special children program
Children will be delighted by the vibrant and colourful short films in the special program we have put together for them, featuring Ludovic – Going Going, Ludovic – A Muddy Mess, Adventures and Wind.
Interested? Please contact us!
For more details on NFB Film Club programming, and to watch clips from the films, click HERE.
For more information on the NFB Film Club, contact:
Marianne Di Domenico | 514-283-8953 | m.didomenico@nfb.ca