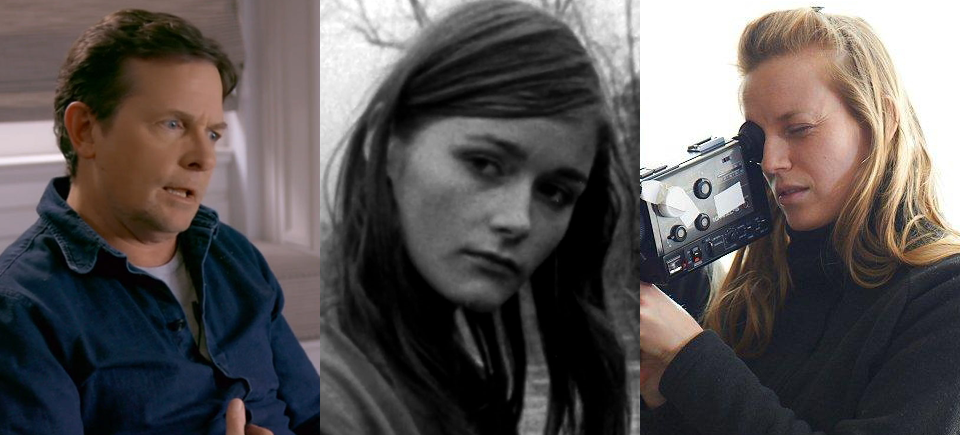 The Leading Men and Women of the NFB
When you think of the NFB, you probably think about world-renowned, award-winning documentaries and animation, right? Right? Of course you do.
And while you're absolutely correct, it's also true that we've got a few other treasures buried in our collection. These hidden treasures, so to speak, allow us to group together films into fun categories. This lets you see films that you might not otherwise have come across.
This time, I've put together 5 films that feature leading men and women of the stage and screen. Enjoy!
Volcano: An Inquiry into the Life and Death of Malcolm Lowry
Did you know we had an Oscar-nominated, Tony/BAFTA/Golden Globe-winning actor star in one of our docs? It's true. Richard Burton provided his voice for the readings from Malcolm Lowry's Under the Volcano in this riveting documentary that explores Lowry's life, and "death by misadventure."
There are some common threads that run through the two men, like a tendency for turbulent relationships and a problem with alcohol, so the pairing just seems… right. Burton, star of the stage and screen, is of course known for his roles in Cleopatra, Hamlet, and Who's Afraid of Virginia Woolf?, as well as for his marriages to Elizabeth Taylor.
Volcano: An Inquiry into the Life and Death of Malcolm Lowry , Donald Brittain & John Kramer, provided by the National Film Board of Canada
The Best Damn Fiddler from Calabogie to Kaladar
So, you probably know about how Arthur Lipsett's films influenced George Lucas, or how Roman Kroiter and Colin Low wowed Stanley Kubrick with Universe (if not, read this), but did you know we had another big claim to fame? We have the privilege of producing the very first film that Margot Kidder appeared in.
Kidder did a wonderful job as Rosie in this film about a man who chooses a way of life that has serious repercussions for his family. Only 19 or 20 at the time, she was already stealing the scene every time she walked into the frame. Kidder later went on to star opposite Christopher Reeves in the Superman films.
The Best Damn Fiddler from Calabogie to Kaladar, Peter Pearson, provided by the National Film Board of Canada
30 Minutes, Mister Plummer
Just a few short years before Christopher Plummer took the world by storm and stealing our hearts as Captain Von Trapp opposite Julie Andrews' Maria in The Sound of Music, we produced a short film called 30 Minutes, Mister Plummer.
Thirty minutes is exactly how long the esteemed actor has to apply his makeup and get into character before treading the boards in the Stratford Festival's production of Cyrano de Bergerac. Playing Cyrano, of course. The film takes more of a poetic approach to the whole biopic genre, which is fitting, given the subject matter.
30 Minutes, Mister Plummer, Anne Claire Poirier, provided by the National Film Board of Canada
Stories We Tell
If you haven't seen this film yet, what are you waiting for? It's an absolute masterpiece in storytelling. And of course, it's directed by, and stars, Canadian sensation Sarah Polley. Polley had her rise to fame in the early 90s starring as Sara Stanley in The Road to Avonlea. She then went on to have leading roles in films like Dawn of the Dead, The Sweet Hereafter, and Go.
This film dives into Polley's past, as she interviews family members and long-time family friends to unravel a great family secret. Somewhere near the beginning, one of her siblings questions why people would want to hear their story. It's a valid question, but it proves irrelevant. We just do. Polley's direction, her presence, and her storytelling, are just captivating.
Stories We Tell, Sarah Polley, provided by the National Film Board of Canada
Michael J. Fox
What a Canadian treasure we have in Michael J. Fox. He is the epitome of the modern leading man – talented, full of grace, and authentic. This short tribute film was made this year when he was honoured with a 2017 Governor General's Performing Arts Award. It's a candid moment spent with a man who has been through so much, and has emerged stronger and more determined than ever.
Over a decades-long career, Fox has given us hours upon hours of enjoyment with his work in Family Ties, Back to the Future, Spin City, and The Good Wife. We've seen him go from an Alex Keaton to a Louis Canning over the span of 34 years. It's been an incredible transformation to watch.
Michael J. Fox, John Bolton, provided by the National Film Board of Canada