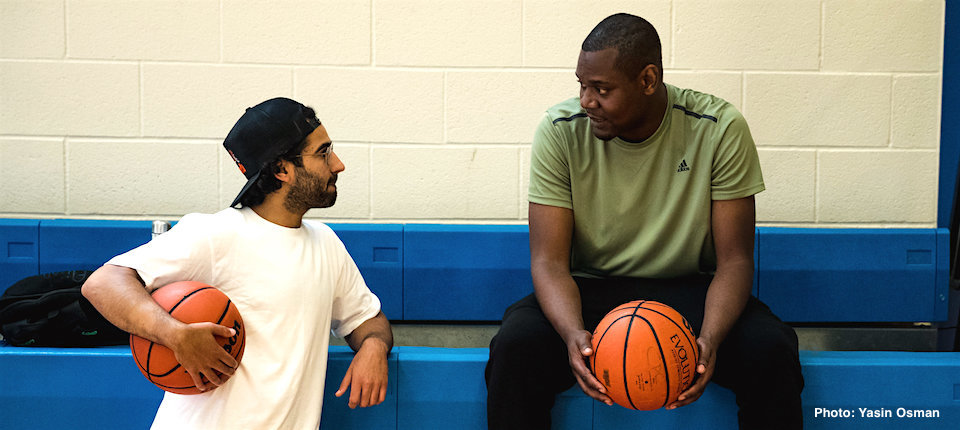 True North: Ryan Sidhoo Explores Canada's New Game
When it comes to sport, hockey traditionally occupies a sweet spot in Canada's national psyche — but spend a few days on the streets of Toronto, now one of the planet's most diverse cities, and another picture quickly bounces into view.
More and more young Canadians are playing basketball — over 350,000 according to the 2014 Canada Youth Sports Report — and the trend is particularly pronounced in and around Toronto where a wave of second and third generation Canadians are shaping Canada's new game.
Toronto's big basketball moment
"Basketball in Toronto is having a moment," says documentarian Ryan Sidhoo, currently shooting True North, an episodic web-series in production at the BC & Yukon Studio. "We're really fortunate on this production to spend time with families who're navigating this landscape at a time when Canada's youth basketball scene is exploding. They're letting us into their lives, and giving us a chance to share their stories."
Inspired by the Toronto Raptors, the only Canadian team in the National Basketball Association, many of the GTA's aspiring athletes are setting their sights on Division One scholarships to American universities. And basketball kingmakers south of the border have been taking notice. Canada now has over a dozen players in the NBA, more than any other outside country.
American journalist Michael Fletcher, writing recently in The Undefeated, comments on Toronto's new status in US basketball circles: "Increasingly, major universities and the pros see Canada, particularly the Greater Toronto area, as a basketball recruiting hotbed on par with, or even surpassing, cities such as New York, Chicago or Philadelphia."
"Basketball has been one of my great teachers"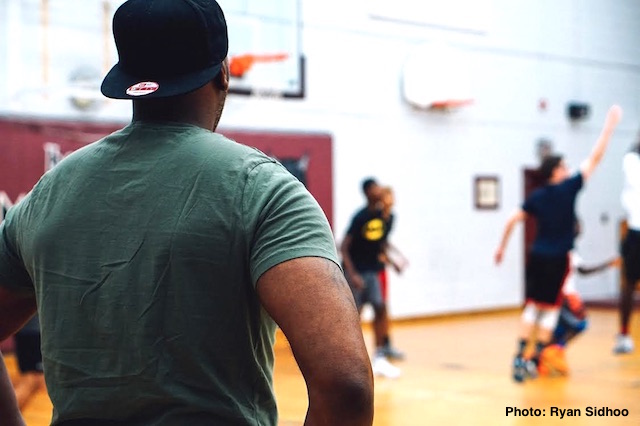 With True North, Sidhoo is crafting a series of intimate portraits of young Canadian players and their families — charting the development of Toronto's red-hot youth basketball scene while keeping a sharp eye on the highly competitive terrain that athletes must navigate in order to get a shot at a full-ride scholarship to one of America's powerhouse basketball colleges. Pictured above: Toronto's Northern Kings at practice.
"Basketball has been one of my great teachers," says Sidhoo, a second-generation Canadian, born in Vancouver, who graduated from New York's New School in 2013 with a master in media studies. "I grew up with the game, and it has introduced me to new cities and cultures, opening my eyes to all kinds of stories and situations that extend beyond sport. I'm using it as a narrative tool here, as a way to shed light on contemporary family life in a rapidly developing city — issues that all kinds of people can relate to. At the same time I get to immerse myself in a world that I care deeply about."
Hoop Dreams: "a kind of landmark"
Back in 1994 director Steve James scored a major hit with Hoop Dreams, a feature doc that charts the progress of two young men from inner city Chicago in their bid for basketball glory. "That film is a kind of landmark," says Sidhoo. "You can divide all sports documentaries into those that came before and after Hoop Dreams, but so much has changed since then. Kids are dealing with a whole new set of pressures. The idea of exposure has taken on new meaning in the digital boom. Young athletes can be tempted to post highlight reels on YouTube or Instagram, and families can feel pressured to build brands around their kids."
Producer Shirley Vercruysse, executive producer of BC & Yukon Studio and lead producer on the project, recently accompanied Sidhoo on a shoot in Nevada, where he was following a handful of Canadian players during the Fab 48 Tournament. "Ryan has remarkable access to these young players," she says. "He genuinely loves the game and that comes through all the time — in the trust he's established with his subjects, and in the footage itself. He's exploring the fascinating relationship between sport and society in a completely engaging way, appealing to new audiences."
"I get to expand on this idea of Canadian identity"
The project serves as a prism though which Sidhoo can investigate shifting notions of Canadian identity. "My dad's side of the family are from India, and my mom's side came from Eastern Europe, Ashkenazi Jews from Poland and Russia — and growing up in Vancouver, it's not like my family had a built-in history of hockey and winter sports. So I've never really meshed with that classic idea of Canadian culture — you know, guys playing hockey on frozen ponds. I grew up playing basketball and I always felt at home in gyms. Basketball had more of a multicultural feel, and by focusing on game and the city of Toronto, both incredibly diverse worlds, I get to help expand on this idea of Canadian identity."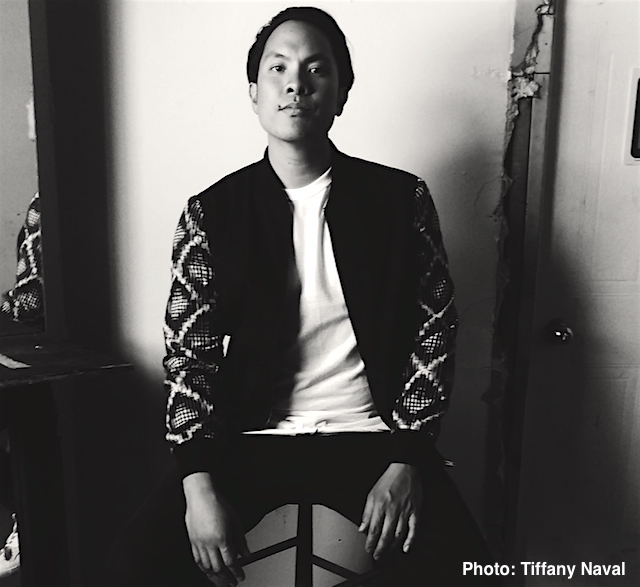 "I want the project to sound like Toronto" 
Toronto's musicians have been showing another side of Canada to global audiences for some time, with artists like Michie Mee, Kardinal and Drake, with his record label OVO Sound, enjoying major international success. Sidhoo has enlisted Filipino-Canadian musician Alexander Punzalan (aka Alexander Junior,  pictured above), noted for his work with electronic-soul duo DATU, to create an original score.
"I want the project to sound like Toronto, with all its musical influences — with splashes of rap, hip-hop, soca, dancehall. Alexander is multi-talented, experimenting with all kinds of different sounds, and we're already using some of his temp music. It's one of the joys of the whole process, putting music to image."
Among his cinematic influences Sidhoo mentions Spike Lee's early films, first enjoyed at his dad's side, and the 2005 release The Protocol of Zion, a feature doc by New York filmmaker Marc Levin with whom Sidhoo interned during his time at the New School.
"King of the Hill was a revelation" 
Also on the list is the 1974 NFB film King of the Hill, in which NFB filmmakers Donald Brittain and William Canning profile legendary baseball pitcher Ferguson Jenkins. "That one was a revelation," says Sidhoo. "I watched it on a plane, flying back from one our shoots in LA, and as a result I decided to shoot some sequences on 16 mm film."
King of the Hill , William Canning & Donald Brittain, provided by the National Film Board of Canada
Sidhoo's credits include a number of short web productions for VICE and Welcome to Fairfax, a ten-part docu-series about Los Angeles youth culture that was produced for Participant Media. True North is his first collaboration with the NFB.
"We had many conversations about whether to approach True North as a feature doc or a series, and in the end demographic considerations convinced us to pursue an episodic series," says Vercruysse. "We're particularly keen to connect with the whole youth basketball world — the kids and their families. This is new terrain for the studio, and this project fits nicely with our recent focus on new formats. True North is our first online series, a format that's enjoying a global renaissance as a result of increased visibility via new distribution platforms. Ryan is a real discovery, a talented and dynamic young director, and he brings all kinds of valuable practical experience to the project."
NFB partners with Red Bull Media House
Red Bull Media House (RBMH) is a partner in True North's release and distribution. "I've been in touch with Cary Smith, at Red Bull Media House in Toronto, on-and-off for a couple of years now and we both recognized that the NFB and RBMH could complement each other," says Vercruysse. "We have a similar interest in connecting with new audiences, and the plan is to coordinate the release on our respective platforms and to host events and screenings within certain target communities."
Sidhoo is working with Toronto-based cinematographer John Price, a noted independent filmmaker in his own right who's worked with directors like Bruce Macdonald, Peter Lynch, Liz Marshall, Annette Mangaard and Mike Hoolboom. Price's credits include Charles Officer's Mighty Jerome, about track-and-field stay Harry Jerome, and Mina Shum's Ninth Floor, hailed by TIFF as one of ten best Canadian films of 2015.
Editor Graham Withers, who's cutting the series in Toronto, has done work on episodic series like Payday and Cold Water Cowboys as well as stand-alone doc projects like Alias, (Michelle Latimer), Les bons, les méchants et la bicyclette! (Lara Fitzgerald) and Highway Gospel (Jarett Beliveau).
Sidhoo and his crew are filming on numerous locations across the GTA and at selected events in the USA with a view to wrapping production in September. True North, conceived as a ten-part web series, is produced by Shirley Vercruysse at the BC & Yukon Studio.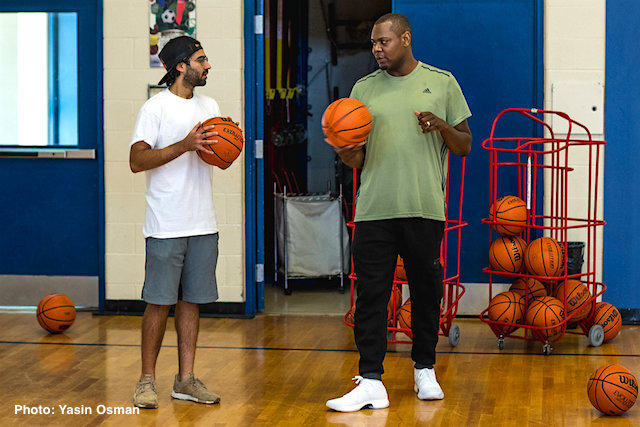 Pictured above: Ryan Sidhoo with basketball dad Rohan Fisher. Check out more of Ryan Sidhoo's own amazing photography.