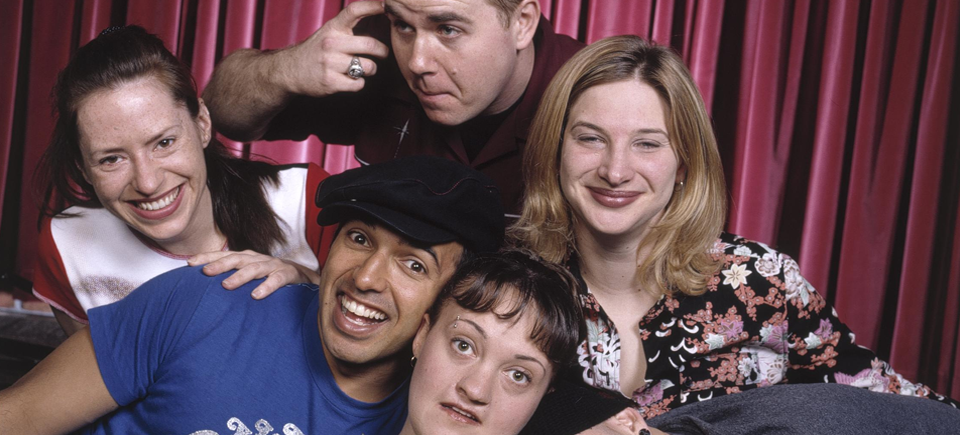 The Wannabe Faces of Canadian Comedy
Have you seen The Marvelous Mrs. Maisel? It's brilliant. I'm a huge fan of the show's writers, and an even bigger fan of stand-up comedy. Sadly, the show only has an eight-episode season, leaving me wanting so much more. So, naturally, I turned to the archives and found the perfect salve – The Next Big Thing series.
On Maisel, Midge literally stumbles into stand-up when she wanders on-stage and starts ranting about her husband. Stream-of-conscious comedy is her thing, and she does it well. But for most comics, an incredible amount of work goes into producing a set.  When I was learning stand-up, it took me three months to write a semi-solid 5-minutes. Comedians work for years to perfect their act, hoping for a spot that'll turn into their big break. This is something that's only touched on in Maisel, but forms the central focus of The Next Big Thing.
The Next Big Thing follows six comics – Shaun Majumder, Kristeen Van Hagen, Jason Rouse, Laurie Elliott, Dave Martin, and Nikki Payne – as they try to break into the big time by winning a slot in Montreal's Just for Laughs comedy festival. It follows the specific trajectory of stand-up comics, as opposed to sketch and/or improve groups, like Second City, Kids in the Hall, or the SCTV gang.
I spoke with producer Gerry Flahive, who has fond memories of working on the project. He recalls:
"The documentary's co-creator, Andrew Clark, said something that attracted me to the project, that stand-up comedians are the 'un-Canadians' because they are individualistic, as opposed to the more established, CBC/mainstream sketch comedy/group humour approach. I felt—especially with such an interesting group of comedians—that we could really reveal where their comedy came from, and why people were laughing! I think we picked well: all of the comedians in the film are still up there, 17 years later."
The series follows them as they work the clubs in Toronto and do their showcases in Montreal. Then we follow the lucky one(s) to LA, where we're granted access to network meetings and dreams in action. We're privy to the highs and lows of stand-up with this series – from the packed clubs filled with laughter to sets that go horribly wrong and leave you feeling awkward and pained. And we catch some pretty private moments along the way (I'm looking at you, 18 m 20 s mark in the LA episode…).
If you're a fan of Canadian comedy, you'll enjoy some great cameos from people like Mike MacDonald, Harland Williams, and Joey Elias (fun fact: Joey was my comedy writing teacher) while getting behind-the-scenes access to green rooms and awards shows. But if strong language and a few obscene gestures offend you, you may want to proceed with caution.
The Next Big Thing – Toronto
The Next Big Thing – Toronto, Murray Battle, provided by the National Film Board of Canada
The Next Big Thing – Montreal
The Next Big Thing – Montreal, Murray Battle, provided by the National Film Board of Canada
The Next Big Thing – Los Angeles
The Next Big Thing – Los Angeles, Murray Battle, provided by the National Film Board of Canada