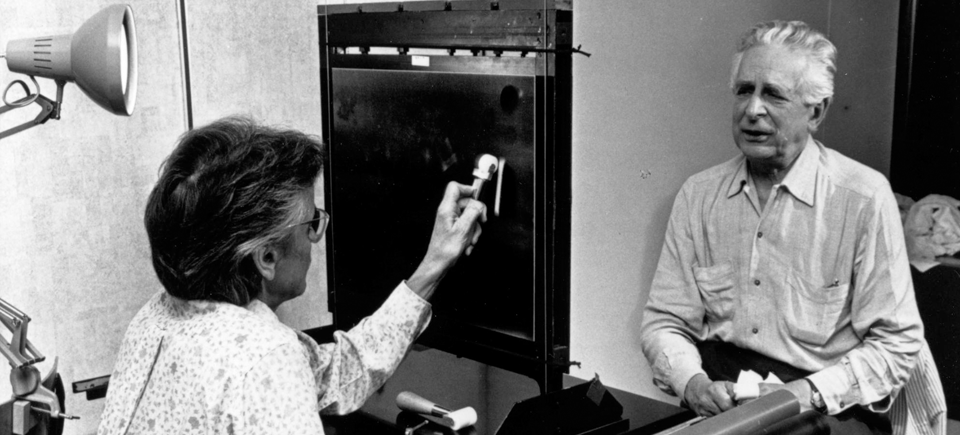 Animation Techniques: Pinscreen
If animation, by its very nature, is defined as a painstaking process, how on earth are we to describe the pinscreen animation technique?
Created by husband-and-wife team Alexandre Alexeieff and Claire Parker, the pinscreen is a board with 240,000 holes, each of which has a retractable pin that goes through it. By lighting the board at an angle, the pins project shadows in tones from black to white, depending on how deep into the board the pin is placed.
If you're following along, you'll realize by now that images are created through the placement of the pins. Each pin is pushed in using a special tool, in order to create an embossed picture. A photo is taken of the board, and then the design is modified before another photo is taken. One second of animation is comprised of 24 photos.
Needless to say, not every animator who came through our doors made a film with the pinscreen, but there are two  who did: Jacques Drouin and Michèle Lemieux. For three decades, Drouin was the only one using the pinscreen. After his retirement, Michèle Lemieux took up the mantle. It's their work that we're sharing to demonstrate the incredible Alexeieff-Parker Pinscreen.
Pinscreen
In 1973, Alexandre Alexeieff and Claire Parker gave a workshop at the NFB on the pinscreen technique they invented together. Luckily, Norman McLaren filmed that workshop, and it serves today as a great historical document that sheds light on this mysterious tool.
Pinscreen, Norman McLaren, provided by the National Film Board of Canada
Mindscape
When you understand how this film was created, the first 15 seconds are enough to blow your mind. And that's only 360 of the 10,800 designs required to create this 7-minute film. Mind-boggling. The film itself is pretty meta – about a man who wanders into his own painting and has a look around. You may have seen the film before, but watch it again, knowing now what you didn't know then.
Mindscape, Jacques Drouin, provided by the National Film Board of Canada
Imprints
Once again, Jacques Drouin sits down with the pinscreen to create another mini-masterpiece. This time, he takes his experimentation further, playing with colour through the clever use of lighting, and turning the screen around after each composition, so that we can see what the other side looks like. It's almost reminiscent of those nail boards, where you can make an impression of your hand.
Imprints, Jacques Drouin, provided by the National Film Board of Canada
Here and the Great Elsewhere
Given how intricate a process pinscreen animation is, it's fitting that Michèle Lemieux would tell a philosophical tale about the particles that make up the universe. It's a semi-abstract film, told in 4 parts, that explore the thoughts of one character. It's unbelievable to watch.
Here and the Great Elsewhere, Michèle Lemieux, provided by the National Film Board of Canada