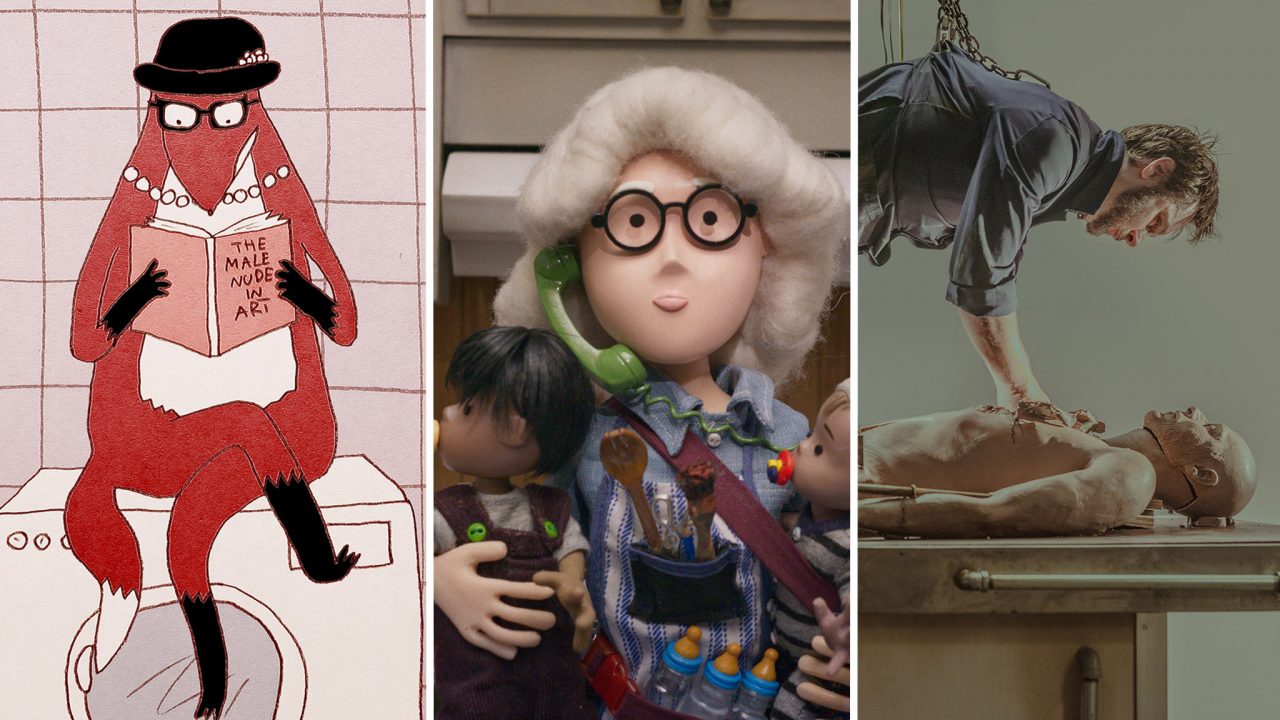 Coming in May: Watch 3 New Animated Shorts on NFB.ca
The month of May has finally brought spring, along with a fresh crop of animated shorts. We're thrilled to be putting these three films online this month, and we hope you enjoy them.
FREAKS OF NURTURE
Disclaimer: I might be a little biased on this one, as it was co-written by yours truly. But I can put that aside to tell you that this film is a fun romp through the dysfunctional dynamics of a mother-daughter relationship. And it features some awesome pop culture references. Seriously. Watch it a few times and pay attention to the detail that Alex Lemay put into her film – the sets, the puppets… it's a visual feast.
The story itself is as old as time – daughter grows up and leaves the nest, yet still craves the love and approval of a parent, specifically her mother. But Lemay's film has an added twist, in that she was raised by a single mom who also took in several foster children and breeds dogs. The film is funny and touching and a joy to watch.
Freaks of Nurture, Alexandra Lemay, provided by the National Film Board of Canada
THE SUBJECT
This story-within-a-story tackles the art of creation and marks, in my mind, Patrick Bouchard's most mature work to date. The premise is simple enough – the artist, Patrick Bouchard, performs an autopsy on his art, also Patrick Bouchard. We're talking self-exploration on many levels here: art, one's self, and the very nature of animation itself. It's enough to make your head implode if you think about it for too long.
The film is about Bouchard confronting his alter ego in the form of a life-size cast of his own body. He digs into the corpse, revealing intricate mechanisms and versions of himself, searching for something he's anxious to find… and cast off. It truly is a masterful work and represents a great example of Bouchard's journey as a filmmaker.
The Subject, Patrick Bouchard, provided by the National Film Board of Canada
MANIVALD | MAY 27
This film is everything. It is impossible to watch this film and not smile, or even laugh out loud, as I did on several occasions. The official synopsis says the film is "tinged with typically absurdist Estonian humour" and I'll have to take their word for it, but all I can say is this film is FUN. And that's not the first adjective that comes to mind when you think about the story of a dysfunctional, co-dependent relationship between a mother and son.
Manivald, however, is no typical son. He's almost 33, unemployed, but extremely over-educated. He still lives with his overbearing mother who dotes over him and obsesses over his every move. They're stuck in a routine, but everything gets shaken up when Manivald's mom calls the washing machine repairman in. Toomas turns out to be a wolf in wolf's clothing and throws Manivald's world into chaos when he opens a series of new doors in his world – some of which he'd have preferred remained shut.
Manivald, Chintis Lundgren, provided by the National Film Board of Canada