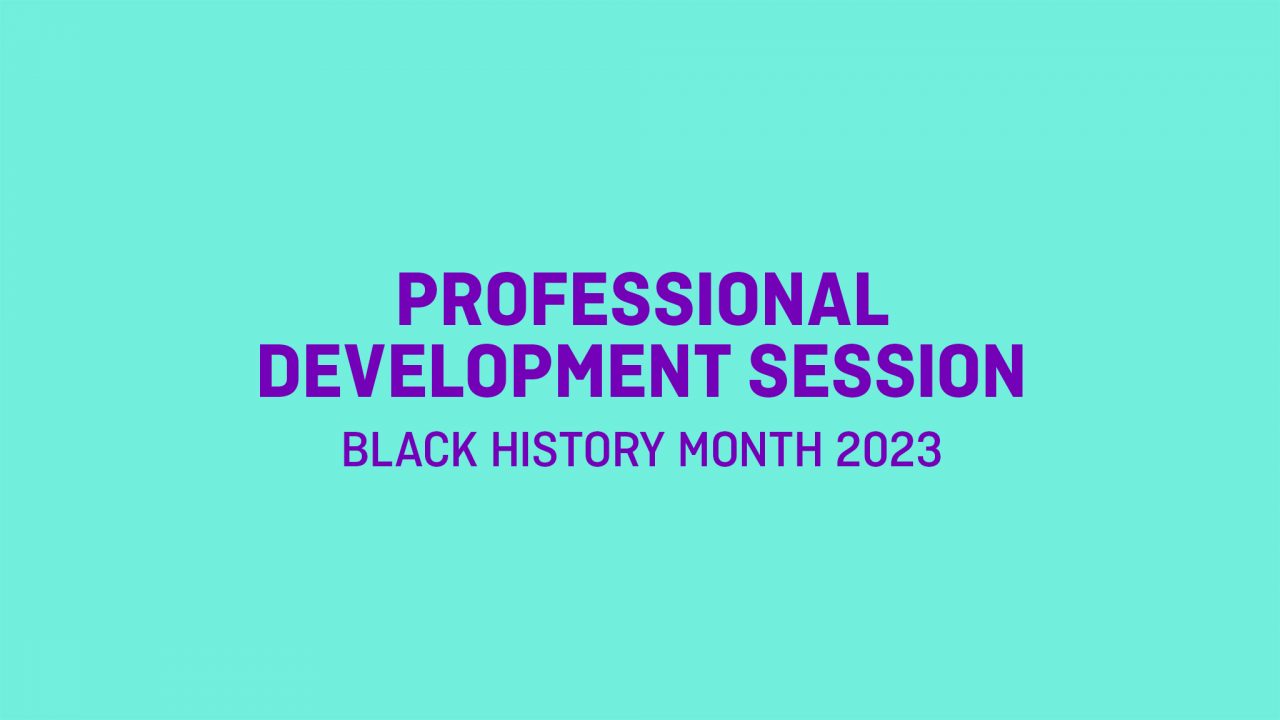 PD Session | Black History Month
Welcome to the inaugural NFB Education PD Session series!
A PD session (professional development session) is a learning opportunity open to all Canadian teachers. They will be presented as a YouTube webinar with a live Q&A discussion in the chat. Come prepared to ask questions and share your comments. Each session will highlight an educational theme alongside NFB film(s) and resource(s).
In February, mark Black History Month with an esteemed presenter who will share their experiences using the study guide Exploring Black Communities in Canada through Film.
Presenter
Natasha Henry-Dixon is an assistant professor of African Canadian History at York University. She's a historian and curriculum developer focusing on Black Canadian experiences. Natasha's work is grounded in her commitment to research, collect, preserve and disseminate the histories of Black Canadians.
Her publications include Emancipation Day: Celebrating Freedom in Canada (June 2010), Talking About Freedom: Celebrating Freedom in Canada (2012), a number of youth-focused titles, and several entries for the Canadian Encyclopedia on African Canadian history.
Study Guide
AGES: 13+
THEMES: Anti-Black racism, Black Canadian activism, intersectionality, community, resistance and activism, and filmmaking as documenting Black Canadian history.
Learn about the history and experiences of Black, African and Caribbean Canadians through this brand-new 27-page study guide, featuring discussions of 6 NFB films made by Black filmmakers and allies of the Black community.
You can download the Exploring Black Communities in Canada through Film study guide for free for Black History Month 2023.
Films
John Ware Reclaimed
John Ware Reclaimed, Cheryl Foggo, provided by the National Film Board of Canada
John Ware Reclaimed follows Black Canadian filmmaker Cheryl Foggo on her quest to re-examine the mythology surrounding John Ware, the Black cowboy who settled in Alberta, Canada, before the turn of the 20th century. Foggo's research uncovers who this iconic figure might have been, establishes his emigration to Alberta with the wider settlement of Black people in Western Canada, and explores what his legacy means in terms of anti-Black racism, both past and present.
Warning: This film contains explicit language
Journey to Justice
Journey to Justice, Roger McTair, provided by the National Film Board of Canada
Journey to Justice traces the fight for Black Canadians' civil rights, from the 1930s to the 1960s, through the experiences of six Black Canadians who refused to accept racial injustice. The film features the activism of Hugh Burnett, Fred Christie, Bromley Armstrong, Viola Desmond, Stanley Grizzle and Donald Willard Moore, explores how anti-Black racism impacted their lives and those of other Black Canadians, and highlights how their persistence helped secure justice and civil rights for all Canadians.
Warning: This film contains explicit language.
Ninth Floor
Ninth Floor, Mina Shum, provided by the National Film Board of Canada
Ninth Floor revisits one of the defining moments in Canadian race relations: the infamous Sir George Williams Riot in 1969. More than four decades after a group of Caribbean students accused their professor of racism, triggering an explosive student uprising, the film digs deep into the unfolding of this episode through the perspective of several former student activists. The documentary contextualizes the events in the broader Black Power and anti-colonial movements of the late 1960s and delves into the personal journeys of the protagonists trying to make peace with the past.
Sisters in the Struggle
Sisters in the Struggle, Dionne Brand & Ginny Stikeman, provided by the National Film Board of Canada
Sisters in the Struggle takes a look at Black Canadian women who were active in politics, and community, labour and feminist organizing in the 1980s. The subjects share their insights and personal testimonies on the double legacy of racism and sexism, linking their personal struggles with the ongoing battle to end systemic discrimination and violence against Black women and Black men.
Warning: This film contains explicit language.
Icebreakers
Ice Breakers, Sandamini Rankaduwa, provided by the National Film Board of Canada
Icebreakers highlights the history of Black Canadian hockey players through the contemporary story of Josh Crooks, a promising African Nova Scotian teen hockey star. The short film reveals the buried history of a pioneering Black hockey league in Atlantic Canada, as Crooks discovers that his unshakable passion is tied to a rich and remarkable heritage.
Remember Africville
Remember Africville, Shelagh Mackenzie, provided by the National Film Board of Canada
Remember Africville examines the historic Black settlement that was established within the city limits of Halifax, Nova Scotia, during the 1840s. Over a century later in the 1960s, the families who lived there were forcibly displaced by the municipal government and their homes demolished in the name of urban renewal and integration. Twenty years later, the site of the community of Africville was turned into a stark, under-utilized park. The film shares conversations with former residents, their descendants and some of the decision-makers, using archival photographs and footage to tell the story of this close-knit community's painful experience.
Additional Resources
Playlists
Mini-Lessons
Pour lire cet article en français, cliquez ici.
Discover more Educational blog posts | Watch educational films on NFB Education | Watch educational playlists on NFB Education | Follow NFB Education on Facebook | Follow NFB Education on Pinterest | Subscribe to the NFB Education Newsletter