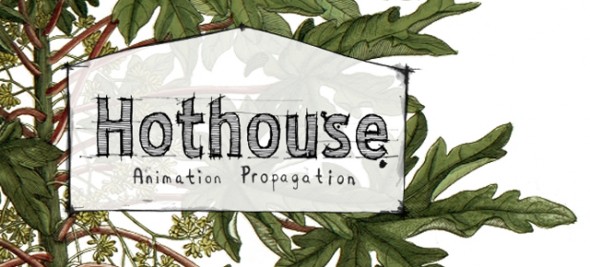 Watch 6 Short Films from the 8th Edition of Hothouse
Production
Every year, come early spring, 6 hand-picked animators descend upon the NFB to participate in Hothouse, the NFB's program for emerging Canadian filmmakers. Though the "12-week paid apprenticeship in full-on professional animation filmmaking" can be the opportunity of a lifetime, creating an animated short from scratch in 3 months undoubtedly makes for an exhilarating, disheveling ride. (Fittingly, Hothouse got its name from horticultural hothouses where gardeners create optimal growing conditions to encourage the blossoming of exotic orchids and other blooms in weeks rather than months.)
So our last Hothouse crew came and left – seemingly in a flash – leaving in their wake these 6 films for you to enjoy. For this 8th edition, the general theme was Sheep Dreams, while the parameter to work with was include <emerging-technologies>, an invitation to "involve emerging tools and technologies at any (or every) step of the animation process."
Watch all Hothouse 8 films below (you've got ample time, they're all around a minute long), and head to the Hothouse playlist to check out the results from all 7 previous Hothouse editions. Long live Hothouse!
Visitor, by David Barlow-Krelina
The Visitor, David Barlow-Krelina, Office national du film du Canada
A small boy is left alone to play in a large and empty house. A dark cloud starts to seep in from behind the mail slot at the front door. As it fills the space, a monster forms. The boy runs away, but the creature is always near. The chase will not end until the boy discovers the source of his fears. The film uses a combination of 2D hand-drawn animation, 3D backgrounds and particle effects.
Meltdown, by Carrie Mombourquette
Meltdown, Carrie Mombourquette, Office national du film du Canada
With the last of the arctic ice disappearing, a polar bear decides to try his luck finding a job in the big city. It's hard fitting into the human world, however, and so this bear finds a more creative solution to his original predicament.
Reverie.exe, by Wen Zhang
Reverie.exe, Wen Zhang, Office national du film du Canada
A sleeping computer dreams of humans forms, transforming their digital data into abstract and playful shapes. Movements, emotions, and musical lines are added layer upon layer until the complexity overloads the system and the dream ends. Reverie.exe combines Microsoft Kinect motion capture and music-driven visuals in an exploration of the connection shared between humans and machines.
Flee, by Rosa Aiello
Flee, Rosa Aiello, Office national du film du Canada
A man wakes in a sea of sand dunes. He clutches a metal suitcase as if it holds something of great value. In the distance looms a distorted and inhuman city from which the man has apparently fled. An experiment in science-fiction/mystery, Flee wonders how many possible histories and possible futures can be implied in a single minute.
PFFF, by Susan Wolf
PFFF, Susan Wolf, Office national du film du Canada
A revolution is kicked off when one little cloud has enough of the sun's tyranny.
Baaad Dream, by Jesse Gouchey
Baaad Dream, Jesse Gouchey, Office national du film du Canada
"Baaad Dream" pokes fun at selectively-bred mammoth sheep, whose out-of-proportion form makes them vulnerable to tipping over, and a very fat Farmer trying to save them until he himself tips over, with dire consequences.